What Happens When Lead is More Expensive Than Zinc?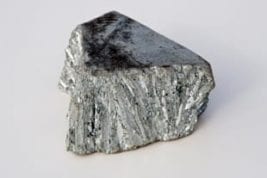 In the past, market watchers have reacted to that situation with concern. Here's why.
The current uncertainty surrounding LME zinc stocks created an interesting situation at the beginning of October: lead began trading at a premium to zinc for the first time since June 2014.
In the past, market watchers have reacted to that situation with concern. The two metals are often found and mined together, and while that's not normally an issue, it can be when one metal is faring better than the other.
The problem with by-products
To explain why such activity can be concerning, analyst John Kaiser of Kaiser Research has used the copper and moly markets as an example. "The biggest downside threat to molybdenum prices lies with the giant Chilean copper deposits where adding a molybdenum recovery circuit is an afterthought easily made [when copper is doing well]," he has pointed out.
The result is that "molybdenum gets produced regardless of the molybdenum price once the initial decision to add the capacity has been made."

In the case of zinc and lead, market participants have
worried in that past
that a higher lead price might result in higher production of that metal, as well as zinc. And for good reason — in 2012, five of the seven zinc mines that came online worldwide were also significant lead producers.
That said, that issue is reportedly becoming less prominent. According to a 2013 CRU Group study, only about 20 percent of the 50 zinc projects being developed at that time contained lead as a by-product. In addition, zinc was seen developing links with other markets — most notably
precious metals
.
LME zinc stocks the issue?
Perhaps reflecting those trends, the recent lead premium is instead interesting because, as mentioned, it reflects the uncertainty surrounding LME zinc and lead stocks.
Specifically, the zinc price has fallen on the back of rising LME zinc stocks at warehouses in New Orleans. However, according to Reuters' Andy Home, the metal coming to New Orleans is actually "metal that was moved earlier this year to off-exchange storage now coming back into LME-registered sheds." That means "[s]entiment … is being driven by what is largely storage arbitrage, irrespective of whose metal it is."
Meanwhile, market watchers have been encouraged by lower LME lead stocks, which fell as LME zinc stocks rose. But again, Home believes that fluctuations in LME lead stocks are also not necessarily to taken at face value.
"[T]he key take-away here is that neither LME zinc nor lead stocks are saying anything particularly useful about underlying market conditions right now," he states in a recent article.

The upshot
Home concludes that lead's premium over zinc is currently "small and tentative," noting at the same time that "[t]he jury seems very much out on how the lead-zinc relative value trade is going to play out over the coming months with no clear consensus among analysts."
Glencore's (LSE:GLEN) October 8 announcement that it plans to cut its annual zinc output by 500,000 tonnes and its lead production by 100,000 tonnes will likely only add to that confusion. Home's article was written before the major miner dropped that bomb, and while the lead price was still slightly higher than the zinc price later in the month, and about level with it heading into November, it's tough to say what impact the news may have longer term.
For investors, one key takeaway seems to be to remember not to take information about LME zinc and lead stocks at face value. Another, at least for Home, is to keep in mind the broader picture: zinc and lead are stuck in an "ugly contest," not a beauty contest, and neither has neared its supercycle peak in nearly a decade — investors should thus perhaps be wary of expecting sudden large moves from either metal.

Securities Disclosure: I, Charlotte McLeod, hold no direct investment interest in any company mentioned in this article.
Related reading:
Glencore to Cut Annual Zinc Output by 500,000 Tonnes