Rio Tinto's New Iron Mine to Overtake BHP's Mt. Whaleback as Largest in Australia
Iron ore prices may be down, but that hasn't stopped Rio Tinto from making plans for the biggest iron ore mine in Western Australia's Pilbara region.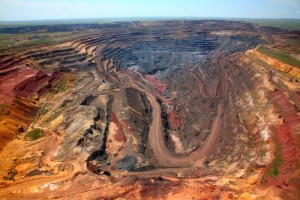 Iron ore prices may be down, but that hasn't stopped Rio Tinto (NYSE:RIO,ASX:RIO,LSE:RIO) from making plans for the biggest iron ore mine in Western Australia's Pilbara region. According to Mining Australia, the new pit at its Yandicoogina operation could produce 70 million tonnes per year.
That means the new pit, to be called Pocket and Billiard South, will outstrip BHP Billiton's (NYSE:BHP,ASX:BHP,LSE:BLT) gigantic Mt. Whaleback operation by 15 million tonnes per year. Rio Tinto is currently carrying out prefeasibility reports at the new pit, and has filed environmental applications for the project.
The news is in line with last week's reports that Rio Tinto has upped its iron ore production for the second quarter of 2014. According to Reuters, the miner recorded a sharp uptick in iron ore output, and has "aggressively expanded" exports to China in order to push smaller, local Chinese producers out of the market.
The mine is set to begin production in 2017, with an initial rate of 28 million tonnes per year.
Aggressive expansion
Other major miners, including BHP Billiton, Vale (NYSE:VALE) and Fortescue Metals (ASX:FMG) have also increased their iron ore forecasts for the year. Fortescue reported a year-over-year increase in production of 28 percent for the second quarter, while BHP upped its production of iron ore by 20 percent.
Some analysts are wary of this expansion, noting that Chinese mines have yet to see mass closures. However, Wood Mackenzie forecasts that 80 million tonnes of domestic production from that country will be shut down; that equates to 25 percent of its yearly output.
China is the world's largest producer of steel, and a major iron ore consumer.
Rio Tinto Chief Executive Sam Walsh commented on the rise in production in a July 16 press release, stating, "[o]ur iron ore expansion continues to deliver high-margin growth reinforcing our position as a low cost producer. It has allowed us to increase shipments of our Pilbara Blend products, providing our customers with reliable, long-term supply of stable quality."
Similarly, Fortescue spoke to its expansion in the face of the current iron ore supply glut, stating, "Fortescue expects supply to rebalance in the short term as port inventories are drawn down, steel mills restock and higher-cost iron ore production leaves the market."
Interested investors will certainly be looking to see how iron miners around the world weather the storm. The Motley Fool suggests several reasons why it could be a good time to get into the iron market, noting that major producers have predicted higher prices later in 2014.
As the Financial Times reports, expansion from major miners has helped to draw down iron ore prices this year. Indeed, they have fallen as much as a third, from $130 per tonne in January.
Securities Disclosure: I, Teresa Matich, hold no investment interest in any companies mentioned.
Related reading:
Labrador Iron Mines Won't Restart Mine Operations at James Deposit in 2014