Weekly Round-Up: Gold on a Tear After China Troubles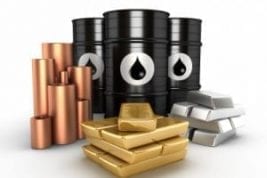 Gold and silver were buoyed after troubles in China this week, while both copper and oil took hits.
The first full week of 2016 is nearly at an end, and the gold price is on a roll.
It's been buoyed in large part by concerns about the Chinese stock market. The Asian nation has been in turmoil since Monday, when trading was shut down following a 7-percent drop in stocks. Then, on Thursday, trading was halted for a second time after another 7-percent fall.
While those events understandably triggered anxiety about China — investors worried about the country's economy now have even more reason to be concerned — they did the opposite for gold. By 12:00 p.m. EST on Friday, the precious metal was sitting at $1,100.70 per ounce, up significantly from Monday's low of $1,065.
What's more, some analysts believe that more good times are in store for gold. "The odds favor a strong rally over the next six to eight weeks or so — a seasonally strong period, traditionally — given the high number of shorts and number of investors waiting on the sidelines," Adrian Day, president of Adrian Day Asset Management, told Kitco. "We certainly wouldn't try to play the correction by selling."
In other words, gold's attractiveness as a safe-haven asset has returned, at least for the time being.

For its part, the
silver
price largely followed the gold price this week — while it began the week at just $13.88 per ounce, it spiked to $14.37 on Thursday. However, as of Friday at 12:00 p.m. EST, it had declined once again, and was trading hands at $14.
That said, some market watchers see silver faring well in 2016. In another article, Kitco
outlines three reasons
Capital Economics sees the white metal "stag[ing] a partial recovery this year." Those include: a recovery in the gold price, reduced silver supply and a recovery in the economies of key silver-consuming nations.
On the
base metals
side,
copper
took a hit this week, and as of Thursday was down 2 percent for the week. Unlike gold and silver, which benefited from the troubles in China, the red metal was
negatively impacted
by events there. Why? Because China accounts for about 45 percent of copper demand, meaning that bad news there often also means bad news for copper.
According to Bloomberg
, on Thursday copper futures traded below $2 per pound for the first time since 2009.
Finally,
oil
prices took a hit Friday after the US Department of Labor revealed that nonfarm payrolls rose by 292,000, 39 percent more than expected. Specifically, NYMEX light, sweet crude for February delivery sank by $0.33, to $32.94 per barrel, while Brent crude fell 1.2 percent to reach $33.35 on the ICE Futures Europe.
Unfortunately, there appears to be little hope for prices in the near future.
Speaking to The Wall Street Journal
, Michael Poulsen, oil analyst at Global Risk Management, commented, "[o]il prices moved away from intraday lows just shy of $32 yesterday as Chinese equity markets seem to recover after a turbulent start of the year. But the rise is still fragile and unless the increase holds all day, prices could test $30 short-term."
Securities Disclosure: I, Charlotte McLeod, hold no direct investment interest in any company mentioned in this article. Related reading:
Weekly Round-Up: Gold Price Rebounds from Six-year Low
Weekly Round-Up: Gold Holding Steady Ahead of Fed Meeting
Weekly Round-Up: Gold Price Up After Bumpy Week
Weekly Round-Up: Gold Price Hurt by Thin Trading
Weekly Round-Up: Gold Price Up After Hitting Lowest Since 2010