S&P's Downgrade Halts Copper's Rally
On Tuesday, copper plummeted to its lowest level since March, falling from the previous rally achieved on the back of higher than expected US home sales data.
By Leia Michele Toovey- Exclusive to Copper Investing News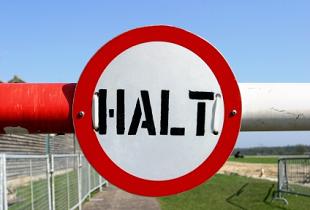 On Tuesday, copper plummeted to its lowest level since March, falling from the previous rally achieved on the back of higher than expected US home sales data. Monday's rally was a continuation of Friday's rally, put in motion by a report that US new home sales were up 26.9 percent in March, when economists had anticipated a 5.5 percent rise. The jump came in as Americans hurried to take advantage of the new home buyer's credit, sending the entire base metals complex into positive territory.
Copper's recent upside has been capped by strength in the US dollar. On Tuesday, the greenback climbed over rising concerns regarding Euro Zone debt; this in turn snapped Monday's rally. Copper futures took a tumble as ratings agency Standard & Poor's downgraded Portugal's long-term government debt by two notches to A-, with a negative outlook, citing fiscal and economic weakness and lackluster growth potential. S&P also downgraded Greece's long- and short-term debt to BB+ and B, from BBB+ and A-2, respectively.
The market extended its losses as the metal hit key technical levels that spurred additional selling. Copper CMCU3 for three-month delivery on the London Metal Exchange fell to $7,440.50 a tonne, its lowest since March 26, and closed at $7,490 a tonne, down 4 percent from Monday's $7,810 a tonne. Analysts claim that the sell off was overdone and that market fundamentals still remain bullish, pointing to falling LME inventories as evidence. Copper stocks dipped 775 tonnes to 505,350 tonnes, having hit 555,075 on Feb. 17, and their highest level since October 2003.
Company News
Freeport-McMoRan Copper & Gold Inc. (NYSE:FCX) reported first-quarter net income attributable to common stock of $897 million or $2.00 per share, compared to $43 million $0.11 per share in the same quarter last year. On average, analysts expected the company to earn $1.91 per share. Revenues for the quarter increased to $4.36 billion from $2.60 billion in the comparable quarter last year. Analysts expected the company to report revenue of $4.49 billion for the quarter. Separately, the company also announced that its board authorized an increase in its annual common stock dividend from $0.60 per share to $1.20 per share. The Board would declare a quarterly dividend of $0.30 per share, with the initial increased dividend expected to be paid in August 2010.
Inmet Mining Corp (TSX: IMN) announced Tuesday that its first-quarter profit rose 56 percent, boosted by rising prices for both copper and zinc. The miner earned C$79.9 million, or C$1.42 a share, for the quarter, compared with a profit of C$51.3 million, or C$1.06 a share, in the year-before period. Analysts polled had expected, on average, a profit of C$1.46, excluding exceptional items. Revenue rose 5 percent to C$251.6 million, copper production rose 6 percent to 21,200 tonnes, while zinc output rose 22 percent to 18,700 tonnes in the quarter. Last year, copper output failed to meet forecasts as the company faced delays getting its Las Cruces mine in Spain to commercial production. Inmet has said it now expects the mine to reach commercial production in May. Inmet's largest asset is the Cobre Panama copper-gold project.
Newmont Mining Corp. (NYSE:NEM) more than doubled its first quarter 2010 results, compared to 2009, as the company profited from higher metals prices. Newmont earned $546 million, or $1.11 per share, up from $189 million or 40 cents per share a year ago. Excluding gains from lower taxes and other items, it earned 83 cents per share. Analysts expected 79 cents a share excluding special items. Revenue rose 46 percent to $2.24 billion from $1.54 billion a year ago — beating analysts' estimates of $2.15 billion. In addition to higher gold and copper prices, the company got a boost from production at a new Australian mine. Newmont produced 90 million pounds of copper, compared with 43 million pounds a year ago. Copper prices averaged $3.33 per pound compared with $1.69 a pound a year ago. Newmont sells copper concentrate primarily to Japanese smelters. Newmont produced 158,000 ounces of gold and 14 million pounds of copper from Boddington, its new Australian mine. It hopes to have the mine in full operation by the third quarter.