NorthIsle Copper and Gold CEO: Room for Growth in Resource, NPV and IRR at North Island Project
NorthIsle Copper and Gold CEO Jack McClintock discusses the PEA for his company's flagship project in Northern Vancouver Island.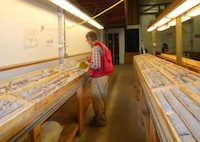 In September, NorthIsle Copper and Gold (TSXV:NCX) released the preliminary economic assessment (PEA) for its flagship North Island project. It includes an after-tax NPV (8 percent) of over $500 million and an after-tax IRR of 14 percent.
NorthIsle Copper and Gold is developing its North Island copper-gold project in Northern Vancouver Island, an area with a long history of resource development and mining. The brownfields project includes two defined deposits, Hushamu and Red Dog, and the resource estimates for both these properties form the basis of the company's recent PEA.
According to NorthIsle Copper and Gold President and CEO Jack McClintock, the results of the PEA show that the 100-percent-owned North Island project compares favorably with its larger competitors. He still sees further opportunities for improving the NPV and IRR values.
Watch the video below for more insight from McClintock on the PEA results, and on what sets NorthIsle Copper and Gold's project apart from its peers. You can also view the transcript of our interview with McClintock below; it has been edited for clarity and brevity.
Investing News Network: Please tell us what is special about your PEA and your project.
NorthIsle Copper and Gold CEO Jack McClintock: Our PEA was recently released, and it came out very favorably using our base case at $3.10 copper, $1,300 gold and $9 molybdenum. The results include an after-tax NPV (8 percent) of over $500 million and an after-tax IRR of 14 percent. For a large copper and gold project, a 14 percent IRR is very positive. As a comparison, BHP Billiton (NYSE:BHP,ASX:BHP,LSE:BLT) just announced that it is going ahead with a major expansion of one of its mines in Chile, and its expected IRR is 16 percent. As you can see, we compare favorably with what the major companies look for in an IRR.
INN: How have you made this project so attractive?
JM: When we originally acquired the project in 2011, it held a historical resource of approximately 250 million tonnes. By drilling the project, we have now more than doubled that and have well over 500 million tonnes. In analyzing the project, we also recognized that it could be vastly improved if we acquired a higher-grade starter pit. This led us to look at a project nearby called Red Dog, which was much smaller than ours, but reported a much higher grade. Both the copper and gold grades were 50 percent better, and the mine also boasted a near zero-strip ratio. By acquiring Red Dog in 2015 and adding it to our resource base, we significantly improved the prospects of the project.
INN: What is the next re-evaluation for NorthIsle Copper and Gold?
JM: We have highlighted some quick wins for this project. The first is that we feel we can improve the gold recovery through some additional metallurgical work. We also think there is some opportunity for optimizing the production rate. We believe we can shift the daily production rate up to 80,000 or 85,000 tonnes per day with minimal additional capital expenditure. This would help us bring cash flows forward and would improve the IRR and NPV values.
This project is a brownfields development and sits beside the old BHP Billiton Island copper mine. One of the options we have, therefore, is to look at putting our tailings into the old BHP pit. This would help us in two ways. On the one hand, it would reduce our operating costs. On the other, it would be a much better environmental solution than having a large tailings facility on site. Another aspect that will impact the project is that our Hushamu deposit is still open to the southeast. Additional drilling in that area has the potential to add significantly to our resource base and ultimately could impact the size of our operation and the value of the company.
CEO interviews are part of investor education campaigns for clients advertising on the Investing News Network. Important news is contextualized by CEOs, and the resulting interviews are disseminated to the Investing News Network audience because they have value to market watchers.
The Investing News Network interviews a CEO for an understanding of their perspective on the company, the investment potential of the company and market news related to the company. The information contained here is for information purposes only and is not to be construed as an offer or solicitation for the sale or purchase of securities.