Jamaica: An Island of Opportunity for Mining Investment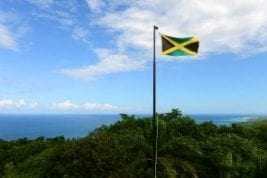 Jamaica is more than an island in the Caribbean — it's also a destination for mining investment that investors may want to consider.
Jamaica attracted a record 4.3 million tourists in 2017. But the third-largest island country in the Caribbean is not just a favorite tropical vacation destination — it's also one of the leading minerals-based economies in the 12-member Caribbean Single Market and Economy.
Jamaica's strategic location and mineralogical diversity helped give rise to one of the region's most developed mining industries.
Since the 1950s, Jamaica's mining sector has been all about bauxite, an important export for the country and the world's main source of aluminum. Giants such as Canada-based Alcan (now a subsidiary of Rio Tinto (ASX:RIO,LSE:RIO,NYSE:RIO)), Alcoa (NYSE:AA) and Alpart played a role in integrating mining into the economic and social fabric of the island nation, helping to build its mining infrastructure.
Alpart, once controlled by Moscow-based RUSAL, was sold to China's state-owned Jiuquan Iron & Steel Group in 2016 for $299 million.
Jamaica also hosts mineral fuels, gold and copper; in fact, the country's geology is similar to that of Chile, Argentina and the Dominican Republic — all very productive mining jurisdictions.
"The mining industry has brought a lot of economic value to Jamaica and it's a great place to do business," Jeff Ackert, president and CEO of Carube Copper (TSXV:CUC), told the Investing News Network. "Understanding the important contribution this industry has made to the economic health of the country, Jamaica's government is very supportive of new mineral exploration and development."
In more recent times, copper and gold porphyry occurrences have been discovered in several areas of the island, including in the Bellas Gate region. Carube Copper controls over 535 square kilometers of mineral licenses in Jamaica and has identified seven copper and gold porphyry systems at its wholly owned Bellas Gate project.
Excellent infrastructure in place and planned
Jamaica has infrastructure in place and under development that will greatly benefit more growth in its mining sector. The government is taking proactive steps to further develop its transport infrastructure, including port, rail and aviation. The country plans to become a logistical hub between North America and South America, according to international business consultancy Santander Trade, which says projects are underway, including some financed by China Exim Bank.
One of those projects is the US$326-million Southern Coastal Highway Improvement Project, which consists of rehabilitating the 110-kilometer roadway between Harbour View in Kingston and Port Antonio in Portland. The project is expected to break ground in early 2018.
In addition, MBJ Airports and Scotiabank Jamaica signed a US$40-million loan agreement in January 2018 for the upgrading of the third-largest airport in the region, the Sangster International Airport in Montego Bay.
Jamaica hosts many deepwater ports, including one of the Caribbean's most important international shipping terminals, Kingston Harbor — the seventh-largest natural harbor in the world. Jamaica is working to build out the logistical capabilities of its key ports. "It is no secret that the development of our ports is a critical area of focus for this administration," said Dr. Horace Chang, minister of economic growth and job creation. "We are convinced that the development of the island's logistics offerings will benefit the sustainable economic growth of our nation and indeed, the Caribbean region."
Sustainable economic growth
Jamaica's government is implementing aggressive economic reforms aimed at reducing debt and fueling growth, with international support from the World Bank, the Inter-American Development Bank and the International Monetary Fund (IMF). In late 2016, the IMF approved a three-year, US$1.64-billion program. The International Finance Corporation has been very supportive of private sector development as well.
There are signs these reforms are working to improve Jamaica's economic health. Jamaica's economy grew by 1.4 percent in 2017 (compared to -0.6 percent in 2012), and is projected to expand by 2 percent in 2018 and by 2.3 percent in 2019, according to FocusEconomics. At the start of 2018, Jamaica's net international reserves stood at US$3.2 billion, which places the country in a good position to weather external shocks to the economy.
Mining policy and business climate
In late 2017, at the National Minerals Week Forum, the Jamaican government promoted its National Minerals Policy (NMP) with the goal of better positioning the island nation in the global minerals industry. The NMP includes plans for establishing a National Minerals Institute for human resources training and development.
"We see the mining laws and regulations in Jamaica as being very competitive compared to South American and African countries. Carube Copper is very comfortable investing in the mineral industry here," said Ackert. "Working with the Department of Mines and Geology through the permitting and renewal process has been very straightforward."
As a member of the Commonwealth, Jamaica has a British-based legislative system that respects security of title and foreign ownership. The government is open to foreign investment in all sectors of its economy. "In 2013, Jamaica's Parliament passed 11 pieces of legislation to improve the business environment and support economic growth through a simplified tax system and broadened tax base," according to the US State Department's Office of Investment Affairs. The country is also encouraging foreign investment by offering incentives such as payment facilities, grace periods for tax payments and duty-free imports. Additionally, Canada-based billionaire Michael Lee-Chin has recently been appointed to lead a task force promoting foreign investment in Jamaica.
The World Bank's Doing Business 2017 report ranked Jamaica at 67 out of 190 countries, and the country placed third in Latin America and the Caribbean in the 2016 Forbes Best Countries for Business Report. "Jamaica applies the principle of national treatment to foreign investors and does not impose limits on foreign ownership or control," according to Santander Trade.
The country's tax framework includes a 16.5-percent VAT and 25-percent company tax. Withholding taxes include 0 percent for Jamaica Stock Exchange-listed companies and 33.33 percent for non-listed companies. All in, Santander Trade estimates that corporate taxation in Jamaica amounts to 34.3 percent of profits, compared to 46.3 percent in the Latin America and Caribbean region, 44 percent in the US and 48.9 percent in Germany.
Jamaica's commitment to continued economic growth and a transparent business climate is attracting hundreds of millions of dollars in foreign direct investment (FDI). In 2016, the island nation was the leading recipient of FDI inflows among English-speaking Caribbean and small island developing states, according to the World Investment Report 2017. Although Jamaica's FDI slipped 7 percent from 2015 to US$856 million in 2016, the report notes that "the growth momentum was not lost, as the level of 2016 FDI flows was 47 percent higher than in 2014."
Jamaica Stock Exchange opening up to Canadian market
Jamaica has had its own stock exchange since 1969. The Jamaica Stock Exchange (JSE) is a member of the United Nations Sustainable Stock Exchanges initiative. The JSE launched a new online trading platform in 2015. Companies can list on one of four markets: the Junior Market, Main Market, Bond Market or the US Denominated Market. In 2017, the Main Market's listings yielded returns averaging 50 percent and the Junior Market averaged 43.9 percent.
JSE Chairman Ian McNaughton announced at the 13th annual JSE Investments and Capital Markets Conference held in January 2018 that the exchange has partnered with the Canadian Depository for Securities (CDS) to enable local companies to list on Canada's stock exchange, and vice versa, reported Jamaica Information Service. McNaughton said the partnership with the CDS speaks to the JSE's "excellent governance structure and processes."
"In 2017 Carube Copper started the process of cross listing on the Jamaica Stock Exchange," said Ackert. "We saw it as a great opportunity to not only show our commitment to the country and its investment community, but also to allow local investors to access the development of Jamaica's mineral resources. Marlene Street-Forest, managing director of the JSE, has been very positive and helpful in guiding us through the process. Sagicor Investments, JN Funds and Barita Investments, which are Jamaican brokerage firms, have also been very supportive in our goal to list on the JSE."
The takeaway
Jamaica's Caribbean locale does not confine the country's economic growth to its tourism sector. The island nation is rich with natural resources, strategically located in a globally important trading hub and has a pro-mining government that understands the value of foreign investment. The continued funding of infrastructure development projects and the emerging partnership between the JSE and the CDS are both positive signs that Jamaica is an island of opportunity for resource investors.