Drill Tracker Weekly: Cordoba Minerals Intersects Near Surface Copper-Gold Porphyry
Drill Tracker Weekly highlights drilling results in context with our database of over 10,000 drilling and trenching results. The purpose of this report is to highlight drilling and trenching results that stand out from the pack and compare them to their peer group. This report does not constitute initiation of coverage or a recommendation. Cordoba […]
Drill Tracker Weekly highlights drilling results in context with our database of over 10,000 drilling and trenching results. The purpose of this report is to highlight drilling and trenching results that stand out from the pack and compare them to their peer group. This report does not constitute initiation of coverage or a recommendation.
Cordoba Minerals (TSXV:CDB)
Price: $0.105
Market cap: $6 million
Cash estimate: $4.5 million
Project: San Matias
Country: Colombia
Ownership: 100 oercent
Resources: N/A
Project status: Additional drilling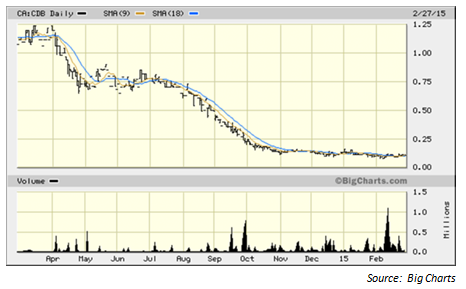 Cordoba Minerals intersected near-surface copper-gold porphyry mineralization on the Company's 100 percent owned San Matias project in Colombia. The project is located 200 kilometers north of the city of Medellin in northern Colombia at the inferred northern edge of the Mid Cauca Gold Belt. The project is at an elevation of between 100 meters and 170 meters above sea level.
Highlights from the newly identified southern extension of the Montiel East target include 200.1 meters grading 0.42 percent copper and 0.33 g/t gold starting at surface. The top 118.39 meters of the hole averaged 0.71 percent copper and 0.56 g/t gold. While the drilling shows that the zone remains open to the south and southeast, the porphyry appears to be dipping south under a mafic volcanic unit. The mineralization is largely hosted in porphyry dyke and sill like intrusive rocks with both sheeted and stockwork style quartz-magnetite-chalcopyrite-bornite mineralization.
The 20,000 hectare land package is largely unexplored in modern times. Limited work had been conducted in the region but no known exploration has occurred in the key Montiel East, Montiel East and Costa Azul areas. The Company has covered the 13 kilometer strike zone with regional scale steam sediment sampling outlining a number of high priority targets.
The Company intends to follow up the results of the regional geochemistry program with a ground magnetic survey which they believe will help define additional drill targets due to the strong association of magnetite with the copper-gold mineralization.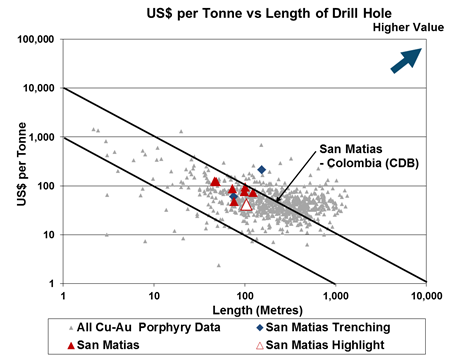 Discovery Hole (November 2013): 101.1 meters at 1.0 percent copper, 0.65 g/t gold
Current drilling: 200.1 meters at 0.42 percent copper, 0.33 g/t gold
Disclosure: I, Wayne Hewgill certify that the information in this report is sourced through public documents that are believed to be reliable but accuracy and completeness as represented in this report cannot be guaranteed. The author has not received payment from any of the companies covered in this report.
At the date of this release the author, Wayne Hewgill, owns no shares in the companies in this report.