Copper climbed to a record in New York for a second day as a weaker dollar and increased investor appetite for commodities overshadowed China's unexpected interest-rate hike.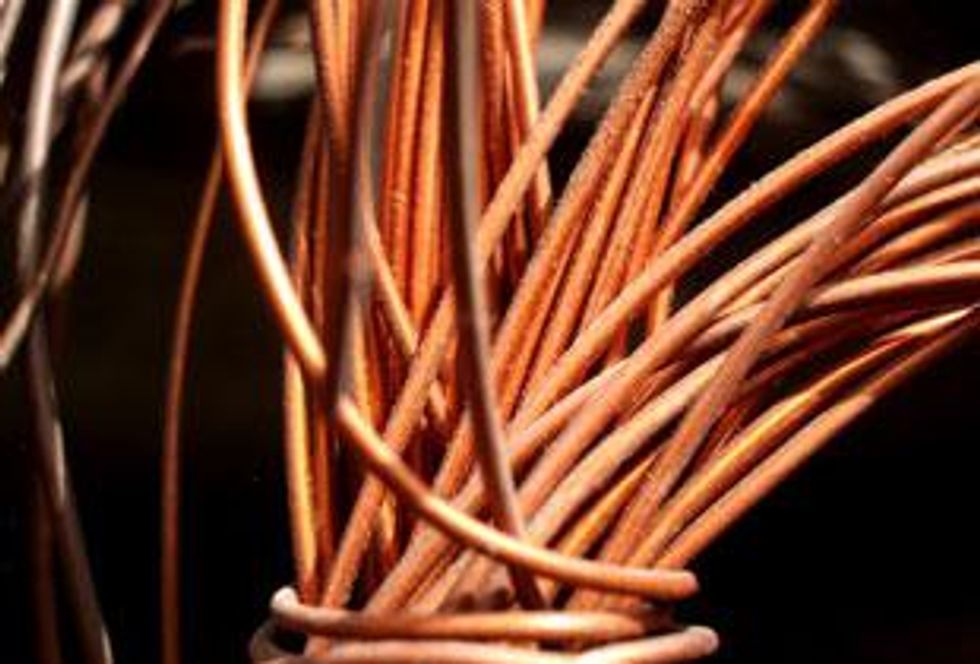 By Leia Michele Toovey- Exclusive to Copper Investing News
Copper climbed to a record in New York for a second day as a weaker dollar and increased investor appetite for commodities overshadowed China's unexpected interest-rate hike.
The record-breaking move came as the dollar declined against the euro, making dollar-dominated copper more affordable for holders of international currencies.  The dollar dropped for the fourth day against a basket of currencies, including the euro and yen, on speculation a reports would show U.S. home prices fell, backing the case for the Federal Reserve to keep borrowing costs low. Volatile currency markets have investors pouring funds into the red metal as a "safe-haven" investment.
Metal for March-delivery on Comex climbed as much as 0.6 percent to $4.3075 a pound Tuesday, surpassing the previous peak for a most-active contract of $4.2985 reached Wednesday.
Copper prices gained extra impetus on the expectation that copper demand will outpace supply. Current estimates predict a 550,000 tonne deficit in 2011.  This forecast assumes a 4 percent mine supply disruption; it also excluded material that may be held by exchange- traded products launched by BlackRock Inc. and JPMorgan Chase & Co.  According to this estimate, stockpiles will dwindle to three weeks' worth of consumption.
Copper rallied in the last six months of 2010, continually breaking records in December due to recovering demand and tightening supply. Comex open interest in copper, which measures the number of open futures contracts at the end of each trading day, grew to 167,976 lots Monday from 151,415 lots at the start of the month.
China Rate Hike
China raised benchmark interest rates by 0.25 percentage point Saturday as it continues to battle inflation. Some worried that higher rates, aimed at cooling China's robust economy, would also dent the country's copper demand' however, the rate hike failed to interrupt copper's rally as investors decided that the move won't do much to stop the China's demand for commodities.
Supply Disruptions
Copper prices are receiving support from an ongoing supply problem at one of Chile's largest copper mines.  The Dona Ines de Collahuasi copper mine, with annual output of around 550,000 metric tonnes of copper, equivalent to approximately 3 percent of annual global supply, suspended sales contracts on Dec. 20 after a fatal accident at its port. The operation will lose around 30,000 metric tonnes of contained copper in the first month and "lower losses beyond that" as it diverts shipments to other ports or the Xstrata-owned Altonorte copper smelter in Chile's Antofagasta region, according to analysts at Macquarie Bank.
Company News
The recent rally in metal's prices may lead to the reopening of one of the world's largest copper and gold mines. Bougainville Copper (ASX:BOC), located in Australia, closed 22 years ago. At current copper and gold prices, the mines untapped reserves are worth an estimated $50 billion.  Before the mine can be reopened, Bougainville must obtain permission from the landowners, and undertaking that will come with a price tag of around $3 billion. "The key to the door," Bougainville Copper chairman and managing director Peter Taylor said, "Is the landowners. Nothing could happen until they say to BCL, as a united group, 'We want the mine and we want you to run it'." Former Australian Prime Minister Bob Hawke contacted PNG Prime Minister Sir Michael Somare and Bougainville President John Momis in Port Moresby in November.
Chilean state copper producer Codelco will use the proceeds from the proposed sale of its 40 percent stake in local power generator E-CL SA for its 2011 investment plan.  As copper prices climb to records, Codelco expects to invest up to $15 billion over the next five years to expand output. The state mining company's chief executive, Diego Hernandez, recently said that Codelco was mulling "eventually selling some noncore assets in the range of $1 billion, such as our participation in power company E-CL" to help pay for expansion projects. Codelco normally finances its expenditures through debt issues, bank loans, amortization and depreciation of its assets, and reinvestment of some of its annual profits. The government has already decided it won't allow the mining company to retain part of its 2010 profits to finance 2011 expenditures.
Investing News Network websites or approved third-party tools use cookies. Please refer to the  cookie policy for collected data, privacy and GDPR compliance. By continuing to browse the site, you agree to our use of cookies.