Copper Mountain Reopens Copper Mine in British Columbia
The first shipment of copper concentrates from Copper Mountain Mining's (TSX:CUM) mine has made it to the Onahama port in Japan, a key milestone, for the first new copper mine to open in the Province of British since 1998.
By Leia Toovey- Exclusive to Copper Investing News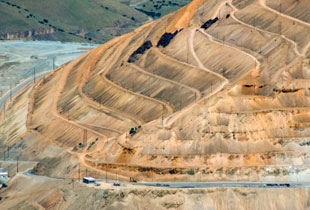 The first shipment of copper concentrates from Copper Mountain Mining's (TSX:CUM) mine has made it to the Onahama port in Japan, a key milestone, for the first new copper mine to open in the province of British since 1998.
The first shipment to arrive in Japan, where it will be further processed, totaled 11,200 wet tonnes of concentrate. The concentrate was made up of the following metals (an approximation) 5.6 million pounds of payable copper, 40,600 payable ounces of silver, and 2,470 payable ounces of gold. At current LME prices, this shipment is worth an estimated US $29 million. "In just 16 months since receiving our permits to build on April 1, 2010 we have reached our goal of our first shipment of copper concentrate headed to Japan for processing at our partners' smelter in Onahama. We are all very pleased with the team's accomplishment in such a short time," commented copper mining's CEO Jim O'Rourke.
History
Copper Mountain's mine is not a completely "new" mine, but, a revamped and reopened past producer. Previously called the Similco mine, it was periodically mined by various companies as far back as 1884. The last operator of the mine was Princeton Mining Corp., who purchased the mine off of Newmont (NYSE:NEM). Before the sale, Newmont was going to cease mining; however, Princeton kept the property in operation until 1996, when, they moved on for greener pastures. Copper Mountain Mining's current CEO James O'Rourke was working for the company when the decision to shutter was made. "We shut it down in 1996; even though it still had reserves, the grinding equipment was old and small, relatively speaking. We were also faced with a fairly large increase in the strip ratio, moving to 2:1 from 1:1." Similco was abandoned, and with funding from Mitsubishi, the nearby Huckleberry mine, was developed- which as the time looked to be much more profitable. To date, Huckleberry is still in operation.
In 2006, the opportunity to revisit the old Similco mine presented itself to O'Rourke. O'Rourke decided to move forward with the opportunity, and with a past-producing asset in hand, Copper Mountain went public in 2007. Even though there was already evidence in support of reserves near the mine, which is composed of three distinct pits, Copper Mountain undertook a great deal of exploration to further delineate the reserves. Copper Mountain benefited from funding from Mitsubishi, who also funded the Huckleberry mine. Mitsubishi took a 25 percent equity stake in 2009. In return, it arranged needed debt financing and agreed to take 100 percent of the concentrate for the estimated 17-year life of the mine. The stable funding source has been instrumental to the mine's development, and permitted the mine to open on schedule, despite the financial crisis, which dried of funding for many exploration projects.
Development
Copper Mountain's exploration strategy has been to focus on the historic resource contained in the three existing pits, as well as search for mineralization surrounding the pits. In 2008, the company succeeded in finishing one of the largest drill programs in British Columbia and increased the resource estimate by 45 percent to 5 billion pounds of copper. The massive drilling program confirmed that there was continuous mineralization between the pits- which opened up the idea of connecting all three pits into one massive "super-pit." There is also the potential at the site to dig deeper. "We've drilled one hole and encountered 1000 feet of 0.6 percent equivalent — the last 300 feet over 1 percent copper," commented O'Rourke.
Production
The mine is expected to produce 10 million pounds of copper per year, during the first 12 years, and some silver and gold. According to estimates, the head grade will be 0.43 percent copper, 0.5 percent copper equivalent. Recovery will be 89 percent copper, 6 percent gold and 49 percent silver. The mine will utilize conventional crushing, grinding and flotation processes and equipment. Once the copper concentrate is produced, it will be shipped to one of Mitsubishi Materials' existing copper smelters in Japan: via rail and boat.
The reopening of this mine is good news for Mitsubishi and Copper Mountain, to investors, and to the province of British Columbia. Bringing the mine back to life required $438-million in investment, created 340 construction jobs, and leaves behind a workforce of 272 employees. A successful mine development should also provide encouragement to the mining sector of British Columbia, as a whole. British Columbia has long been known to host impressive copper reserves- enriched with silver and gold- and has been home to profitable mines- including the Highland Valley Copper Mine. Declining ore grades and production rates in some of the world's top mines, such as those in Chile, have made it readily apparent how necessary it is to find and bring to production, new copper mines. British Columbia is poised to be a key player in the global copper market. Not only does the province host impressive reserves, it is a mining friendly and politically stable region. Infrastructure is also excellent in the province, with the port of Vancouver a connection with the Asian markets.
Currently, there are few explorers and miners working in the province, including:
Cariboo Rose Resources (TSXV:CRB)
Cascadero Copper Corp (TSXV:CCD)
Copper Mountain Mining Corp (TSX:CUM)
Excalibur Resources (CNQ:XBR)
Fjordland Exploration (TSXV:FEX)
Lions Gate Metals (TSXV:LGM)
Serengeti Resources (TSXV:SIR)
Supreme Resources (TSXV:SPR)
Taseko Mines (TSX:TKO)