Copper Market Anxious Despite China's European Bond Buying Plans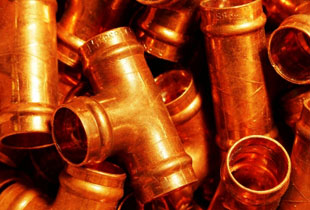 Copper is trending lower this week despite an uptick following Beijing's announcement that it will support Europe's financial rebound by continuing to shore up European government debt. Market eyes are focused on the upcoming economic policy conference at which Federal Reserve Chairman Ben Bernanke is slated to speak.
At a joint press conference in Beijing following his meeting with German Chancellor Angela Merkel, Chinese Premier Wen Jiabao said that China will boost ties with the ECB in an effort to support the stabilization of the Eurozone. Noting that the European financial crisis was the key topic of discussion during the bilateral talks, Wen added that Europe needs to balance fiscal tightening with economic stimulus. Wen's comments lifted market sentiment about the global economic outlook and have pushed up prices for the red metal on anticipated demand.
Still, investors will be looking to Bernanke's speech on Friday at the Jackson Hole, Wyoming meeting that will be hosted by the Federal Reserve Bank of Kansas City — for clues on possible monetary easing and other measures that may be taken to steady the international economy. Anticipation is growing that Bernanke will signal or outright call for a third round of quantitative easing, which would affect markets across the board.
Japanese copper exports to China surged 27 percent in July from a year ago. Japan is the world's third-largest producer of refined copper, and it exported 17,086 tonnes of copper cathode to China, the world's largest consumer of copper, in the latest month. Overall, Japanese refined copper exports also rose 27 percent on year to 42,302 tonnes.
In late afternoon trading, COMEX copper is down 0.2 percent at $3.44 a pound.
Company news
Codelco is considering the possibility of an initial public offering for its international unit in order to increase its operations outside of Chile, according to local daily Diario Financiero. Thomas Keller, the company's CEO, said that the launch of its international unit was delayed by 10 months as the company grappled with Anglo American (LSE:AAL) in a dispute over the Anglo American Sur properties; the dispute was resolved last week. The international unit's business plan will be up for board consideration before the end of this year.
Also in Chile, Antofagasta's (LSE:ANTO) newly-appointed CEO, Diego Hernandez, told analysts that copper prices will likely remain volatile, cautioning that "macroeconomic concerns have clearly been weighing on the copper price and there is risk of volatility in the price if there are further macro shocks," even as he added that there is also upside potential. The company's net profit during the first six months of the year dropped 7.2 percent from a year ago to $646 million due to higher exploration costs coupled with a fall in copper prices.
In Australia, Xstrata Copper said its AU$300 million Mount Margaret mining operation in Queensland has begun trucking ore to Ernest Henry Mining for processing. Xstrata Copper acquired Mount Margaret last year, and the mine is expected to add about 30,000 tonnes of copper output at Ernest Henry Mining.
Meanwhile, speculation is mounting that Glencore International's (LSE:GLEN) bid for Xstrata (LSE:XTA) will not go through as this week Xstrata is trading at a record discount of nearly 11 percent. Under the $31.8 billion deal, Glencore had offered 2.8 shares for each Xstrata share. Still, Xstrata released a statement this week declaring that the merger review process "remains ongoing in the European Union," as it expects to file a formal notification of the merger with the European Commission in September.
Junior company news
International Enexco (OTCQX:IEXCF,TSXV:IEXCF) confirmed a new copper target at its Contact copper project in Northeast Nevada. The company said that recent sampling has returned grades of up to 12.4 percent copper from outcrops of oxide mineralization within quartz monzonite.
Northisle Copper and Gold (TSXV:NCX) announced a private placement of up to $1 million, selling as many as 5.8 million units at 17 cents a share. Proceeds from the private placement will be used to continue exploring the company's North Island project on Vancouver Island as well as for general corporate purposes.
Securities Disclosure: I, Shihoko Goto, hold no direct investment interest in any company mentioned in this article.