Copper Makes Slight Gains as Chile Port Strike Hampers Supply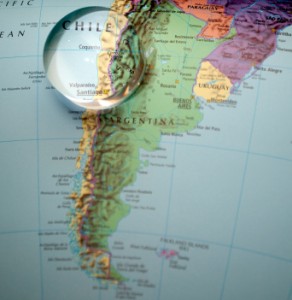 Copper made slight gains towards the end of the week as a port strike in Chile curtailed shipments. Earlier, the red metal had dropped to an eight-month low after data showed that the European economy and US labor market were weaker than expected.

"[T]he concern is that the Eurozone downturn shows no signs of ending," Markit Economics' chief economist, Chris Williamson, said in a statement on Thursday. In fact, the Eurozone's rate of decline in output accelerated for the second month in a row in March.
But the strike in Chile is restricting exports from the world's largest copper producer by 60 percent, Bloomberg reported Chile's mining minister, Hernan de Solminihac, as saying. Also, copper premiums in Singapore climbed to their highest level since May in the wake of the strike.
"Premiums all across Asia have gone up," one warrants trader based in London told Reuters. "There's talk Codelco is going to have some delivery problems because of the port strike."
"The news out of Chile alleviates some of the concerns for now about over-supply of copper," David Meger, director of metal trading at Chicago's Vision Financial Markets, told Bloomberg.
On the London Metal Exchange, copper for three-month delivery rose 0.7 percent, to $7,442 per metric ton (MT), having hit an eight-month low of $7,331.25 earlier on Thursday. COMEX copper for May delivery was up 0.8 percent, at $3.36 per pound, in mid-afternoon trade in New York.
Company news
Rio Tinto (LSE:RIO,ASX:RIO,NYSE:RIO) hired Macquarie Group to find a buyer for its majority stake in the Northparkes copper and gold mine in Australia, The Globe and Mail reported, citing unnamed people familiar with the plans.
Codelco said it is accruing "substantial losses" due to a strike at the Chile-based Radomiro Tomic mine following an accident that claimed the life of one worker in March, according to Bloomberg. CEO Thomas Keller said the mine "traditionally contributes the most to company's profits, so effectively the resources we stop generating are substantial." Juan Olguin, a representative for the copper federation, said the workers may protest nationwide. "Executives responsible for the accident must permanently leave their posts," Olguin stated.
Sterlite Industries India (BSE:500900,NYSE:SLT) has halted deliveries from India's largest copper smelter after shutting down last week due to complaints over emissions, as per Reuters. The smelter, which produces more than 300,000 MT of copper each year, will remain closed at least until a hearing on April 9. The company has declared force majeure, which allows it to miss shipments.
Glencore International (LSE:GLEN) has once again extended the deadline to complete its acquisition of Xstrata (LSE:XTA). This time, the deadline has been lengthened until May 2 to allow Chinese regulators to complete their review of the merger.
A landslide at a China Gold International Resources (TSX:CGG,HKEX:2099) copper mine in Tibet last week is thought to have claimed 83 lives, The Australian reported. The company said in a press release that it has launched an emergency plan to ensure that the landslide has not had any "material adverse impact on the existing production and operations at the Jiama mine."
First Quantum Minerals (TSX:FM,LSE:FQM) completed its acquisition of Inmet Mining (TSX:IMN). It now holds 92.74 percent of Inmet's shares and will proceed with a compulsory acquisition of the remaining stock.
Junior company news
Tiger Resources (ASX:TGS,TSX:TGS) announced high-grade copper results from its diamond-drilling program at Sase Central, which is part of the company's Lupoto copper project in the Democratic Republic of the Congo (DRC). Tiger said the results will be used to support the preparation of a revised resource estimate. The company also said that it has set a new record for monthly production at its Kipoi copper project in the DRC.
Catalyst Copper (TSXV:CCY) and Minera Torre de Oro agreed to an extension in negotiations for a definitive agreement that would see Catalyst acquire Minera's interest in the La Verde copper project in Mexico. The deadline for an agreement is now April 10.
Coro Mining (TSX:COP) will now sell its Chacay copper project in Chile to Teck Resources (NYSE:TCK,TSX:TCK.A) for $2.5 million plus a 1.5-percent net smelter return. In addition, Coro will receive $500,000 and a 1.5-percent net smelter return that is payable when surrounding exploration claims are converted to mining claims, expected before the end of 2013.
Yellowhead Mining (TSXV:YMI) submitted the environmental assessment certificate application for its Harper Creek copper-gold-silver project to the BC Environmental Assessment Office, which has 180 days to complete its review. This year, the company is considering financing options to develop Harper Creek, including agreements or partnerships with strategic investors, project and equipment financing, stock offerings and offtake deals.
Nautilus Minerals (TSX:NUS,LSE:NUS) plans to raise C$40 million in a share sale to fund three contracts related to its seafloor production system. The contracts are with: Soil Machine Dynamics for seafloor production tools; GE Hydril for a subsea slurry lift pump; and General Marine Contractors for a rigid riser system. Nautilus said that going ahead with the contracts will ensure that it is in the "best possible position" to advance the offshore Solwara 1 copper and gold project in Papua New Guinea once its dispute with the state is resolved. It also said that it continues to meet with representatives of Papua New Guinea, "with a view to amicably resolving the dispute as soon as possible."
Oracle Mining (TSX:OMN,OTCQX:OMCCF) filed the NI 43-101 technical report for its Oracle Ridge copper project in Arizona.
Nevada Copper (TSX:NCU) secured a $200-million loan facility from Red Kite Mine Finance to fund the construction of the underground mining operation at its Pumpkin Hollow copper project in Nevada. The deal also includes an offtake agreement under which the company will sell a percentage of the copper from the mine to Red Kite. CEO Giulio Bonifacio said the loan satisfies 100 percent of the company's capital requirements this year.
Securities Disclosure: I, Ragnhild Kjetland, hold no investment interest in any company mentioned in this article.