Copper Exploration in Northern Mexico's Sierra Madre Region
Aug. 30, 2018 01:05PM PST
Base Metals Investing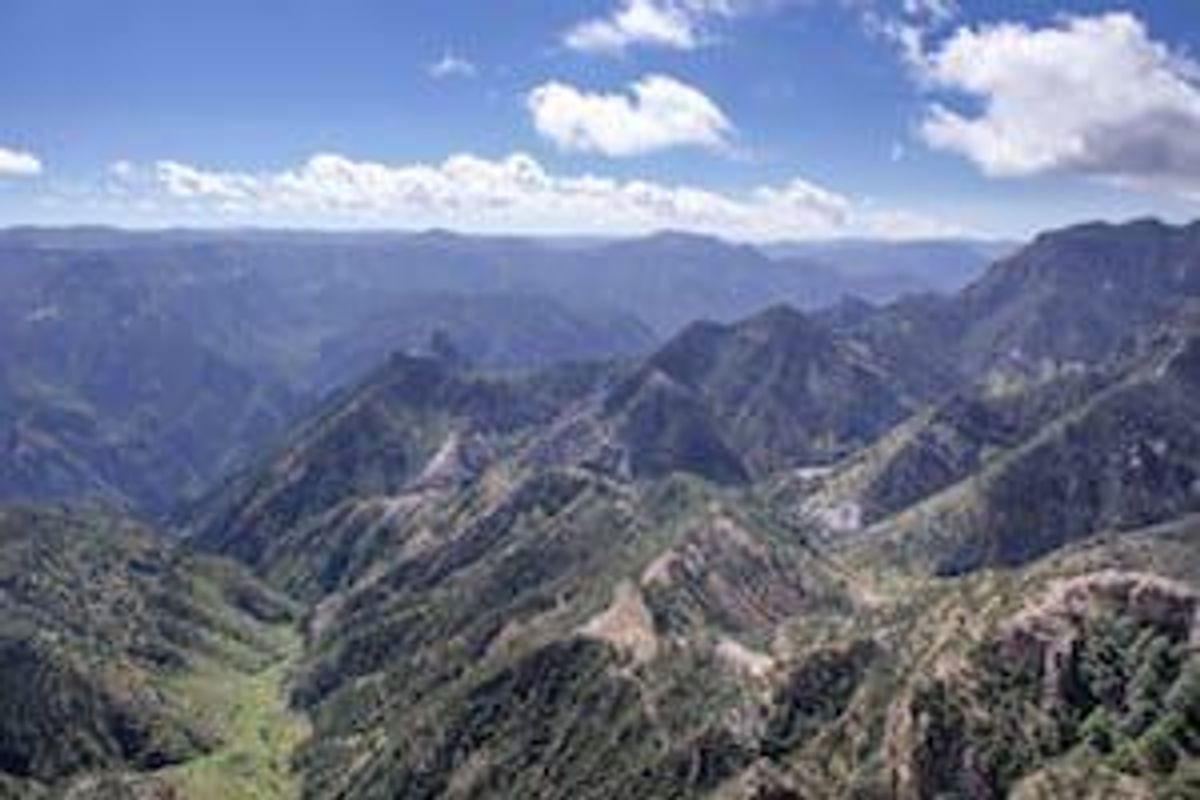 The Sierra Madre region in Northern Mexico was home to many historic artisanal mining camps where precious metals and copper were mined close to surface.
Mexico has a long and storied mining history that dates back to the Aztecs. The nation's geology represents a treasure trove of natural resources, including gold, silver and copper, particularly in the Sierra Madre region.
Located in Northern Mexico, Sierra Madre was home to many historic artisanal mining camps where precious metals and copper were mined close to surface. Now, modern exploration technologies such as aerial drones and advanced geophysical surveys are enabling new exploitation in areas of known copper mineralization — much like the oil companies that have sparked a revolution in the country's oil and gas sector, using modern drilling techniques to revitalize existing wells and add new zones in existing fields.
Mexico a global leader in metals production
Mexico is the 11th-largest economy in the world in terms of purchasing power parity and the second largest in Latin America. The country owes its prominent rank in large part to its longstanding and thriving mining industry, which is expected to grow by 3.3 percent annually to reach a value of $17.8 billion in 2020.
Mining investment in Mexico is projected to have reached a total of $5.5 billion in 2017, up significantly from 2016, according to Mexico's mining chamber, and will continue that pace in 2018. Nearly half of that total comes from foreign investors, reported Reuters.
In terms of production, Mexico's leading commodities are silver, gold and copper. The country ranks first in the world for silver production, eighth for gold and 10th for copper. Mexico is home to Grupo Mexico (OTCMKTS:GMBXF), which owns 85 percent of one of the world's largest copper producers, Southern Copper (NYSE:SCCO).
The treasure in the Sierra Madre region
The epicenter of this mining activity is in the northwestern region of the country over which the Sierra Madre mountain range cuts south from the Arizona border for more than 1,600 kilometers through Mexico's arid northwestern states. These states — Chihuahua, Sonora, Sinaloa, Zacatecas, Durango and San Luis Potosi — account for nearly three-quarters of Mexico's mineral production.
The western arm of this range, the Sierra Madre Occidental mountain range, is associated with two hydrothermal belts with veins and gaps that stretch out underneath both sides of the range, and are known to host gold, silver, copper and zinc mineralization.
The potential mineral treasure in this region has attracted hundreds of exploration companies, especially into the mining-friendly state of Chihuahua. During the age of Spanish colonialism, the territory of present-day Chihuahua was the first northern region of New Spain to be explored and settled. The Spaniards spent the second half of the 16th century developing the area into a strategic mining center after the discovery of gold at the foot of the Sierra Madre Occidental mountain range.
Today, Chihuahua is known as El Estado Grande, owing to its position as Mexico's largest state by area. The state's well-developed transportation system includes two international airports, an expansive 4,800-kilometer highway network, sea access via the Topolobampo port and Mexico's largest multimodal rail infrastructure, spanning more than 2,560 kilometers. Bordering the US states of Texas and New Mexico, it's no wonder Chihuahua is an important commercial route for international trade. The state's mountain areas are also an important source of gold, silver and copper. The mining sector is the state's second principal destination for foreign investment behind manufacturing.
"There has been a lot of activity in the last 30 years in the Sierra Madre region of Northern Mexico because it is a very attractive area to work in," Jim Culver, president and CEO of VVC Exploration (TSXV:VVC), told the Investing News Network. "The high desert climate is good for mining and has less environmental issues like water runoff. Best of all, the area is rich in minerals and has had little exploration or use of modern technology."
Aerial drones and heap leaching replace pickaxes and dynamite
Prior to the technological advances in exploration and mining in the 1990s, most of the mining undertaken in this region was performed by gambusinos — artisanal miners outfitted with pickaxes, donkey carts and dynamite. These simple mining methods meant only easily accessible high-grade ore was carted off to the nearest smelter, leaving the Sierra Madre region underexplored. These historic mining camps have much to offer junior resource companies with the financial backing and modern technological know-how to locate and exploit once-inaccessible or lower-grade ore.
Open-pit mining and heap leaching (a low-cost metals extraction process) have made lower-grade deposits more economically feasible, changing the overall outlook for mining in the region. "This area of Northern Mexico was not the predominant area of large-scale mining in the country until the last 30 years, following the advent of open-pit and heap leaching technologies and some changes in the mining business," said Culver. His company owns a portfolio of projects in Northern Mexico, including the Cumeral epithermal gold project in North-Central Sonora, and the Samalayuca copper project in Northern Chihuahua near the Texas border.
Samalayuca, said Culver, contains at least 35 old pits left by artisanal miners recovering copper ore at surface and hauling it out to the nearby railroad trestle to load onto railcars destined for the Asarco smelter a mere 50 miles away in El Paso, Texas. Because Asarco was only interested in purchasing high-grade material, there are hundreds of piles of lower-grade ore dotting the site.
"If we had found this copper oxide project 50 years ago, I would have said that's nice, but not much we can do with those grades. However, with today's heap leaching technology, economic recoveries with 0.5 percent to 2 percent copper grades become much more feasible," said Culver. "Of course, there appears to be a lot of high-grade material there as well," he added.
Advances in exploration and geological modeling technology are also helping companies to further unlock the value in Mexico's northern mining concessions. "When we acquired the Samalayuca property there had been very little drilling," said Culver. "We performed a lot of surface sampling over the last three years followed by a property-wide drone surveys 2016. The company then performed a ground magnetic survey in early 2017, followed up by a much larger ground magnetic survey in October 2017, first targeting the previously mined open-pit area, La Gloria, which was mined by gambusinos up until the 1960s followed by four of other principal pits."
VVC has incorporated the data into a geological model that was used to design a 3,000-meter drill program aimed at defining one or two pits to start a pilot mine operation. That drilling commenced in late in 2017 and has undergone two out of three phases. The company plans to use the cashflow generated from the pilot mining operation to support further drilling on the property, which is more than 11 kilometers long and 3.0 kilometers wide.
Looking forward
Mexico's mining-friendly policies and the underexplored copper potential in the country's resource-rich northern states will continue to offer opportunity for junior explorers. Further discoveries are bound to emerge with the use of more modern exploration techniques, comparable to the resurgence seen in the old mining towns of Canada and the US.
This article was originally published by the Investing News Network in January 2018.
This INNspired article is sponsored by VVC Exploration (TSXV:VVC). This article was written according to INN editorial standards to educate investors.
Investing News Network websites or approved third-party tools use cookies. Please refer to the cookie policy for collected data, privacy and GDPR compliance. By continuing to browse the site, you agree to our use of cookies.