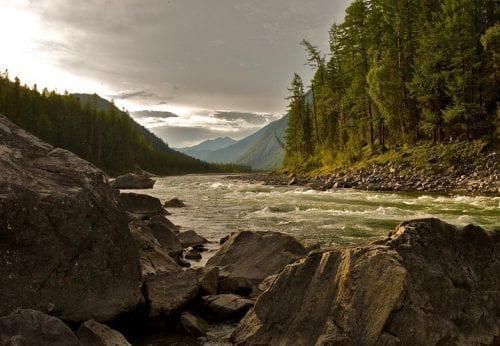 New permitting allows Centerra to tap into groundwater wells within the mine's tailings storage, and extends the amount of time it can use water from Philip Lake nearby — but only for an extra two weeks.
Centerra Gold (TSX:CG) has secured short-term water supply for its Mount Milligan copper-gold mine in drought-stricken BC, averting a reduction in production for the very near future.
The company says negotiations with regulators during Q3 have "resulted in earlier than anticipated approval of certain short-term water sources," allowing Centerra to tap into groundwater wells within the mine's tailings storage for the duration of its life.
Through the talks the company has also been able to extend the amount of time it can use water from Philip Lake nearby — but only for an extra two weeks.
As reported in August, Centerra's supply of water from Philip Lake is currently at 2,500 cubic meters a day, but that rate fluctuates with natural outflow (the company is not allowed to exceed 15 percent of outflow) and is only permitted to the end of October.
Mount Milligan is located in Central BC near Prince George. The province is currently enduring drought conditions from north to south, with chronic water shortages affecting most of the population.
With the new permitting, Centerra can continue pumping water from the lake until November 15 — but Centerra added that it has applied to extend its permitting through the winter period, and that its application is under review.
It also said that it is preparing further applications to allow it access to ground wells outside of the tailings storage, plus Philip Lake and the nearby Rainbow Creek "for the entire life of mine" at "rates that are protective of [the] environment."
"The Company is still in discussions with regulators, First Nations and other affected stakeholders as to such approvals and expects that access to these sources may be granted as early as December 2018," Centerra said.
However, the company adds later in the release that it can provide "no assurances that additional sources will be available to the company on its expected timeline or at all."
The mine and its operations require 21,000 cubic meters of water to process 55,000 tonnes of ore daily.
The company stressed in August that "Mount Milligan's mill throughput is highly dependent on the availability of water and throughput estimates for the second half of 2018 will vary."
In the light of the ongoing risk of constrained water supply, Centerra said on Friday (September 14) that it is seeking to lock in long-term water solutions, and that it expects such a source (or sources) to be available "from and after 2020 for the entire life-of-mine."
Centerra also said that if there are delays in seeking more water sources, there will be '"significant negative effects" on Mount Milligan's production, and the company's bottom line, as warned in August.
In its second-quarter release, the Toronto-based company says that Mount Milligan produced 16.5 million pounds of copper and 130,183 ounces of gold in Q2.
As of the time of Centerra's most recent press release, it had not indicated any reduction in production as the mill at Mount Milligan has been operating both ball mill circuits.
On the Toronto Stock Exchange, Centerra Gold's share price jumped up to C$5.75 on Monday (September 17). Over the day that rise tempered slightly, and as of 3:20pm EDT the company was trading at C$5.48, representing a 5.68-percent increase.
Don't forget to follow us @INN_Resource for real-time updates!
Securities Disclosure: I, Scott Tibballs, hold no direct investment interest in any company mentioned in this article.