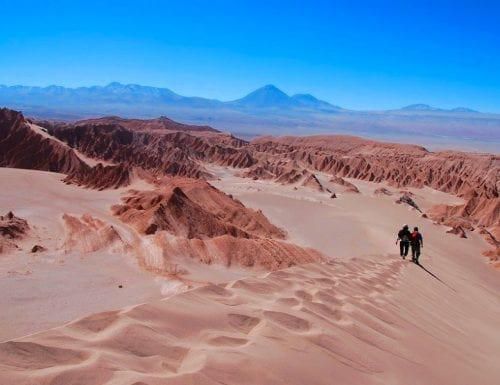 Capstone Mining has announced it's considering options around its 70-percent stake in the Santo Domingo IOGC project in Atacama, Chile.
Canada's Capstone Mining (TSX:CS) has revealed it's considering selling part of its 70-percent share on the Santo Domingo iron oxide-copper-gold project in Chile.
In a Monday (November 26) release, the company said that it was launching a 'strategic process' to review options for the project including looking into streaming deals for gold and cobalt.
Capstone said that with its partner in the project, the Korea Resources Corporation — which controls the remaining 30 percent — it would "evaluate alternatives relating to the ownership of the project" while talking it up as a rare opportunity.
"There is a shortage of high-quality, large scale copper projects," said Capstone CEO, Darren Pylot.
Santo Domingo, which is 50 km from Codelco's El Salvador copper mine, has a measured and inferred resource of 537 million tonnes grading 0.52 percent copper equivalent.
An operational project would produce an average of 134 million pounds of copper a year (over 18 years), along with 4.2 million tonnes of iron concentrate and 17,000 ounces of gold.
Pylot said that today's announcement was about advancing the project and maximizing Santo Domingo's valuefor shareholders "in a responsible manner that ensures [Capstone's] participation maintains financial flexibility for continued growth and financial security for the company's existing operations."
In a conference call Pylot said that Capstone "wants to see this project expand, and we want to ideally own as much of it as we can," citing a looming copper deficit.
He said that Capstone did not have to be the operator of the project but would be aiming for retaining around 50 percent. As the strategic process was only just beginning, Pylot said there were not yet any potential buyers to discuss.
Currently, Capstone owns and operates two mines — Pinto Valley in Arizona, and Cozamin in Mexico. The company's Minto mine in Yukon was recently placed on care and maintenance after a deal fell through in October, and earlier this month the company announced it has signed a letter of intent with Lara Exploration (TSXV:LRA) for the option to acquire up to 70 percent of the Planalto copper project in Brazil.
The strategic process is backed by an updated technical report for the project released on the same day, which envisages the project would cost US$1.51 billion to advance to an operational mine with a life of almost 18 years that would begin after a two-year construction period.
The US$1.51 billion is 11 percent lower than the initial cost in the 2014 feasibility study, which the company credited to improved project infrastructure design, including a water purchase agreement.
Capstone said it was aiming for Santo Domingo to be construction-ready by early 2020.
The updated technical report showed that the project — which would consist of two open-pit mines — has an after-tax net present value of US$1.03 billion and an internal rate of return of 21.8 percent.
Besides looking into selling a share of its 70 percent, Capstone said that in 2019 it would be exploring options around cobalt from the project, which the company pointed out was not included in its economic model. According to the technical report, Santo Domingo holds 229 parts per million in cobalt resources under the measured and indicated category.
The strategic review will include examining gold and cobalt streaming deals to secure financing.
On the TSX, Capstone was up by 3.33 percent to C$0.62 by 1 p.m. EST on Monday.
Don't forget to follow us @INN_Resource for real-time updates!
Securities Disclosure: I, Scott Tibballs, hold no direct investment interest in any company mentioned in this article.