Australia is Now the World's Top Exporter of Lithium: Report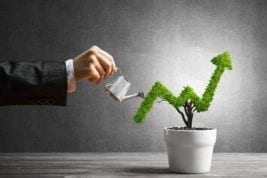 According to a new report from Australia's federal government, the country's resource and energy exports will total a record-breaking $250 billion this year.
A new report from the Australian federal government shows the country's mining industry is on track to see a record-breaking $250 billion in exports this year.
Australia's most recent Resources and Energy Quarterly report indicates that resource and energy exports will hit $250 billion in 2018/2019, though those numbers will likely simmer to $238 billion by 2019/2020. The drop off is expected based on predictions of lower consumption and rising production.
According to a government press release, Minister for Resources and Northern Australia Matt Canavan said Australia is now the world's number one exporter of lithium, with the commodity now earning its own chapter in the report.
"The report says exports of spodumene ore, the precursor material for lithium, have risen from around $117 million in 2012 to $780 million in 2017, and are expected to rise to around $1.1 billion by 2020, and points out even greater value could be unlocked if Australia progresses in refining these ores into more valuable forms of lithium," Canavan said in a statement.
However, Canavan said coal is still expected to be the country's most profitable export in 2018/2019 at $61 billion, with fellow golden goose export iron ore coming in at $60 billion. The minister elaborated on coal's position in the market, saying strong demand could see the commodity reclaim its top spot as Australia's most profitable export.
"With strong demand and high prices for metallurgical coal, used in steel-making, it is expected to bring in $36 billion. Continuing strong demand from China and India in particular for thermal coal, used in power stations, will see it earn a record $25 billion," he said.
"It is likely coal and iron ore will continue to fight it out for the title of Australia's top export-earner in coming years, and this is great news for the Australian economy," Canavan added.
Liquefied natural gas (LNG) exports are also expected to see major gains up to $48 billion, reflecting record investment by LNG companies in Australia.
"LNG is also performing strongly, with exports likely to increase in value by 54 per cent from $31 billion in 2017-18 to $48 billion in 2018-19 — driven by both higher export volumes and higher prices — before levelling out next year," Canavan said.
"These are huge sums, and reflect the success and hard work of Australian exporters in supplying the growing Asian market," he concluded.
Don't forget to follow us @INN_Resource for real-time updates!
Securities Disclosure: I, Olivia Da Silva, hold no direct investment interest in any company mentioned in this article.