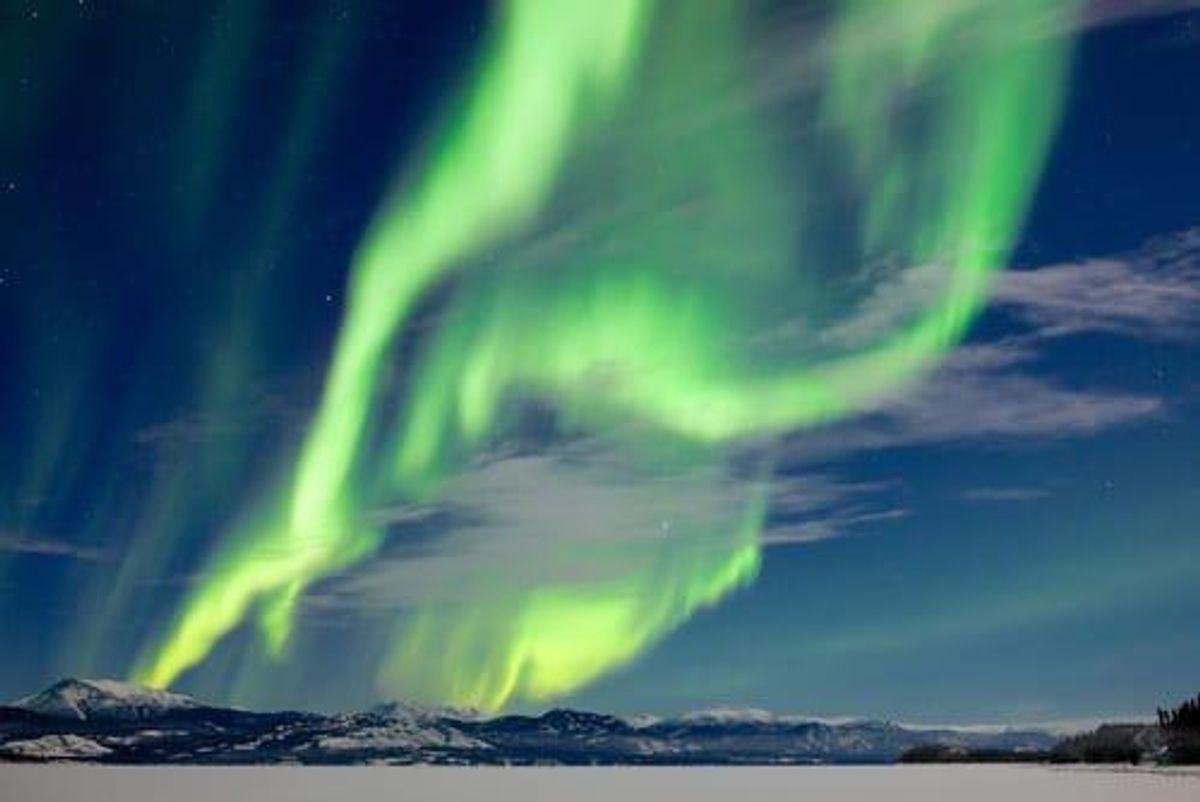 Strong exploration activity in the Yukon's White Gold district is at the heart of the territory's mining industry.
The unique geology of Yukon's White Gold district is driving junior and major gold companies to the region.
Canada's Yukon is one of the most mining-friendly jurisdictions on the planet. The Yukon Government forecasts 2018 mineral exploration spending will surpass $170 million — the highest since 2012 — in addition to development spending on new mines tripling from 2017 levels to reach $250 million. Much of the exploration and development activity is taking place in one of the territory's most attractive mineral districts: White Gold.
The White Gold district is the site of two famous gold rushes, producing millions of ounces of gold. And yet the region's unique geological characteristics means it's still full of blue sky potential, for both elephant-chasing juniors and reserve-hungry majors.
Yukon's White Gold district famous gold rushes
The White Gold district lies in the Klondike region of the Dawson Range, which is the southwestern portion of the Tintina gold belt. The belt itself is a 200-kilometer-wide, 1,200-kilometer-long arc that extends from northern BC into southwestern Alaska — and is the originator of much of the Yukon's world famous mineral wealth.
The White Gold district's mining history dates back to the 1896 Klondike gold rush, when Skookum Jim Mason discovered gold in Bonanza Creek, a tributary of the Klondike River. His discovery drew as many as 100,000 prospectors to the area within two years. The steep mountain terrain and heavy snowfalls ensured that only an estimated 35,000 would eventually make it to the basecamp at Dawson City. Historical production following the 1896 discovery is estimated at 20 million ounces of placer gold — helping put the Yukon on the map and making the mining industry a pillar of its economy.
The next gold rush would come more than one hundred years later, in 2007. Searching for the sources of the original Klondike placer gold, legendary prospector Shawn Ryan discovered the Golden Saddle and Coffee deposits, just south of Dawson City where the White and Yukon rivers meet. When Ryan hit pay dirt, his discovery sparked a record-setting staking rush and led to the $138-million takeover of Underworld Resources by Kinross Gold (TSX:K,NYSE:KGC), earning him the Prospectors and Developers Association of Canada's prestigious Prospector of the Year Award in 2010. In the last decade, more than seven million ounces of gold have been discovered in the district.
Mining-friendly government and big infrastructure upgrade
Supportive government, established infrastructure and uniquely favorable geology make the Yukon one of the most attractive areas for mining investment in Canada and one the world's top-ranking mining jurisdictions. The modern day gold rush in the Yukon's White Gold district is being fueled by these same factors.
The Yukon government's mining-friendly policy framework includes the Yukon Mineral Exploration Program, which is expected to provide up to $1.6 million in funding to exploration companies in 2018. The territory's First Nations communities are supportive of responsible resource exploration and development, and provide the Yukon mining industry with a valuable source of skilled labor.
The Yukon's existing infrastructure includes the Alaska Highway, a vast network of all-weather roads, several airports, power and telecommunications as well as direct access to major distribution channels including to Asian markets via primary shipping lanes.
The territory's most significant infrastructure project now underway will have notable benefits specifically for exploration and mining in the White Gold district. Both the territorial and federal governments have committed C$360 million in combined funding for the Yukon Resource Gateway Project, which is intended to improve road access in both the Dawson Range of Central Yukon and the Nahanni Range Road in Southeastern Yukon. The project will help upgrade approximately 650 kilometers of road and help build or replace numerous bridges, culverts and stream crossings. Several of the projects in the White Gold district will have access to this road system, including those held by Goldcorp, Western Copper and Gold and White Gold Corp.
"The Resource Gateway is one of the most significant projects ever undertaken in this territory and will have an incredibly positive impact on the Yukon economy," said Premier Sandy Silver.
Unique geological setting
Government support and infrastructure aside, favorable geology is perhaps the White Gold district's most attractive feature. The Yukon occupies the northern portion of the North American Cordillera which contains diverse rock types that record more than a billion years of geological history. The US Geological Survey describes the Tintina gold belt as a "region of highly varied geology, gold deposit types, and significant resource potential…composed of numerous mineral districts of differing ages and characteristics." The existence of these multiple styles of gold mineralization has left broad areas with scant exploration as geologists zeroed in on one type of deposit model, leaving districts like White Gold historically underexplored.
What makes the White Gold district even more unique from other districts further up the Tintina is that the soils on the hills and mountains of the surrounding Dawson Range have not been disturbed by glaciers — soil sampling at surface can often safely predict what lies further down.
The best of Yukon gold deposits
New exploration technologies over the past decade have truly enhanced the abilities of junior exploration companies to discover new deposits and grow their resources, especially in an area like the White Gold district with easy-to-access, mineral rich geological systems. The success of junior gold exploration companies in the region has attracted investment by major gold companies, including Agnico Eagle Mines (TSX:AEM,NYSE:AEM), Newmont Mining (NYSE:NEM), Goldcorp (TSX:G,NYSE:GG), Coeur Mining (NYSE:CDE) and Kinross Gold.
Agnico Eagle and Kinross each hold a 19.6 percent interest in White Gold (TSXV:WGO,OTC – Nasdaq Intl:WHGOF,FWB:29W) which holds the largest land package in the district, including the Golden Saddle and Arc deposits, as well as a pipeline of multiple new discoveries in various stages of development. Shawn Ryan serves as White Gold Corp.'s Chief Technical Advisor, while today, his Golden Saddle discovery has an indicated resource of over 961,000 ounces grading 2.43 g/t gold and an inferred resource of over 282,500 ounces grading 1.70 g/t gold. 2018 was a fruitful year for White Gold, as they have made several new significant high-grade discoveries including their Vertigo discovery, and along trend with Golden Saddle, the Ryan's Showing and Golden Saddle West discoveries. Drilling results include 23.44 g/t gold over 24.4m from surface ending in mineralization at Vertigo, including 59.3 g/t gold over 3.0m, and multiple surface samples on the property over 130 g/t gold, expanding the structure's footprint over 1 kilometer.
Just a few kilometers from Golden Saddle is another major gold discovery in the district, Goldcorp's Coffee project, reportedly containing a measured and indicated resource of 4.1 million ounces of gold. First discovered in 2010, Goldcorp acquired the project through its C$520-million buyout of Kaminak Gold in 2016. The orogenic-type (vein/breccia) gold deposit is very characteristic of the geology in the White Gold District. The project is currently under review by the Yukon Environmental and Socio-economic Assessment Board to begin construction of the Coffee mine. Goldcorp is aiming for first commercial production in 2021.
Goldcorp also has a nearly 20 percent interest in both Independence Gold (TSXV:IGO) and Triumph Gold (TSXV:TIG,OTCMKTS:TIGCF), which have promising exploration-stage projects in the district. Newmont Mining has a nearly US$40 million earn-in agreement with Goldstrike Resources (TSXV:GSR) to develop the Plateau property. As part of the agreement, Newmont recently completed a 2018 exploration program that included diamond drilling, geological surveying and rock sampling.
Other juniors advancing projects in the Yukon's White Gold District include Comstock Metals (TSXV:CSL) and Western Copper and Gold's (TSX:WRN,NYSE:WRN). Comstock Metals first discovered gold in 2012 on the VG zone of its QV project. The QV project is contiguous to and hosts a similar style mineralization to the Golden Saddle deposit, and White Gold has agreed to acquire the projects, which include a 230,000-ounce inferred resource, from Comstock. The projects hosts an inferred mineral resource of 230,000 ounces of gold. Western Copper's advanced permitting-stage Casino copper-gold project has the potential to be one of the Yukon's largest mines. The project hosts reserves of 4.5 billion pounds of copper and 8.9 million ounces of gold, plus inferred resources of 5.4 billion pounds of copper and 9.0 million ounces of gold.
Looking forward
The prolific geology in the Yukon's White Gold district has strong potential for large-scale mining operations that can replace the declining reserve profiles of today's majors. Seasoned exploration teams are now using advanced technology to locate targets, make new discoveries, and further unlock the region's profit potential.
This article was originally published on the Investing News Network in November 2018.
This INNspired article is sponsored by White Gold (TSXV:WGO,OTC – Nasdaq Intl:WHGOF,FWB:29W). This article was written according to INN editorial standards to educate investors.
Investing News Network websites or approved third-party tools use cookies. Please refer to the  cookie policy for collected data, privacy and GDPR compliance. By continuing to browse the site, you agree to our use of cookies.