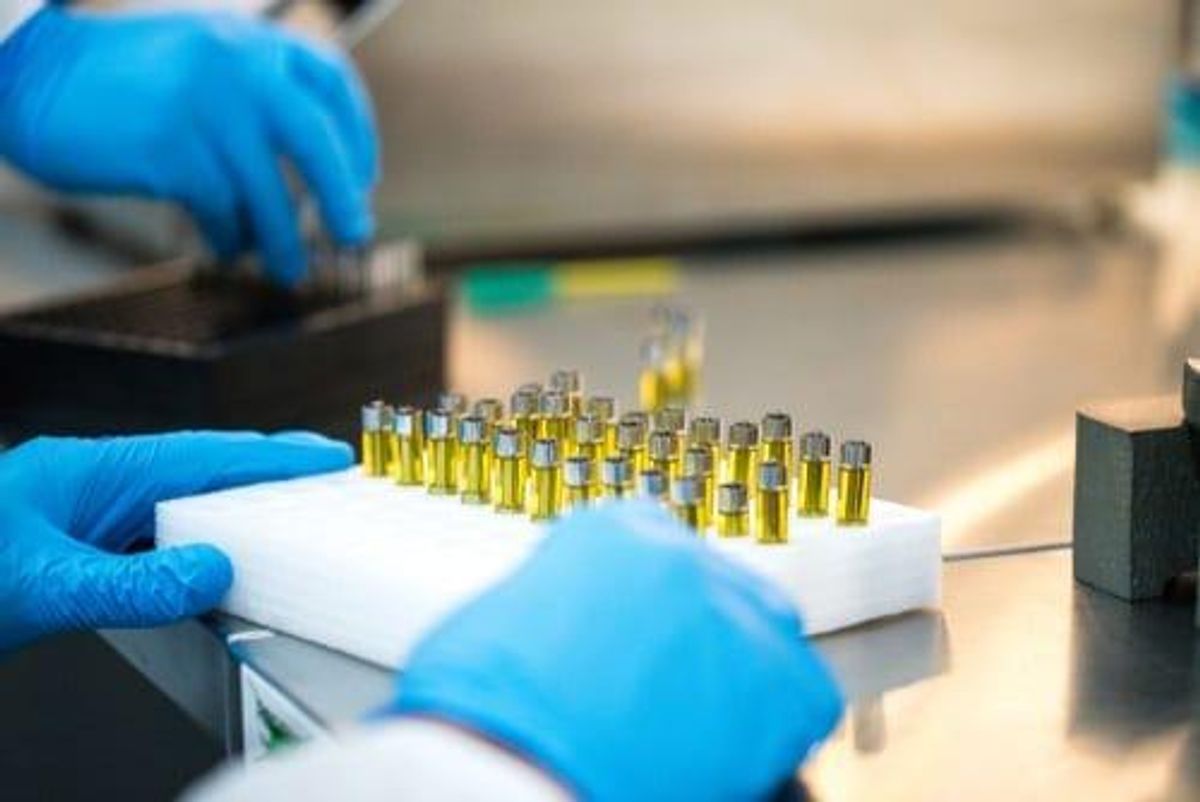 Without accurate and reliable dosing, medical cannabis won't make the pharmaceutical grade.
Technological advances like smart cannabis vaporizers are enabling a new era of medical cannabis. 
After years of prohibition, legalized medical cannabis markets are bringing the plant into the mainstream once again. "More than 50 countries around the world have legalized some form of medical cannabis, while six countries have legalized cannabis for adult use," said New Frontier Data Founder and CEO Giadha Aguirre de Carcer. In its 2019 industry report, New Frontier estimated that 1.2 billion patients worldwide suffer from medical conditions for which cannabis has shown therapeutic value, including cancer, Parkinson's disease, epilepsy, chronic pain and anxiety.
The ability of cannabis to treat multiple symptoms and conditions concurrently has the potential to reduce the risks of polypharmacy burden, including harmful drug reactions and interactions. Medical cannabis may also be a better treatment for pain than opioids, given its high safety profile and relatively low chance of addiction.
To further achieve legitimacy as medicine and for health practitioners to have confidence in their prescriptions, medical cannabis therapies must have accurate and reliable dosing. Cannabis as a plant-based medicine is more complex than many chemically derived pharmaceuticals, which can contain several different chemicals. Like most plants, cannabis contains hundreds of active chemicals and this biochemical complexity can prove challenging when it comes to producing pharmaceutical-grade drugs with accurate and consistent doses. The wide variations in cannabis strains and their active pharmaceutical ingredients (APIs) such as THC and CBD can also pose a problem for consistency in dosing, as do differences in the way individuals respond to these APIs.
In today's medical cannabis industry,  there is a definite need for technologies that can improve dosing, delivery and the overall consumer experience, especially as the marketplace for pharmaceutical-grade cannabis products expands its global reach. Some of the companies that are developing medical cannabis dosing and delivery technologies include RYAH Medtech, Lexaria Bioscience Corp. (CSE:LXX, OTCQX:LXRP), NanoSphere Health Sciences Inc. (CSE:NSHS) (OTC:NSHSF), and Syqe Medical.
Dr. Raphael Mechoulam, the cannabis researcher credited with discovering the psychoactive cannabinoid THC, has emphasized the importance of knowledge and transparency when it comes to the levels of THC, CBD and other APIs in medical cannabis products. "Otherwise we are not there. We are not in medicine," said Mechoulam.
Lack of clinical research and physician education
Decades of prohibition have handcuffed medical researchers from studying the effects of cannabis on the human body, leaving medical cannabis research in its infancy. This lack of research has forced physicians to be cautious with medical cannabis. A 2017 US study showed that 89.5 percent of medical professionals surveyed "felt unprepared to prescribe" cannabis while only 35.5 percent "felt ready to answer cannabis questions" and only 9 percent of US medical schools included "clinical cannabis content in their curricula".
This dearth of research and a "lack of pertinent education have conspired to leave clinicians in the dark as to how to advise patients pursuing such treatment. With the advent of pharmaceutical cannabis-based medicines (Sativex/nabiximols and Epidiolex), and increased access to cannabis in certain nations, this ignorance of cannabis pharmacology and therapeutics has become untenable," said Dr. Caroline A. MacCallum, Faculty of Medicine at UBC, and Dr. Ethan Russo, R&D Director at the International Cannabis and Cannabinoids Institute, in their 2018 article published in the European Journal of Internal Medicine.
Cannabis vaporizers enabling medical uses
Patients have also been left in the dark when it comes to medical cannabis knowledge. One of the main challenges for cannabis patients purchasing products at a dispensary is the lack of clear and accurate dosing measurements. Complicating things further, the right dose and the resulting effects can vary from one individual to the next and can include such factors as method of ingestion and how the patient's body reacts to differing concentrations of THC and CBD. The biphasic effect can also complicate optimal dosing. For example, a low dose might provide energy and focus, while a higher dose may make the patient drowsy or confused.
This is especially true for edibles where consistency can't always be ensured. One square of a chocolate bar may have a higher or lower dose than the next. This might make for an amusing story if you are a recreational cannabis consumer,  but not for medical cannabis patients treating illnesses such as epilepsy or anxiety that require precise doses for optimal results. For patients that use cannabis vaporizers, knowing how much to inhale and at what temperature to set the vaporizer is also critical to successful symptom relief.
"Figuring out precise dosage can be frustrating for both medical cannabis patients as well as their health providers," Gregory Wagner, CEO of RYAH Medtech, told the Investing News Network (INN). "Whether edibles, sublingual tinctures, vape oils or transdermal patches, patients expect their medical cannabis products to consistently provide the desired therapeutic effects with each dose. As more medical cannabis markets open up worldwide, the demand for precision dosing is likely to rise along with an increased demand for education on which strains will provide the best treatment for a patient's specific condition."
Lack of accurate information on strains
The cannabis plant includes nearly 100 cannabinoids as well as terpenes, flavonoids and other plant components. These are the chemical compounds responsible for the therapeutic properties of the cannabis plant, which can include anti-inflammatory, anti-depressant, sedating or immune-stimulating effects. Cannabis strains (or what researchers term chemovars) can vary widely in the ratios of APIs contained in their chemical makeup, resulting in a variance in effect from one strain to the next. "Each chemovar contains varying concentrations of cannabinoids and other components with important pharmacological and modulatory effects," said Drs. MacCallum and Russo in the European Journal of Internal Medicine. According to MacCallum and Russo, this critical strain information should be available to patients and physicians when recommending such treatment. Unfortunately, the levels of APIs in a given strain are not often accurately disclosed on medical cannabis products.
Ensuring consistent and reliable dosing is made even more difficult after the years of experiments in cannabis cultivation that have produced a cornucopia of strain varieties under the cannabis canopy. "Research bears this out. Scientists in Canada did DNA testing on a number of cannabis strains," reported Forbes contributor Mike Montgomery. "They found a serious disconnect between what the strains were being labeled as and what they actually were. Strains that were supposed to be different were often the same, and strains that were supposed to be the same were often different. That makes marketing cannabis incredibly difficult. If a product promises to put a user to sleep but actually keeps them awake, that person isn't going to keep using cannabis."
Cannabis vaporizer providing data to physicians and patients
Interestingly, MacCallum and Russo also point to a 2017 New England Journal of Medicine article about the limitations of randomized controlled studies for providing adequate dosing information for individual patients. Instead, "[i]ndividualized evidence-based medicine may be delivered to a patient using an N-of-1, or single clinical trial, whereby the patient is the sole unit of observation for efficacy and side effects of various interventions." While the cited article concerned non-cannabis pharmaceuticals, MacCallum and Russo suggested that"[t]his method can be applied to a medical cannabis patient to find an optimal intervention or 'sweet spot' combination of plant varieties and dosage forms that provide superior symptom control." Through the keeping of symptom inventory charts, individualized patient studies can help patients and physicians determine the correct strain and dosage.
The collection of real data rather than anecdotal evidence can also go a long way in helping regulators make approval decisions on cannabis medications. "The US FDA and other regulatory agencies require carefully conducted studies in hundreds to thousands of human subjects to determine the benefits and risks of a possible medication," said Wagner. "At the moment, there isn't enough large-scale clinical trials that show that the benefits of the cannabis plant to approve the medicine at a federal level."
RYAH Medtech has developed a dose-measuring cannabis vaporizer and accompanying mobile app that allows patients to control temperature and dosing. The device can also measure the exact amount of vapor that a patient inhales, as well collect and share data across a digital ecosystem based on internet of things (IoT) and artificial intelligence (AI) technology. Each vape oil cartridge contains a QR code that allows users to retrieve lab results of the plant strain. This strain data combined with consumption data and patient feedback from each treatment session can be relayed to dispensaries and licensed producers to help fine-tune patient care and strain cultivation. RYAH also plans to offer its data analytics platform to doctors, hospitals, pharmacies and clinics.
"By sharing the data, the company can help physicians and patients personalize treatments, ensuring effective relief from ailments and pain," said Wagner. "Having real-time dose session information cross-referenced with the strain lab results and patient demographics is also a critical part of the federal analysis and ultimate adoption of the medical-plant solution." RYAH Medtech announced in July 2019 that it had launched sales of its proprietary vaporizers and cartridges at Sweetspot, a medical dispensary in Maryland.
Takeaway
For medical cannabis products to truly go mainstream, it is critical that growers, dispensaries, physicians and patients gain a greater understanding of both the properties and effects of the strains they recommend and consume. Newly emerging technologies in the medical cannabis space offer the industry an opportunity to make those goals achievable, empowering patients and physicians alike.
---
This INNSpired article is sponsored by RYAH Medtech. This INNSpired article provides information which was sourced by the Investing News Network (INN) and approved by RYAH Medtech in order to help investors learn more about the company. RYAH Medtech is a client of INN. The company's campaign fees pay for INN to create and update this INNSpired article.
This INNSpired article was written according to INN editorial standards to educate investors.
INN does not provide investment advice and the information in this article should not be considered a recommendation to buy or sell any security. INN does not endorse or recommend the business, products, services or securities of any company profiled.
The information contained here is for information purposes only and is not to be construed as an offer or solicitation for the sale or purchase of securities. Readers should conduct their own research for all information publicly available concerning the company. Prior to making any investment decision, it is recommended that readers consult directly with RYAH Medtech and seek advice from a qualified investment advisor.
Investing News Network websites or approved third-party tools use cookies. Please refer to the  cookie policy for collected data, privacy and GDPR compliance. By continuing to browse the site, you agree to our use of cookies.