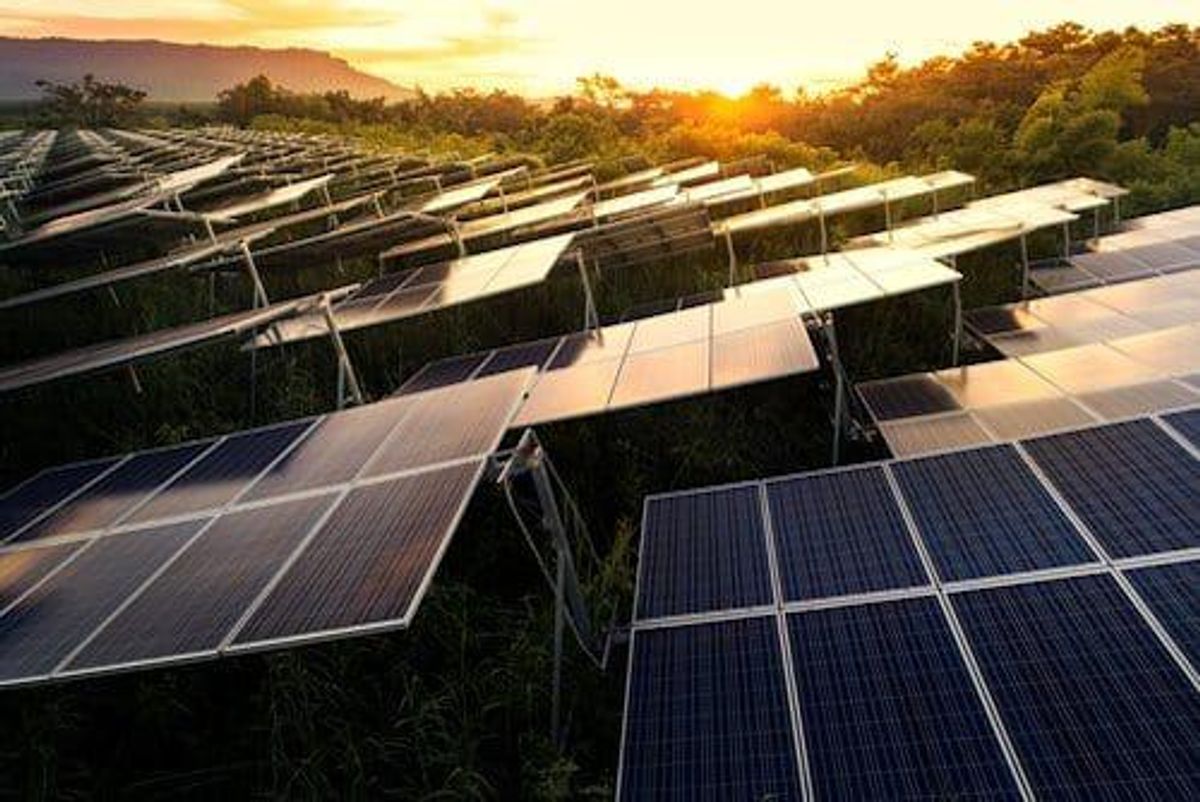 In the midst of some of the worst humanitarian crises, relief workers are turning to portable renewable energy storage systems for disaster relief.
Portable renewable energy storage systems powered by solar energy are becoming a viable tool for disaster relief operations.
It's a deeply unfortunate reality that large-scale destructive natural disasters are now occurring more frequently than ever before. These disasters are disproportionately affecting areas with electrical infrastructure that cannot withstand the event. This is why the development of off-grid renewable energy storage systems has become a critical focus for energy technology companies. This includes solar power for disaster relief.
When Hurricane Maria ripped through Puerto Rico in September 2017, the storm caused the worst natural devastation that the region has ever seen. Over a year later, the tiny US territory is still reeling. Not only was the storm the worst to hit a US territory in 85 years, but Puerto Rico's infrastructure and disaster response support was woefully ill-equipped to respond to such a disaster, a reality underscored by the fact that the vast majority of the 3,057 deaths occurred after the storm itself had ended. As emergency responders and relief workers scrambled desperately to provide aid, a lack of access to reliable electricity that took until August 2018 to fully correct severely hampered these efforts and left millions of Americans without basic necessities.
Throughout Puerto Rico's 11 months in the dark, relief workers, nonprofits and US renewable energy companies worked to help provide the people in the hardest-hit communities with electricity. Some of the greatest tools that they had at their disposal were portable renewable energy storage systems that allowed them access to free, reliable energy while bypassing Puerto Rico's decimated energy grid, allowing people access to communication services, clean water, tools for rebuilding critical infrastructure and more.
As the portable renewable energy system industry continues to develop and these systems become more widely available, there's hope that for future disasters responders will have access to the best possible tools to mitigate the devastation. We can't prevent natural disasters, but we can prepare for them.
Renewable energy storage for disaster relief
Portable renewable energy storage systems are standalone devices using renewable energy sources like solar or wind power that can be brought in from off-site and operated independently from a larger energy grid. Unlike a portable gas generator, these systems require no external fuel, saving costs, weight load and cargo space. In the non-emergency home and industrial spaces, portable renewable energy systems are cost-efficient and ecologically friendly alternatives to traditional energy systems, but in the disaster relief space, they can be a life-saving game-changer.
Portable renewable energy systems fall into a range of categories for a variety of specialized and more general purposes. Mobile photovoltaic systems are solar generators that can be mounted onto carts or trailers and hauled to the site where they are needed and used to power hospitals and triage shelters, campsites, kitchens or just about any other facility in need of energy. Standalone portable renewable energy systems are better suited as longer-term measures in remote areas, providing energy provision for homes, businesses, telecommunications stations, agricultural equipment and more. Smaller systems like solar suitcases — small solar generators enclosed in boxes that can be carried by hand — can be valuable early response tools because they can be brought to a site on foot. These systems, while small, can power important emergency essentials like communication devices, computers, medical devices and mobile lighting. Solar and wind energy can be built into dedicated standalone devices such as water filtration tanks.
More specialized systems have their place in disaster relief efforts as well. Canadian energy solutions company EnerDynamic Hybrid Technologies (TSXV:EHT) has developed a mobile carport with a photovoltaic solar cell roof that can be used to generate energy while providing shelter for vehicles. The structure is designed for harsh conditions and severe weather, making these carports suitable for disaster response purposes.
Shelter is of course as much an essential need during and in the aftermath of a disaster as access to electricity. Modular buildings can provide both of these needs at once. Using prefabricated structural insulated panels, modular buildings can be shipped to areas of need and assembled quickly in preparation for or in the immediate aftermath of a natural disaster. Despite the assimilable design, these structures can be built with the strength necessary to withstand the severe conditions expected in a disaster situation. Some modular building designs incorporate photovoltaic solar cells in the roof, allowing the building to provide its own self-sustaining energy source, operating its own heating and electrical output.
Portable renewable energy systems are indispensable in a disaster scenario, but they can be very useful in other less urgent applications as well. Mobile photovoltaic systems can be taken to remote construction sites or other sites where temporary sources of power are needed. Standalone systems are a cost-efficient alternative to fossil fuel generators for permanent homes and commercial spaces in remote or rural areas where running electrical lines out from a central power supply grid can be expensive and impractical. Photovoltaic carports and modular buildings both have huge ranges of potential utility in the consumer and commercial spaces. These everyday applications are what give the portable renewable energy systems market far greater growth potential than the disaster relief space alone.
Players in the portable renewable energy systems space
EnerDynamic is one of the companies in the portable renewable energy space focused mainly on renewable energy systems for disaster relief, particularly in vulnerable jurisdictions. The company's eco-friendly disaster relief products include photovoltaic-integrated modular buildings and carport structures as well as the Power Wagon, a customizable stock trailer with a self-contained expandable solar energy system capable of providing up to 10 kilowatt hours of solar energy and storing up to 40 kilowatt hours of battery power. The Power Wagon can act as a portable charger capable of charging over 1,000 mobile devices simultaneously, or it can act as a power station for emergency lighting systems, medical devices and more. Since January 2018, the company has been involved in a joint venture partnership with Brieke Family Assets to sell and distribute its solar systems in Puerto Rico and the US Virgin Islands.
In the aftermath of Hurricane Maria, several other companies in the portable renewable energy space also had their technology on the ground to aid the disaster response. These include Revision Energy, Aegis Renewable Energy, SunBug Solar and Amurtel.
Takeaway
In a best-case scenario after a major disaster, access to reliable, low-cost, off-grid, portable renewable energy storage systems would be widely available to help provide for the basic needs of victims and relief workers as the rebuilding process begins. We had a glimpse of this technology's potential in Puerto Rico as companies specializing in portable renewable energy systems came together to meet the region's energy needs in its time of need, but greater investment and adoption of these clean energy solutions in the future could contribute to a lower human toll for future crises.
This article was originally published on the Investing News Network in December 2018.
---
This INNSpired article was written as part of an advertising campaign for a company that is no longer a client of INN. This INNSpired article provides information which was sourced by INN, written according to INN's editorial standards, in order to help investors learn more about the company. The company's campaign fees paid for INN to create and update this INNSpired article. INN does not provide investment advice and the information on this profile should not be considered a recommendation to buy or sell any security. INN does not endorse or recommend the business, products, services or securities of any company profiled. If your company would benefit from being associated with INN's trusted news and education for investors, please contact us.
Investing News Network websites or approved third-party tools use cookies. Please refer to the  cookie policy for collected data, privacy and GDPR compliance. By continuing to browse the site, you agree to our use of cookies.