Gold and Iron: Mining in Western Australia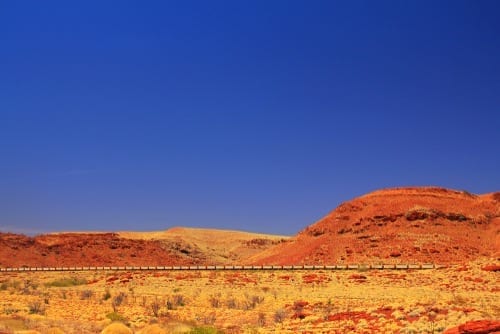 Mining in Western Australia is intertwined with the state's history and economic prosperity, and that legacy continues in the Pilbara gold rush.
Mining in Western Australia is one of the state's most important industries and it leads the nation in exploration and production activity, especially when it comes to gold and iron ore.
Western Australia ranks among the five top mining jurisdictions in the world and has attracted major mining companies like Rio Tinto (ASX:RIO,LSE:RIO,NYSE:RIO) and BHP (ASX:BHP,NYSE:BHP,LSE:BLT). Australia's largest state hosts key mining regions such as the Pilbara, which covers more than half a million square kilometers, including some of the world's most ancient rock formations, and is most well known for its world-class iron deposits.
The Pilbara is now a growing hotspot for conglomerate gold exploration. The fact that the resource-rich region remains underexplored at depth despite a well-entrenched mining industry is all the more attractive to majors and juniors alike.
Attractive geology of Western Australia
Home to some of the oldest mineral grains on earth, Western Australia's geological history spans 4.4 billion years and has given rise to a vast landscape of rich mineral deposits including iron ore, gold, uranium, nickel, cobalt, copper, zinc, platinum group metals as well as diamonds.
While iron ore production accounts for the majority of today's mining activity in Western Australia, the state is also a major source of the world's gold production. Australia itself ranks as the second-largest gold producer in the world, with an output of about 300 tonnes in 2017. The state of Western Australia is responsible for about 70 percent of Australia's total gold production, originating from widespread mineralization throughout the greenstone belts of the Yilgarn Craton.
It was this gold that first brought huge numbers of prospectors to the region in the 1890s. One of the world's richest gold mines, the Super Pit in Kalgoorlie was discovered during this time period and is still producing gold today as a joint venture between Newmont Mining (NYSE:NEM) and Barrick Gold Corporation (NYSE:ABX,TSE:ABX). After WWII, Western Australia's mining sector would begin to develop into the world-class industry of today alongside increased foreign investment and rapid improvements in the state's infrastructure including transportation networks that connected local metals producers with global markets in the West and Asia.
Mining in Western Australia today
Today, the mining industry is a vital economic sector for Western Australia, accounting for more than 30 percent of the state's annual GDP and employing more than 112,000 people. During the 2017 to 2018 fiscal year, according to a recently published government report, sales in the mineral industry totaled nearly $88 billion with iron ore and gold as the two most valuable commodities.
As of September 2018, Western Australia's resource project pipeline was valued at an estimated $108 billion. Resource companies spent $1.2 billion on exploration in Western Australia during this period, representing 61 percent of total exploration expenditure for the entire country with the majority of that spend going to iron ore and gold projects. These two primary sectors that make up mining in Western Australia continue to be a target for mergers and acquisitions as well.
Western Australia's mineral wealth continues to attract billions of investment dollars, totaling $19 billion or 53 percent of national spending. Most recently, Rio Tinto and its joint venture partners Mitsui and Nippon Steel & Sumitomo Metal announced a $1.55 billion capital injection into two iron-ore producing projects in the state's Pilbara region, which will give the company the ability to continue producing the world's most recognized brand of iron ore, "Pilbara Blend." Altogether, the mining giant's integrated operations in the region include 16 iron-ore mines, four-port terminals and 1,700 kilometers of railway.
In September 2018, AngloGold Ashanti (ASX:AGG,NYSE:AU) committed to spending $700 million over five years at its Sunrise Dam underground gold operation in order to increase the productivity and annual production beyond the current rate of 3 million tonnes per year. In addition to Sunrise, AngloGold also owns the Tropicana mine, both of which rank amongst the top 10 gold producing mines in Western Australia and account for nearly 10 percent of the state's annual gold production.
Government support for mining in Western Australia
Western Australia's pro-mining government offers attractive incentives for resource companies aimed at encouraging exploration in the region. Those incentives include the $10 million per year in funding under the Department of Mines, Industry Regulation and Safety's Exploration Incentive Scheme (EIS). The exploration drilling program, considered a flagship of the EIS, offers up to a 50-percent refund for innovative exploration drilling projects in remote and underexplored greenfield regions.
According to the EIS Coordinator Charlotte Hall, "The projects are targeting a mix of commodities including well-known metals such as copper, gold and base metals, as well as less common resources such as graphite, manganese and heavy rare earth elements." She added that the program helps to build a further geological understanding of Western Australia, mitigate risks for future explorers, and make for more efficient exploration in the future.
The federal government is also supporting a $215 million national research initiative to be headquartered in Perth, Western Australia, aimed at developing technologies to increase the discovery of mineral deposits.
"What makes Western Australia attractive as a mining jurisdiction is not just the geology but the heritage of mining and the importance of mining in the state," Christopher McFadden, President and CEO of NxGold (TSXV:NXN), told the Investing News Network. "Western Australia's government understands that the state's economic prosperity is heavily linked to the success of exploration and mining. As a result it has a mature and very capable system of regulation with skilled and dedicated staff in government that work with industry to provide a secure and predictable regulatory outcome. This stability and consistency in application allows companies to make investment decisions with confidence."
The Pilbara gold rush
The Pilbara region of Western Australia is the site of 3.5 billion year-old-rocks that hold the earliest evidence of life on Earth and owes its mineral largess to this ancient geology. The Pilbara is also home to the latest gold rush in Australia's long mining history.
The Pilbara gold rush kicked off in the middle of 2017 with the discovery of near-surface conglomerate-hosted gold nuggets at Purdy's Reward, a joint venture between Artemis Resources (ASX:ARV) and Novo Resources (TSXV:NVO). The watermelon seed-shaped gold nuggets found in Pilbara are being likened to the conglomerate gold found in South Africa's prolific Witwatersrand Basin. Sediment-hosted conglomerates, of which the Witwatersrand is the most famous example, account for more than half of the world's gold production. Both the Pilbara and Witwatersrand sit on top of Archean granite-greenstone basement similar in age and composition, hosting numerous small mesothermal gold deposits.
The potential in the Pilbara has attracted investment from major players like Kirkland Lake Gold (TSX:KL,ASX:KLA) and Eric Sprott, as well as exploration companies like De Grey Mining (ASX:DEG), NxGold and Pacton Gold (TSXV:PAC,OTCMKTS:PACXF).
After receiving a $5 million investment from DGO Gold (ASX:DGO) in May 2018, De Grey Mining discovered high-grade gold zones at its Pilbara gold property. The project has an established resource of more than 1.2 million ounces of conventional gold, with upside coming from its most advanced conglomerate prospects on the property which it plans to bulk-sample. About 100 kilometers east of Purdy's Reward, the Loudens Patch zone alone has yielded more than 200 gold nuggets.
NxGold has an 80-percent stake in the Mt. Roe Gold project, a highly prospective land position with gold showings across the project and the potential to host a number of types of gold systems. Flattened, rounded gold nuggets recovered at Mt. Roe are characteristic of recent gold discoveries on adjacent properties owned by Novo Resources, Artemis Resources and De Grey Mining. Exploration at Mt. Roe is underway based on a recently completed a property-scale mapping program using recent knowledge of an evolving gold deposition model for the region.
Pacton Gold controls the third largest land package in the Pilbara region following a round of acquisitions of several projects located between the properties of Novo Resources and De Grey Mining. Pacton's expanding portfolio includes properties known to host gold nuggets as well as several existing mining leases which provide the potential for immediate large-scale bulk sampling programs.
Takeaway
Mining in Western Australia is fuelled by the region's rich geological heritage, well-established mining industry and pro-mining government and is an attractive destination for resource investment. The state's Pilbara region is especially attractive for gold exploration and one to which investors should pay closer attention.
This INNspired article is sponsored by NxGold (TSXV:NXN). This article was written according to INN editorial standards to educate investors.