CBD Pet Care: One of the Fastest Growing Wellness Market Segments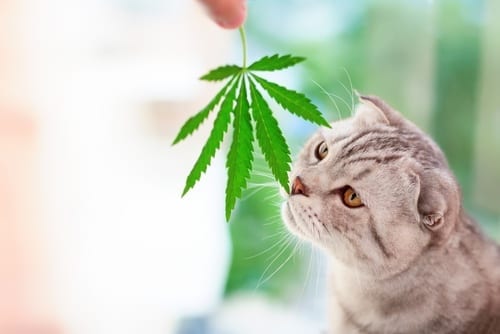 The same trends driving growth in the global wellness market are creating opportunities in hemp-based CBD pet care.
Consumer awareness of the therapeutic benefits of cannabidiol (CBD) is creating new markets in the global wellness sector, including hemp-based CBD pet care products.
With a THC content of less than 0.3 percent, hemp-based CBD products will not result in the signature high sought out by recreational cannabis users. As the global cannabis industry continues to develop, however, CBD-based products have the potential to represent a significant share of the market. Without THC, the hemp-based CBD market has shaken off the stigma associated with cannabis and become one of the leading consumer product markets. According to data from the Brightfield Group, the global hemp-derived CBD market was valued at US$591 million in 2018 and has the potential to reach US$22 billion in 2022.
The popularity of hemp-derived CBD products is a direct reflection of the growing global trend towards more plant-based health and wellness products. In 2018, the Global Wellness Institute estimated that the global wellness economy was a US$4.2 trillion market, growing 12.8 percent from 2015 to 2017. CBD-infused pet care products represent a new wave of this growing trend.
In the US, major retailers such as Walgreens (NASDAQ:WBA) and Kroger (NYSE:KR) are beginning to stock their shelves with hemp-based CBD wellness products following the December 2018 passage of the US Farm Bill, which effectively made hemp an agricultural product. To the north, Health Canada is considering categorizing CBD as an over the counter natural health product that could be sold in retail locations such as pharmacies, health-food stores and pet stores.
Martha Stewart's partnership with Canopy Growth (NYSE:CGC,TSX:WEED) is one of the clearest signals that hemp-derived CBD is going mainstream. With Health Canada approval, Canopy is conducting several clinical trials into the efficacy of CBD in improving human and animal health. The new product line to be designed with Martha Stewart is expected to include cosmetics, food products and pet care. "I'm especially looking forward to our first collaboration together, which will offer sensible products for people's beloved pets," said Stewart in a press release.
Pet care market growth
The pet care industry as a whole has shown impressive growth in recent years, with demand for premium care products as one of the main drivers. According to Grand View Research, the global pet care market was valued at US$131.7 billion in 2016 and is forecast to grow by a compound annual growth rate (CAGR) of nearly 5 percent to reach US$202.6 billion by 2025. The United States is the largest geographic segment for pet care. The American Pet Products Association reports that US consumers spent US$72.5 billion on their pets in 2018 and that figure is expected to reach US$75 billion in 2019.
Today's pet owners are looking to treat their fur babies to the same health benefits of CBD that they themselves enjoy. Just like for humans, CBD in pet care is used to treat anxiety, pain, digestive disorders, skin conditions, sleep issues and the ailments of aging. Torn ligaments, sprains, arthritis, separation anxiety and travel stress are all common conditions for pets that can be treated with hemp-derived CBD products. According to New Frontier Data, products targeting anxiety and inflammation are the top-selling segments in CBD pet care.
CBD treats, snacks and supplements for animals are not yet approved by Health Canada; however, the US Food and Drug Administration has placed no restrictions on CBD pet care products. According to BDS Analytics, sales of pet products at dispensaries in California, Colorado, Oregon and Washington brought in nearly US$7 million in 2017. In Colorado alone, CBD pet product sales grew 49 percent in 2017, compared to other product categories which only reached 15 percent growth. A similar story can be seen in a recent report by New Frontier Data, which predicts that CBD-infused pet product sales in the US will reach US$125 million by 2022, representing a five year CAGR of 57 percent.
CBD pet products
Now that the US Farm Bill has made hemp-derived CBD federally legal in the United States and Health Canada is considering categorizing CBD as a natural health product, researchers are expected to be able to conduct further studies into the therapeutic benefits of CBD in pet care. The potential to expand product lines is leading hemp- and CBD-based consumer product companies to build out their portfolios with established pet care brands that can easily be infused with CBD. Those companies with existing distribution channels could have an advantage in the space when battling for retail distribution.
"We are very excited about the potential of our pet food and pet health brands. The global market for these products is tremendous, and we look to dominate the categories where we do business. Our focus on research and innovation will help build trust with customers as the pet CBD market matures," Andreas Thatcher, CEO of Geyser Brands (TSXV:GYSR), told the Investing News Network (INN).
Geyser Brands' acquisition of Solace Management Group comes with a proprietary IP portfolio that includes product lines such as the well-established Apawthecary Pets and the newly launched WildTail Pets. Apawthecary Pets is Canada's leading hemp-based pet brand and is currently distributed through 40 veterinarian clinics and 300 stores in Canada including Bosley's, Petland, Pharmasave, Shoppers Drug Mart and Pet Valu. WildTail Pets is the first brand to infuse hemp into freeze-dried pet food and is expected to be launched in Japan, the US, the UK and Canada with distribution contracts set to be announced in Q3 2019. These product lines are hemp-based formulations that Geyser plans to infuse with CBD as a value-added therapeutic ingredient for sale in legal jurisdictions.
Companies developing CBD pet products
Across the North American cannabis industry, major players are beginning to position themselves in the CBD market. Next Green Wave Holdings (CSE:NGW,OTCQX:NXGWF) recently added its first CBD pet product to its premium portfolio of brands in California. Infused with full-spectrum CBD and quality oil extracted from US grown hemp, the company's Loki Love Biscuits are now a revenue-generating product sold online in the United States.
Vertically integrated Canadian cannabis producer Pure Global Cannabis (TSXV:PURE,OTC Pink:PRCNF,FRA:1QS) is looking to strengthen its position in the global CBD wellness and pet care market through the acquisition of Ottawa-based The Great Canadian Hemp Company. The hemp-based products, to be infused with CBD, are expected to launch in Canadian, European, US and Asian markets in 2020 to 2021.
Naturally Splendid Enterprises (TSXV:NSP,OTCQB:NSPDF,FRA:50N) has built a portfolio of hemp, CBD and plant-based products, including the award-winning Pawsitive FX pet care line. The company has an established retail presence in over 2,000 stores in North America and exports retail products, bulk and plant-based ingredients to Australia, Asia and Europe. Naturally Splendid intends to pursue opportunities for CBD-fortified topicals and edibles for pets in legal markets.
Takeaway
The CBD pet care market is considered one of the fastest-growing segments of the booming CBD health and wellness market. As more consumers become aware of CBD pet care products and their benefits, companies are already beginning to battle for position in the marketplace. Companies with established brands and existing distribution channels are expected to be well-positioned to capitalize on these trends moving forward.
---
This INNSpired article was written according to INN editorial standards to educate investors.