Cannabis Strains a Key Differentiator in Competitive California Market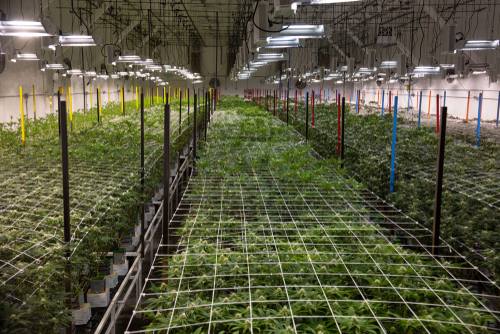 Cannabis nursery licenses allow companies to produce a diverse range of premium cannabis strains needed to separate the wheat from the chaff in the California cannabis industry.
The California cannabis nursery license may offer an important advantage for companies looking to design the next big cannabis strain.
California is the epicenter of the US cannabis industry, the world's largest regulated market for both medical and adult-use cannabis. After generating sales of US$2.5 billion in 2018, California's cannabis market is expected to be generating US$6.5 billion per year by 2025.
For those cannabis companies adopting a vertically integrated business model, the Golden State represents a significant opportunity. There is a growing trend of cannabis companies increasing their market footprint through distribution deals. However, few cannabis companies have recognized the importance of the cannabis nursery for providing a long-term path to increased market share statewide. For cannabis companies looking to carve out a competitive advantage, the cannabis nursery license offers the ability to design and cultivate unique strains capable of differentiating themselves from the competition.
A highly competitive marketplace
Like most emerging marketplaces, California's cannabis industry is experiencing some understandable growing pains, including oversupply and unwanted competition from black market operators.
The California state Cannabis Advisory Committee's 2018 annual report noted that the black market in California continues to compete with licensed businesses. "Lack of enforcement is creating a thriving environment for the unregulated 'underground market,'" said the report's authors. Around 80 percent of cannabis sold in California originates within the black market, according to estimates by New Frontier Data. The Los Angeles Times reports that California's cannabis black market was valued at more than four times the size of the legal market in 2018.
Following the legalization of adult-use cannabis last year, California's licensed cultivators are facing another dilemma common in today's early-stage cannabis industry: an oversupplied market. As we've seen in Washington, Colorado, Oregon, and now in California, more and more cultivators are in a race to produce large quantities of cannabis flower in the hopes of establishing a large footprint. The Sacramento Bee reports that there are more than 1,142 acres of licensed cannabis farms in California. According to a report by the California Department of Food and Agriculture, the state produces 15.5 million pounds of cannabis annually, but only consumes 2.5 million.
Cannabis strains standing out
The most effective strategy to secure market share in a highly competitive environment like this has more to do with quality than quantity. This is especially true in an oversaturated marketplace. And, as with any consumer product, there is a sizable segment of the consumer base that is willing to pay a premium for higher quality products. Cannabis companies with a strong focus on consumer experience and the development of high-quality cannabis strains could be best positioned to compete with their black market rivals.
Companies with vertically integrated operations and a focus on superior genetics have the potential to greatly differentiate their products from the competition. Controlling the entire supply chain from seed to sale gives cannabis companies a high level of control over product quality. In this way, vertical integration enables companies to target specific customer profiles, generating a higher rate of return with each strain and product design.
"A key difference is that we are able to better control the quality of the product at all stages, customers can rest assured that their products have been lab-tested and are of a high quality and consistency. We are also working on providing users with a unique customer experience via products that are of a high quality specifically designed for their needs," Mike Jennings, COO and Head of Research and Innovation at Next Green Wave (CSE:NGW,OTCQX:NXGWF), told the Investing News Network (INN).
Fortunately, the state's regulatory framework allows for this strategy. California's Medicinal and Adult-Use Cannabis Regulation and Safety Act (MAUCRSA) permits companies to hold more than one license type and build vertically integrated business models. Cannabis companies who have recognized this opportunity are strategically adding verticals to their businesses, including nurseries, cultivation facilities, extraction labs and distribution networks. Next Green Wave holds multiple licenses in California including nursery, cultivation, volatile and non-volatile extraction and distribution. Together, the licenses allow the company to fulfill its mission to provide a seed-to-consumer experience to the California cannabis market.
Cannabis strain genetics: another key differentiator
Strain selection and cannabis genetics are critical to premium cannabis brands. Consumers and downstream users routinely seek out consistent, top quality strains. There are more than 25,000 known genes in the cannabis plant and the effects, potency, aroma and flavors that define them are all determined by these genetic traits. Each strain has its own profile, offering a unique experience when compared to other cannabis crops. In order to craft the optimal cannabis consumption experience, cultivators attempt to match genetics with the desired effects, enhancing the end product with customized cultivation practices in controlled environments. These selectively crafted cannabis products are known to fetch premium prices even in the most challenging of markets.
The genetic profile of a cannabis strain and a dedication to superior cultivation methods can also influence the quality of downstream products such as extracts and edibles. "The strain determines the taste, strength, quality and consistency of the product. What you put in is what you get out, so quality and integrity of the product is key. We don't use bulk trim in our process, and focus on strains that produce the highest quality trichome heads and buds," said Mike Jennings, six-time Cannabis Cup High Times award winner and co-founder of Loud Seeds, one of the top seed banks in High Times' Seed Bank Hall of Fame.
Importance of the nursery in the cannabis industry value chain
Companies with a strong focus on genetics are also in a better position to develop new proprietary strains and supply clones, seeds and seedlings to third-party growers. California companies wanting to integrate this segment of the cannabis value chain into their business need a nursery license. Under the state's cannabis cultivation regulations, nursery facilities are allowed to develop genetics for new plant varieties and to produce clones, immature plants and seeds for either medical or adult-use cannabis. A nursery license also allows the holder to sell those plants and seeds to another state cannabis license holder, including other nurseries, cultivators and processors.
Competing against the black market in California could require licensed cannabis businesses to offer unique strains that appeal to discerning customers. Nurseries are key to answering the increased need for diversified starter material in California's cannabis industry. Unique, proprietary strains could help set brands apart from not only the black market but from their competitors in the legal landscape as well.
"Our nursery business is key to our supply chain, allowing for the development of new hybrid cannabis strains," said Jennings. "We've curated a massive seed library of 120 strains, including several award-winning genetics and cultivars."
Next Green Wave recently signed a licensing agreement with Intrexon Corporation (NASDAQ:XON) to use the Botticelli tissue culturing technology platform in the production of Next Green Wave's proprietary cannabis cultivars. Tissue culture propagation enables the efficient production of pathogen-free, genetically consistent plantlets in a more sustainable and scalable method than conventional cloning methods. "This program enables Next Green Wave to improve its library of award-winning premium genetics and ensure that all of our flowering facilities are filled with the highest quality of nursery stock resulting in higher yields and overall cannabinoid content than traditional clones," said Jennings. In addition to using these cannabis plantlets for its own downstream products, Next Green Wave plans to sell nursery stock to other commercial growers as well.
Takeaway
Cannabis companies that can provide top-shelf strains designed to enhance customer experience could be in an optimal position to compete with the black market and other licensed producers. In a highly competitive marketplace, the cannabis nursery license allows companies to serve discerning customers by offering a portfolio of premium proprietary cannabis strains, enabling cultivators to stand out in an increasingly crowded marketplace.
---
This INNSpired article was written according to INN editorial standards to educate investors.
INN does not provide investment advice and the information on this profile should not be considered a recommendation to buy or sell any security. INN does not endorse or recommend the business, products, services or securities of any company profiled.