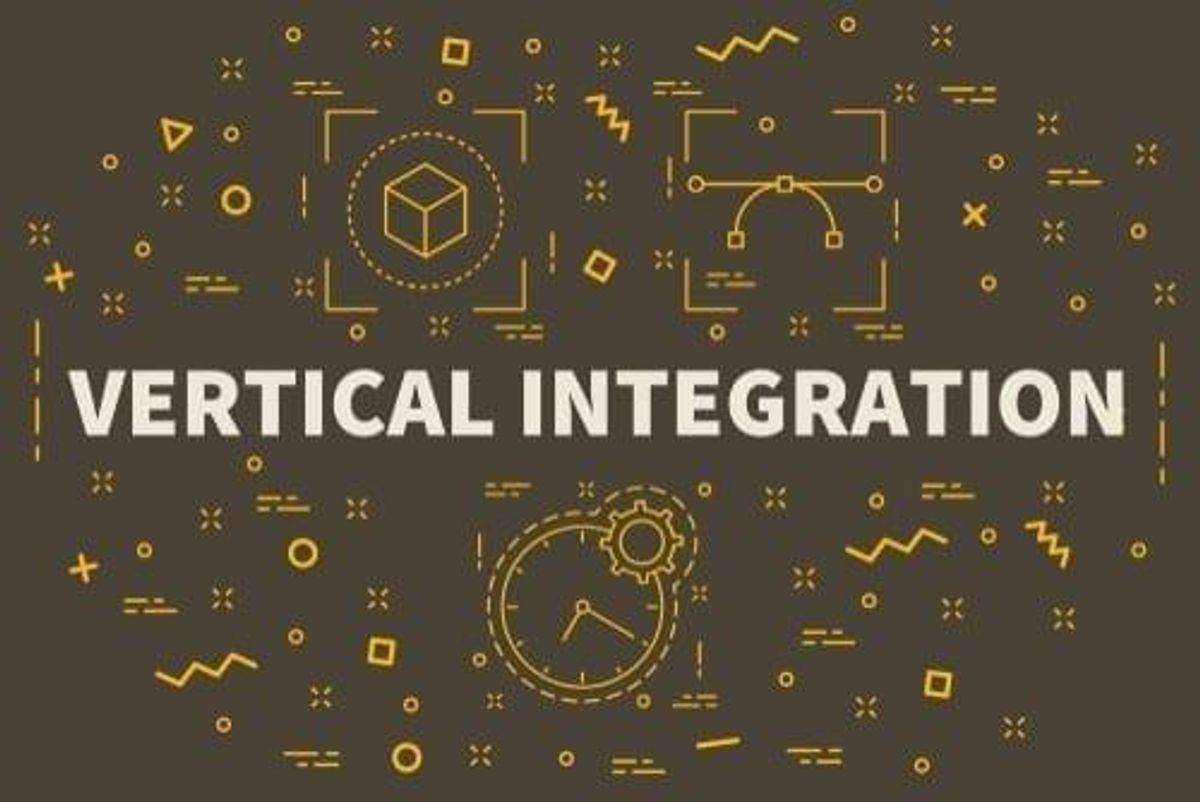 Vertically integrated cannabis companies gain value through total control of their product chain.
As cannabis and hemp companies across Canada work out their plans and strategies to survive and flourish in what promise to be extremely competitive markets, vertical integration in the cannabis industry is growing as a concept.
Vertical integration is more than just a buzzword. In the cannabis industry, it is a strategy that can help cannabis companies maximize efficiency and reliability, while also setting themselves apart from competitors. This can create a huge advantage in a logistically complicated industry.
What is vertical integration?
Put simply, vertical integration is a business strategy that involves one company controlling multiple stages of the production and supply line, through either ownership or close partnerships with each involved entity. A fully vertically integrated cannabis company could own a cultivation facility which also houses an extraction lab with completed extracts shipped to that company's own retail storefronts. A vertically integrated hemp company, meanwhile, might use the crops they've secured primarily to make hemp-based foods and/or beverages for its own brands while also extracting CBD to make wellness supplements and/or skincare products.
It's worth noting that some jurisdictions have made vertical integration difficult or impossible for cannabis companies, with provinces like Nova Scotia and Quebec establishing wholly province-run retail and distribution systems and some jurisdictions requiring entry into exclusive partnerships with distributors and retailers to deliver their products to market. The hemp business, meanwhile, is not hampered or restricted with these same challenges and companies within it are able to distribute their products and retail lines in a much freer fashion.
There are obvious benefits to a vertically integrated approach to the cannabis business. Vertically integrated companies have superior control over the quality of their products. They are better able to make adjustments to their production and supply lines in evolving market conditions, a reality for a space facing changing regulations. Also, the supply process is often significantly less expensive when a company is free from third parties. However, vertical integration does come with its own set of challenges. Setting up a vertically integrated operation requires far more in starting capital compared to a more singular focused business model. Vertical integration also requires greater oversight on the part of one company to maintain a more complex operation. However, for a properly structured, vertically integrated company, the benefits far outweigh the challenges.
For cannabis companies that have the capital and organization to pull it off, vertical integration could be key to dominance in this industry.
Seed to sale
The control over the value chain gained through vertical integration offers companies more than just savings and convenience. With industries like cannabis or hemp-based foods, quality control is of critical importance. Hemp is sold at retail level as a raw food and generally has little regulatory challenges, whereas, as a newly legalized product, cannabis is under more scrutiny than nearly any other consumer product.
"To maintain the highest quality control, it is a business imperative that every step in the process be controlled, monitored and evaluated, especially during the rapid expansion into new distribution channels. Vertical integration allows for quick reaction to market conditions whether that is developing new products, servicing new clients or expanding distribution channels," Craig Goodwin, President and Founder of Hemp-based health foods company Naturally Splendid Enterprises (TSXV:NSP), told INN.
Another advantage to the vertically integrated approach is the assurance of the transaction. Producers can be assured there is a market for their production and end users are comforted in knowing they can count on a steady, uninterrupted flow of product as cannabis products go mainstream into traditional retail distribution channels.
Vertical integration through strategic partnerships with large-scale distributors and retailers provides an opportunity not just for the individual cannabis or hemp company, but for the industry as a whole. Retailers are beginning to establish relationships with cannabis through the sale of non-psychoactive hemp products. This could be an important development for hemp companies to establish their reputations as well, because dependable suppliers, especially through large scale retail, will be an important step for an emerging industry towards further integration in the North American retail landscape.
Vertical integration in the cannabis industry
Examples of vertical integration in the cannabis industry and in the hemp space are emerging more and more frequently.
Naturally Splendid has developed relationships with numerous producers and processors. Having previously outsourced several segments of their product chain in the past, in recent years the company has been focused on acquiring the equipment and operations necessary to become a fully vertically integrated company. For example, the company acquired organic hemp processing company Absorbent Concepts in 2018 as well as an automated packaging line from Eat Real Snack Food Canada in 2017. In the same year Naturally Splendid also acquired Prosnack, a nutritional bar manufacturer with an eight-year track record of distribution and retail chains, as well as 2,000 points of sale.
Leveraging these relationships, the company entered into a partnership with a national food distributor in June 2018. This is all tied in with Naturally Splendid's R&D initiatives, which have so far delivered innovative products like HempOmega™ and a hemp protein isolate and could be expanded once the company receives its Dealer License for the extraction and formulation of cannabinoids. Through vertical integration, Naturally Splendid is able to conduct its own research and development, processing and packaging as well as branding and distribution, further eliminating the need for pricy outsourcing. The company is now well on its way to having all of its operations under one roof, connecting production with wholesale and retail purchasing.
Canadian Cannabis giant Aurora Cannabis (TSXV:ACB) has also made moves towards vertical integration with a series of recent acquisitions and partnerships, such as the company's recent acquisition of a majority share of Hempco Food and Fiber (TSXV:HEMP). High Hampton Holdings (CSE:HC,OTCMKTS:HHPHF,FWB:OHCN) recently acquired 420 Realty in a move that gives High Hampton access to an established vertically integrated distribution network in California. Abattis Bioceuticals (CSE:ATT) and Emerald Health Therapeutics (TSXV:EMH) have partnered through their jointly owned subsidiary Northern Vine Labs and together the companies have integration through just about every aspect of the cannabis business.
As the legal cannabis industry develops it's no surprise that cannabis companies want to take a holistic approach to the business. Vertical integration gives cannabis companies the highest control possible over the quality of their end product, minimizes potential liability from third parties and, perhaps most importantly, helps companies capture the best possible margin for their products.
This INNspired article is sponsored by Naturally Splendid (TSXV:NSP). This article was written according to INN editorial standards to educate investors.
Investing News Network websites or approved third-party tools use cookies. Please refer to the  cookie policy for collected data, privacy and GDPR compliance. By continuing to browse the site, you agree to our use of cookies.