5 Key Takeaways from Fastmarkets Lithium Supply and Raw Materials Conference 2022
Jul. 05, 2022 02:00PM PST
Lithium Investing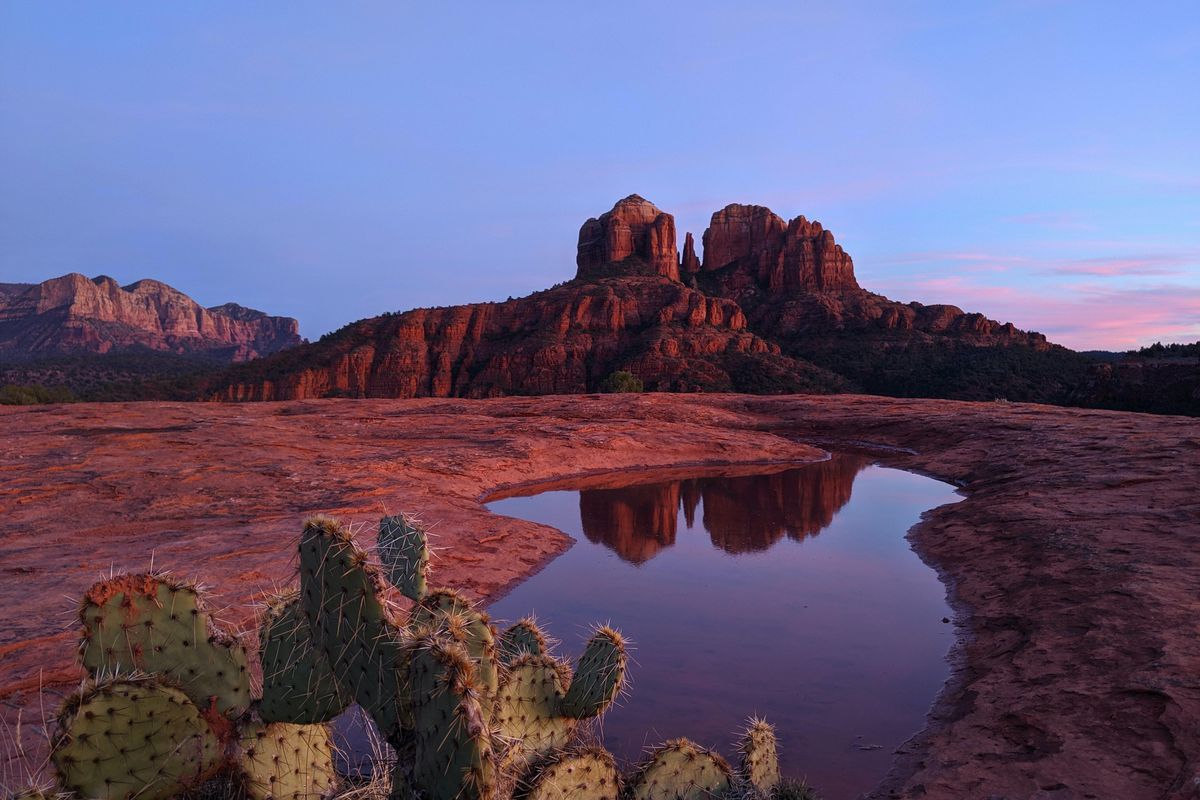 Here's a brief overview of the key topics discussed at this year's Fastmarkets Lithium Supply and Raw Materials conference.
The fact that lithium has become mainstream is undeniable, with sustained high prices in the past year turning investors' attention to this growing industry.
Sentiment from major players in the space remains strong, even as oversupply fears made a comeback on the back of recent reports and as stocks continue to be hit by current macroeconomic conditions.
At this year's Fastmarkets Lithium Supply and Battery Raw Materials conference, almost 700 participants from across the entire electric vehicle (EV) supply chain had the opportunity to hear from analysts and executives on the major themes impacting the lithium market today.
---
Here's a brief overview of the five key takeaways from the event, which took place in Phoenix, Arizona, from June 27 to 29.
1. Supply could hinder electrification goals
During the first day of the event a major highlight was the lithium producers panel, which featured executives from top producers Albemarle (NYSE:ALB), SQM (NYSE:SQM), Livent (NYSE:LTHM), Ganfeng (OTC Pink:GNENF,SZSE:002460) and Pilbara Minerals (ASX:PLS). Concerns over future supply, expansion plans and geopolitics were the main topics discussed.
"To keep up with demand, every existing producer supplying the market today must double every two to three years for the next decade," Eric Norris of Albemarle told the audience during his keynote presentation. "No producer has been able to do that reliably to date."
While discussing the need to build a competitive and resilient domestic supply chain, he also outlined Albemarle's plans to build a processing plant with 100,000 metric tons (MT) of annual capacity in the US. The company is aiming to increase its lithium production capacity five times to 500,000 MT per year by 2030. Chile's SQM and Argentina-focused Livent have also made announcements about supply expansion plans this year.
SQM's Felipe Smith sees huge demand for lithium in the near future. Expanding on Norris' comments, he said: "The market needs about 200 to 300,000 tonnes of lithium every year (to meet demand) and that means that you need roughly 8 to 10 new projects coming on stream every year."
Speaking with the Investing News Network on the sidelines of the event, Ken Hoffman, senior expert at McKinsey, said that scaling up production is an immense challenge that this industry is undergoing.
"It's a challenge that we absolutely can't fail in," he said. "Because if we do, then global warming will get us."
Also in conversation with INN at the event, Daniel Jimenez of iLi Markets said there's a common understanding that demand is strong.
"Demand is going to continue growing at a stronger rate than supply and most likely in the next few years there will be a bottleneck in the electrification of vehicle fleets," he said.
Supply and demand dynamics were also in focus on several keynotes at the conference as well as a panel discussion on what consumers can do to secure lithium supply today.
2. How high could lithium prices go?
Battery raw materials saw a spike in prices last year to a level that it was hard to imagine just a few years ago, as demand from the electric vehicle sector picked up pace. Lithium saw prices increase north of 400 percent, with prices up over 100 percent year-to-date.
But China's lockdown measures due to a surge in COVID-19 cases and a slowdown in demand from the EV sector have seen prices stabilize in the second quarter of the year. Last month, investment bank Goldman Sachs (NYSE:GS) called for a sharp correction in prices on the back of increasing supply flowing into the market, but not everyone agrees.
At the event, the team from Fastmarkets shared its insights on lithium pricing and mechanisms. "We do not expect a major pullback in the prices," Fastmarkets Head of Base and Battery Metals William Adams told the audience.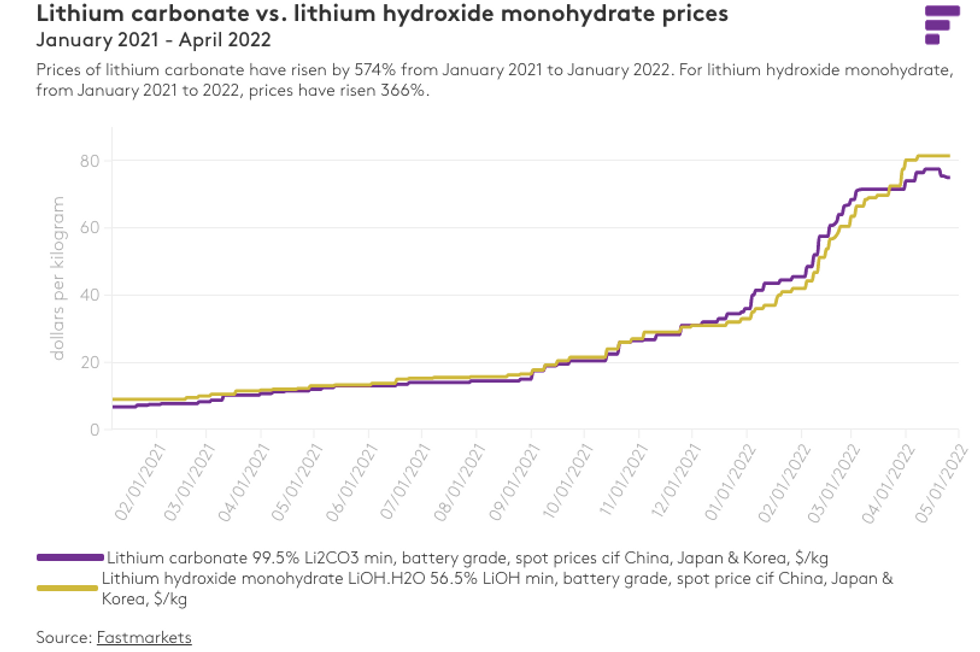 Lithium prices performance from January to April 2022. Chart via Fastmarkets.
Sharing his thoughts on sentiment in the lithium market, Jon Hykawy of Stormcrow Capital told INN it's not difficult to find reasons to be excited about what prices have done in the past year.
"For a long period of time, we're going to see continued sales, we're going to see the banning of internal combustion vehicles, we're going to continue to see roses and sunshine across the entire industry," he said. "And perhaps that's not quite as realistic, and maybe has never been as realistic as it's been portrayed."
After reaching all-time highs, lithium prices are now starting to stabilize, but how high prices could go is yet to be seen.
"Never in my wildest dreams would I have thought we would see US$70,000 spot lithium prices, so I'm very happy to see it. I think there are a number of reasons behind it, whether or not it's speculation, stockpiling and, of course, just outrageous demand in China," Chris Berry of House Mountain Partners told INN at the event in Phoenix.
"But I don't have much of a feel for if we go to $100,000 a tonne, or wherever we go; I'm just a lot more focused on when this cycle gets a little bit long in the tooth, and when we mean revert, where do we land?" he said. "I think we will equilibrate between spot and contract pricing."
3. Geopolitics of lithium are changing
The COVID-19 pandemic further exposed how vulnerable countries and regions such as the US and Europe are in their EV supply chains, with very little control over lithium production and processing.
Governments started to outline plans and make investments to build out domestic supply chains that could see their dependence on China, and Asia as a whole, being reduced. At the event, a Geopolitics of Lithium panel moderated by Peter Hanna of Fastmarkets featuring Joe Lowry of Global Lithium, House Mountain Partners' Berry and iLi Markets' Jimenez shed light on some of these topics.
"I think just in the last couple of years, the Trump-China trade war, COVID, the Russia-Ukraine war, have really exposed critical vulnerabilities in terms of how energy in particular is generated and stored," Berry said. "Governments have realized that there's going to be a new regime with respect to energy generation and usage, and that is clearly going to revolve around a new class of metals."
The panel discussed everything from China's position in the supply chain to investments in different regions to increasing costs and ESG.
4. ESG in focus
Environmental, social and governance, or ESG, was also a key theme at Fastmarkets' Lithium Supply and Raw Materials conference this year. From conversations on how to manage ESG risk in the EV supply chain to a panel on building and tracking an environmentally responsible supply chain, industry participants, CEOs and executives had the opportunity to share their thoughts with attendees.
"The whole supply chain is really struggling with 'What does ESG mean?'" Berry told INN, adding that the challenge investors face is which criteria to use when assessing a project. "I would argue every project, whether it's lithium or not, is going to have a different ESG profile."
Whether there will be consumer demand or a premium paid for products produced in an ESG-friendly way were also topics up for debate, with mixed views on how these will play out.
5. Technology and innovation to play an increasingly important role
New lithium technologies and innovation were highlighted at this year's event as well, which featured a few conversations on recycling and direct lithium extraction.
"How do we find and get more lithium at lower cost and still be environmentally friendly to this market?," McKinsey's Hoffman said when asked about which topics caught his attention the most at the event. "And then can we recycle all these batteries that we're putting into the marketplace?"
Don't forget to follow us @INN_Resource for real-time updates!

Securities Disclosure: I, Priscila Barrera, hold no direct investment interest in any company mentioned in this article.
Editorial Disclosure: The Investing News Network does not guarantee the accuracy or thoroughness of the information reported in the interviews it conducts. The opinions expressed in these interviews do not reflect the opinions of the Investing News Network and do not constitute investment advice. All readers are encouraged to perform their own due diligence.
Investing News Network websites or approved third-party tools use cookies. Please refer to the cookie policy for collected data, privacy and GDPR compliance. By continuing to browse the site, you agree to our use of cookies.