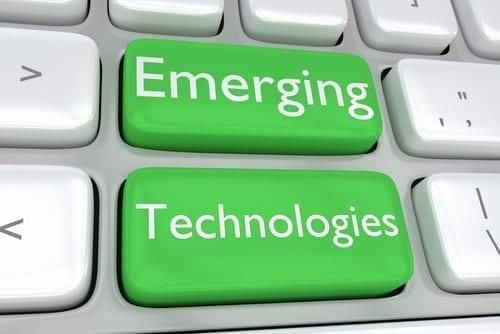 In its Foresight 2022 report, research and advisory firm Lux Research examines the top emerging technologies to watch this year.
Although the COVID-19 pandemic has disrupted businesses in recent years, companies continue to look for new opportunities in emerging technologies and for innovations that can reshape the world.
In its Foresight 2022 report, research and advisory firm Lux Research examines the top tech innovations that it believes will have the greatest impact over the next decade. The report includes a list of the top emerging technologies to watch this year, and Lux Research indicates that they could be key in a post-pandemic world.
A major theme in the report is the rise of technologies that address sustainability across four verticals: climate tech, circular tech, future consumer tech and digital trends.
---
″Great innovations occur when technologies connect to address a critical question or market need. Sustainability is that question, and connected computational tools promise to meet that need,″ said Kevin Pang, Lux Research's vice president of technology innovation and strategy. ″More and more devices are being computationally connected to create ever-more novel combinations of data, and more and more issues like recycling, health care, climate change, and empowered consumerism are being connected via the thread of sustainability,″ he added.
The 10 emerging technologies highlighted below were chosen based on a composite measure assembled from a variety of innovation data sources, along with input from Lux Research's experts.
1. Compressed air energy storage
Compressed air energy storage (CAES), according to Lux Research, can address a "market need for cheaper, multiplexed, distributed energy management from surging renewable input energy sources."
At a utility scale, CAES technology allows energy created during periods of low demand to be saved for later use during periods of peak energy demand. CAES stores ambient air or another gas in a pressurized container. Once heated, the air or gas expands in a turbine to drive a generator and produce power. Lux Research believes CAES technology is a "harbinger of dynamic grid management, renewables, and new business models."
2. High-temperature heat pumps
Lux Research sees the demand for more sustainable practices across industries as a driver for replacing traditional mechanical systems with connected balance of system configurations.
High-temperature heat pumps, or industrial heat pumps, are regarded as a more energy efficient, environmentally friendly method for generating high-heat temperatures for industrial purposes, such as producing hot water, harnessing energy from waste streams, sterilizing milk, making paper products and drying food.
A few of the signposts to look out for in this area, as per the firm, are the "linking (of) disparate industrial processes together to harness waste heat" and "heat distribution and management (becoming) a monetized service."
3. Redox flow batteries
While lithium-ion batteries are dominating headlines, redox flow batteries are another emerging technology with promise. Flow battery technology is a type of electrochemical supercapacitor system in which two chemical components are dissolved in liquid separated by a membrane. This can take place in small or large tanks capable of storing large amounts of electricity, making the tech ideal for a variety of residential and commercial uses.
A few signs that this tech is gaining traction, states Lux Research, include the intensive academic research into the technology, the development of organic materials-based flow batteries and the fact that there are claims of achievable US$25 per kilowatt hour batteries, which would make flow batteries competitive to lithium.
As flow battery tech becomes more cost effective and smaller in form, analysts believe these energy storage systems will be able to compete with lithium-ion batteries, especially in the realm of grid-scale storage.
4. Advanced pyrolysis
Lux Research suggests that advanced pyrolysis technology has implications for "waste ecosystem platform development driven by circular economy strategy and (it) will drive robotic sorting, balance-of-system efficiencies, and new downstream markets for recovered materials."
The US Department of Agriculture defines pyrolysis as "the heating of an organic material, such as biomass, in the absence of oxygen." The liquid or gas produced can be refined into petroleum alternative energy sources. Advanced pyrolysis techniques have further enhanced the energy content and yields produced by this process.
Market watchers should look to an "increasing focus on improved economics, recovery, and restreaming of core materials," as well as advances in chemical looping and "the addition of electrolysis to the balance of system."
5.Production electrochemistry
Interest in green hydrogen production is "(driving) electrolysis systems development, and creating viable scaled pathways for new electrochemical reactions," Lux Research notes. Electrochemical processes can be used to create electricity via the combination of hydrogen fuel and oxygen in a fuel cell.
Lux Research believes accelerated research in this area has implications for "targeting replacement of all combustion chemical reactions." Green hydrogen produced with renewable energy sources emits zero carbon when used as a fuel source. Fuel cell electric vehicles use hydrogen as a fuel source, and are an alternative to both internal combustion engines and battery electric vehicles.
6.Cell-based meat
Consumer demand for less carbon-intensive food production has led to the development of alternative protein sources, including cell-based meats or lab-grown meat sources. Lux Research sees "Singapore's approval of the world's first laboratory-grown meat source (as paving) the way for global competition."
Advances in this area are also making cell-based meats cost competitive with traditional protein food sources — a key component for market success as inflation fuels higher food prices across the world. "As meat and poultry prices continue to rise amid the new inflation, the cost to produce lab-grown meat is on the decline," reported Forbes. "Future Meat reports that it can make 1 pound of chicken for US$7.70, down from US$18.00 past year, and Shiok Meats (is) hoping to launch its lab-grown shrimp at US$37/kg next year, down from US$7,400 in 2019."
Lux advises this rising demand for cell-based meat has huge implications for research and development into new methods for bioreactor technology used in cultivating cell-based meats.
7. Novel seed treatment
The ongoing explosive growth in the intellectual property surrounding non-genetic seed treatments and CRISPR technology is a prime indicator to Lux Research that novel seed treatment is among the top emerging technologies in 2022. The firm also points to increasing partnerships and mergers and acquisitions activity in the sector.
New seed treatments such as CRISPR-based gene editing that can increase the germination and production of hardy, healthy food crops with fewer chemicals are an essential need in an era of rising food insecurity.
The implications for novel seed treatments in the broader agricultural sector include the growth of "controlled environment farming using purpose-built and treated seeds."
8.Cell-free biosynthesis
Cell-free biosynthesis is the production of protein using biological machinery without the use of living cells. Lux Research states that this emerging technology will allow the "plug and play of enzyme cascades into traditional chemistries to create new synthetic pathways."
One example of research into this field is Northwestern University's work to use the understanding of the biological pathways of yeast reproduction to create on-demand production of sustainable alternatives to petroleum-based fuels and other oil-derived products.
"Our work further joins an emerging area of science that seeks to use cell-free systems from crude cell extracts for designing cellular function, on-demand biomanufacturing, and portable diagnostics," said Michael Jewett, director of the Center for Synthetic Biology at Northwestern. "Indeed, these efforts are expanding the definition of biomanufacturing to build a sustainable bioeconomy."
9. Digital biomarkers
Healthcare has long leaned on emerging tech, and in 2022 this trend will continue as the digital revolution sweeps across all sectors. Digital health tools have increased in popularity in the age of COVID-19, and Lux Research sees a "continued rise in digital biomarker companies targeting mobile health and health-at-home market development."
"Digital biomarkers are key to the personalization of healthcare, both for maintaining wellness and for treating disease, with huge potential benefits for stakeholders across the healthcare value chain," said Lux Research's Danielle Bradnan. "Consumers benefit from early diagnostics and timely interventions, governments benefit from reduced healthcare costs, and traditional healthcare players benefit from a new tool ... for managing disease."
10. Ultra wideband sensors
Ultra wideband sensors (UWBs) are a radio-based communication technology that allows for short-range use and the fast, stable transmission of data. These sensors are increasingly being incorporated into consumer electronics like smartphones and fitness trackers. UWB sensor technology also has industrial and retail applications, where it can help optimize supply chains and the evolution of the industrial internet of things.
Lux Research anticipates more UWB developments for smartphones; other implications for UWBs include the "acceleration of edge computing and increased smart environments with real-time asset management."
This is an updated version of an article first published by the Investing News Network in 2020.
Don't forget to follow us @INN_Technology for real-time updates!

Securities Disclosure: I, Melissa Pistilli, hold no direct investment interest in any company mentioned in this article.

Investing News Network websites or approved third-party tools use cookies. Please refer to the  cookie policy for collected data, privacy and GDPR compliance. By continuing to browse the site, you agree to our use of cookies.