Collision Conference 2019: Notes from the Floor
May. 27, 2019 11:15AM PST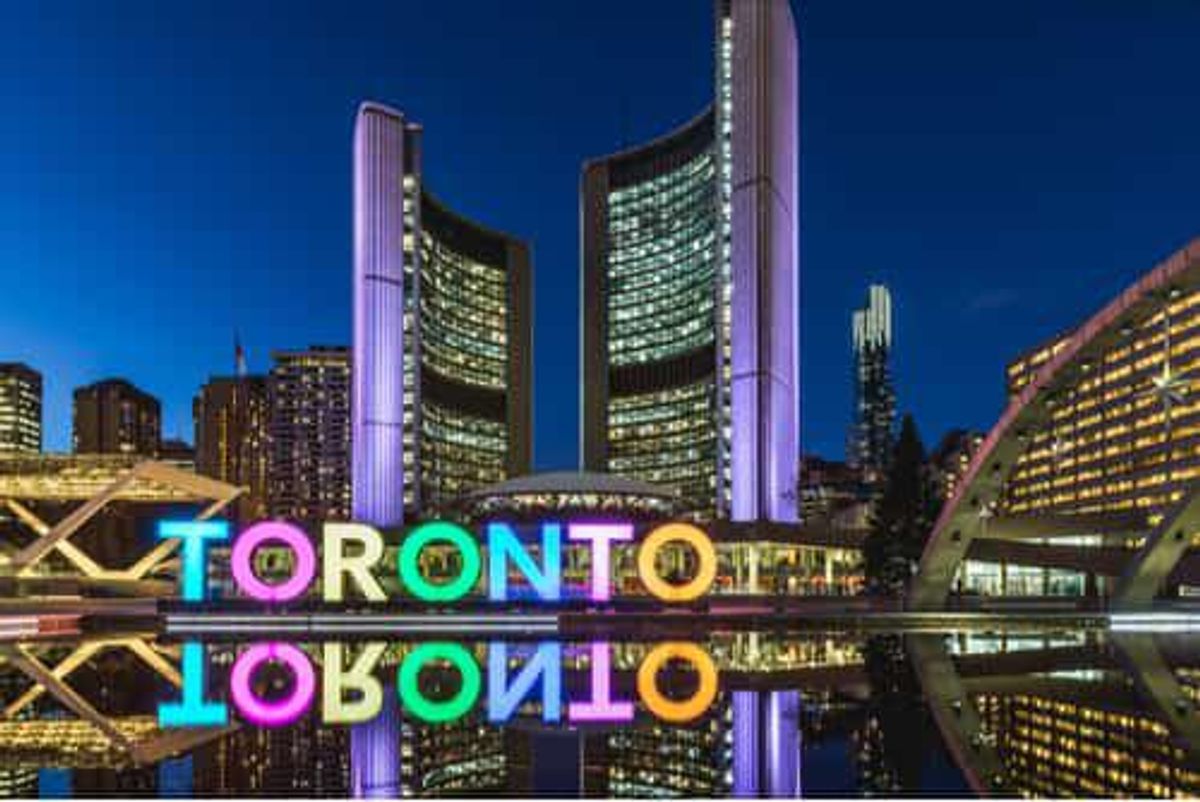 Collision took over Toronto's Enercare Center last week, with high-profile celebrity panels and coverage of emerging tech innovations.
The fifth edition of the Collision technology conference made its Toronto debut last week. The three day event, which is dubbed the largest tech conference in North America, covered all the areas that tech touches and beyond — from healthcare to public transportation.
The conference was action packed with approximately 25,711 attendees, companies, speakers and experts converging at the massive Enercare Center near downtown Toronto. Opening night (May 20) of the technology extravaganza featured a conversation with Prime Minister Justin Trudeau, who stressed Canada's commitment to innovation, particularly in the tech sector.
"Access to talent is going to be at the core of success for businesses, for economies, for entire countries. And that's why Canada, even though we've been a country that has always had great natural resources, and we will continue to, we've always layered on to them innovation and talent on top of it," he said.
"But that's really come to a head recently, as we've determined that the Canadian advantage is in providing extraordinarily well-educated, hard-working, forward-thinking, creative, ambitious Canadians to be part of the global economy."
Canada is a country of innovators, entrepreneurs & talented workers. Plus we have unprecedented access to global markets, strong communities & a growing economy. Doing business here is a smart move. Thanks to @shahrzadrafati for the conversation on all this & more at @CollisionHQ pic.twitter.com/scd3kRf16x

— Justin Trudeau (@JustinTrudeau) May 21, 2019
One of the things I like about @JustinTrudeau is, he is one of the very very few world politicians who articulates for building a better world and a stronger society, and using government and collaboration to do it. We need more of that. #CollisionConf pic.twitter.com/8DDeeblTEw

— Stuart Watt (@morungos) May 20, 2019
Actor Seth Rogen was on hand during the first night to discuss the inception of his cannabis company Houseplant. He also discussed the role Hollywood plays in destigmatizing marijuana with his friend and co-founder Evan Goldberg.
"Pineapple Express was the moment where we realized how many people love cannabis and enjoy it and and it makes a difference in their lives, and they feel like it's a normal part of their lives," said Goldberg. "It was the first film that was a giant financial win for a studio that was about cannabis."
During the discussion, Rogen confirmed he will be meeting with the Ontario Cannabis Store about bringing Houseplant to legal shops in Toronto.
Seth Rogen just announced he's meeting with OCS tomorrow to bring his cannabis brand Houseplant to legal weed stores in #Toronto #CollisionConf @Sethrogen pic.twitter.com/lKUbu36lc5

— blogTO (@blogTO) May 20, 2019
Local Torontonians Jessie Reyez and Mayor John Tory also participated in fireside chats about the city's role in shaping and pushing the technology sector in Canada forward. Collision has decided to partner with the City of Toronto to host the conference until 2021.
On the official first day of the conference, the event floor was buzzing with live demos, interactive monitors and screens and even a few robots.
Mailchimp has an interactive wall set up showcasing their marketing capabilities. #Collision2019 pic.twitter.com/AheqtpQEgA

— Tech Investing News (@INN_Technology) May 21, 2019
After a brief morning address from Collision Founder Paddy Cosgrove, the day's panels, stage presentations and keynote addresses kicked off. Leading the way was actor and entrepreneur Joseph Gordon-Levitt, who spoke about his open online community HITRECORD, which is designed for creative and worldwide collaboration. Levitt explained how the idea and concept for HITRECORD came from a rough patch in his life after he finished college and wanted to go back to his passion.
"And then when I went to get back into acting a couple years later, I couldn't get a job. No one would cast me in anything, and that was really, really painful, because when you're an actor, you need someone to cast you in order to do the acting," he said.
Actor and tech-entrepreneur Joseph Gordon-Levitt is on the Centre stage explaining the process of monetizing his online network HITRECORD a collaborative online space for connecting. #Collision2019

— Tech Investing News (@INN_Technology) May 21, 2019
'Using the Internet to collaborate, to have people work together, to make things together that they couldn't have done before on their own' ✨

Actor, filmmaker & entrepreneur @hitRECordJoe speaking about the power of the internet on Centre Stage at #CollisionConf ? pic.twitter.com/5u8cXfGqMp

— Collision Conf (@CollisionHQ) May 21, 2019
Out on the event floor, tech companies from around the world met with potential investors and curious attendees to explain their innovations.
Our Directors of Sales are looking sharp at the Collision Conference. If you're attending the conference and want to learn more about our #smallbusiness payment product, Ablii, come visit us at Stand G120. #collisionconf #fintech #payments pic.twitter.com/k4fOYWSa4B

— Ablii (@HelloAblii) May 21, 2019
Companies merging tech with health were also front and center for all three days of the event. One Health Company took the main stage early Tuesday (May 21), offering attendees a glimpse into its work on personalized medicine for dogs with an emphasis on curing and caring for canines with cancer.
Opening the Collision innovation conference! Center stage, spreading our mission to cure canine cancer to over 5 thousand people ??? Thank you #CollisionConf #Collision #Collissionhq #Collision2019 #fidocure #dogs #veterinary #caninecancer #onehealthcompany #fidocur pic.twitter.com/3vF5ArEK53

— The One Health Co (@The_One_Health) May 21, 2019
David Eun, chief information officer and president of Samsung (KRX:005930) NEXT, gave a variety of talks on day one regarding Samsung's push towards artificial intelligence (AI). Click here to read more about what he said.
Samsung NEXT President David Eun Talks AI and Innovation at Collision https://t.co/h3w7mdwbDe @SamsungNEXT @Eunner #CollicionConf #tech #AI #investing pic.twitter.com/2AJCliUhC8

— Tech Investing News (@INN_Technology) May 23, 2019
Eun highlights the importance and growth in the experience economy. Consumers will spend 4x more on experiences over products. #Collision2019

— Tech Investing News (@INN_Technology) May 21, 2019
Other highlights from the first conference day were: a presentation by singer and entrepreneur Akon about his cryptocurrency Akoin; a press conference and Q&A with producer Timbaland regarding his partnership with Masterclass; and a panel discussion with Minister of the Environment and Climate Change Catherine McKenna, who stressed the importance tech will play in helping the environment.
"To open a business in Africa, all you need is a plane ticket and a plan" ?

Global artist & Akoin chairman & co-founder @Akon on Q&A today at #CollisionConf ✨ pic.twitter.com/u6t1hZjCA1

— Collision Conf (@CollisionHQ) May 21, 2019
'AI is going to help you mass produce more of what you started to create' ?

Musician and producer @Timbaland speaking about AI and music at #CollisionConf ✨ pic.twitter.com/cF8YHL4vOv

— Collision Conf (@CollisionHQ) May 21, 2019
Minister of the Environment Catherine McKenna explains how tech can help save the planet. #collison2019 pic.twitter.com/0FKLgJP6Zd

— Tech Investing News (@INN_Technology) May 21, 2019
The second day of the conference started with a chat from Dan Doctoroff of Sidewalk Labs on smart cities and the way they are developed and grown. It was followed by several presentations on the future of the automotive sector as it transitions to electric and autonomous vehicles.
'We're seeing that getting around is becoming a much greater problem. As a result, people who don't have money are getting pushed further and further away from centres of opportunity' ?

CEO of @sidewalklabs Dan Doctoroff on Centre Stage this morning at #CollisionConf ✨ pic.twitter.com/K2VUAHescH

— Collision Conf (@CollisionHQ) May 22, 2019
'The car will become a digital living space, and it won't be so important anymore to look at horsepower a the car. It will be much more important how you can spend your time in the car.' ?

CEO of @BYTONcars, Daniel Kirchert on Centre Stage at #CollisionConf pic.twitter.com/YVVIYuvDl1

— Collision Conf (@CollisionHQ) May 22, 2019
Over at the Binate stage, McAfee CEO Chris Young spoke to the audience about where he believes cloud technology is going in the future.
'I believe that the cloud, can be and should be the most secure platform for doing business, and for living our digital lives.' ?

CEO of @McAfee Chris Young speaking on Binate at #CollisionConf this morning ? pic.twitter.com/lWG29AO6zc

— Collision Conf (@CollisionHQ) May 22, 2019
'AI is a big umbrella term for what machine learning is' ?

@Microsoft 's Josh Holmes opening Binate today at #CollisionConf ? pic.twitter.com/EXg1yVz8DT

— Collision Conf (@CollisionHQ) May 22, 2019
In the afternoon, Dominic Mallinson, senior vice president of R&D at Sony (NYSE:SNE,TSE:6758), spoke about the proliferation and refinement of virtual reality (VR) technologies. He also introduced the PlayStation's three newest VR games, which will be released over the coming years.
'Gaze tracking has the greatest potential to change VR' ?

SVP of R&D at @PlayStation Dominic Mallinson talking about the future of gaming and #VR on Autotech at #CollisionConf pic.twitter.com/gJEK2acIba

— Collision Conf (@CollisionHQ) May 22, 2019
Dominic Mallinson, SVP of R&D at PlayStation is Bullish about VR and it's future. Particularly high-end VR. #Collision2019 pic.twitter.com/TKv30Th16q

— Tech Investing News (@INN_Technology) May 22, 2019
Attendees looking for tech investment tips were not disappointed by a panel discussion featuring Trae Vassallo of defy.vc, Jeff Clavier from Uncork Capital, Anu Duggal of Female Founders Fund and Adam Valkin of General Catalyst.
Each panelist was asked which area of tech is overhyped and which is undervalued. While two panelists said the crypto and scooters are overhyped, Valkin went so far as to say that a lot of the tech sector is overhyped; however, he did point to insurance-focused tech as being seriously undervalued.
The Where I'm Putting My Money in 2019 panel is underway. Panelists emphasis the need for investment in logistics and women's health care. #Collision2019 pic.twitter.com/0oXLryOvS7

— Tech Investing News (@INN_Technology) May 22, 2019
On an adjacent stage in the conference center, Shopify (TSX:SHOP) CEO Tobias Lütke addressed the crowd about the need for tech to empower people who may not have coding or technology experience.
'We build technology so that non technical people can actually enter the global digital economy, and then enter the world economy and so on.' ?

CEO of @Shopify Tobias Lutke speaking on Centre Stage at #CollisionConf today ✨ pic.twitter.com/oU0tYmYm7K

— Collision Conf (@CollisionHQ) May 22, 2019
The final day of the show, which took place on Thursday (May 23), had a renewed emphasis on health, with a number of medical cannabis speakers and presentations. The finalists for the pitch competition were announced early in the day.
And the finalists in our PITCH competition are…… ?

Loliware
Kora Pay
Spero Foods

Get down to Centre Stage at 12.45 and check out some of North America's most innovative #startups ? #CollisionConf

— Collision Conf (@CollisionHQ) May 23, 2019
Last ones standing ?

Check out Loliware, Kora Pay and Spero Foods in the PITCH final on Centre Stage at #CollisonConf today at 12:40 https://t.co/DTvy3H06ED

— Collision Conf (@CollisionHQ) May 23, 2019
Hello Alfred CEO Marcela Sapone talked about the need for technology to solve everyday problems and offer services that everyday people need.
"Try to build a self reliant model where consumers vote with their dollars instead of taking VC money."

CEO of @HelloAlfred @MsSapone on sustainable growth on Startup University at #CollisionConf ✨ pic.twitter.com/WocUvR2JJf

— Collision Conf (@CollisionHQ) May 23, 2019
The fifth annual Collision conference came to a close shortly after the winner of the pitch challenge was announced. LOLIWARE won the bragging rights.
And the winner of PITCH 2019 is…… ?@LOLIWARE #CollisionConf pic.twitter.com/xuvYhLvsjn

— Collision Conf (@CollisionHQ) May 23, 2019
Over the course of the three day conference, the Investing News Network conducted several interviews with tech companies and well-known sector participants, so be sure to check back to read all of our exclusive interviews and content from the 2019 Collision conference.
Don't forget to follow us @INN_LifeScience for real-time news updates
Securities Disclosure: I, Georgia Williams, hold no direct investment interest in any company mentioned in this article.
Investing News Network websites or approved third-party tools use cookies. Please refer to the cookie policy for collected data, privacy and GDPR compliance. By continuing to browse the site, you agree to our use of cookies.