Samsung's David Eun Talks AI and Innovation at Collision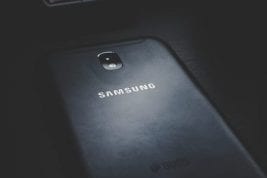 Samsung NEXT President David Eun discussed tech innovation, artificial intelligence and how Samsung is staying competitive at Collision.
The celebrity-packed Collision Conference takes place this week in Toronto from May 20 to 23, and the Investing News Network has been there covering the show.
Noteworthy attendees include Prime Minister Justin Trudeau, Seth Rogen, Shopify (TSX:SHOP) Founder Tobias Lutke, Joseph Gordon-Levitt and Kara Swisher, editor of Recode.
On Tuesday (May 21), David Eun, chief innovation officer and president of Samsung (KRX:005930) NEXT, spoke about how the corporation stays competitive, its investment in artificial intelligence (AI) and 5G and how tech is changing consumer behavior.
Partnering with innovators to stay competitive
"If you don't innovate and move forward, if you're standing still, you will fail," Eun remarked in regards to Samsung's strategy to stay competitive amongst smaller, more agile companies.
Eun explained that Samsung NEXT aims to partner with entrepreneurs who are creating innovative solutions that impact businesses and consumers. The company is composed of teams focused on venture capital, mergers and acquisitions, business and development and product development.
"The dilemma is, especially with the bigger companies and with the successful companies, oftentimes what has made them successful, what is at the core of what (they) do, can become so big it can become a blind spot to what's around the corner, where the growth opportunities are," said Eun.
Major investments in AI and 5G
Samsung NEXT is tracking a number of different technology trends, and one core example is AI. Within the next three years, Samsung is investing US$22 billion into AI and 5G.
Fifth generation cellular wireless, or 5G, is a new generation of wireless capability with three primary features: faster speed, lower latency and the capacity to simultaneously connect to more devices.
Last year, Samsung created the QFund, which is focused specifically on early stage AI companies. It has invested in Israel- and San Francisco-based MissingLink, for example, which was founded in 2016.
"What they are doing is providing tools for developers to create more efficiency in the way they harness and work with AI data," said Eun. This is significant for the AI space. Gathering tremendous volumes of data can be a lengthy and inconvenient process, as Eun further noted.
Harnessing changes in consumer behavior
Eun also spoke towards other trends he is seeing in consumer behavior and technology.
"Younger consumers are valuing experiences over things. And by experiences, I mean authentic, social experiences rather than purchasing transactional items," said Eun. "It doesn't mean that they won't buy things, but the things are a means to a greater end."
Insights from the marrying of digital and physical are applicable to consumers on a global scale.
Eun went on to discuss how research has shown that 80 percent of millennials anticipate that they will spend more money on experiences over purchasing things. Greater value is attached to social, authentic experiences, such as going out for dinner or getting together with friends, Eun noted.
"They are interesting because they are apparently social and more compelling. And what our research indicates is that when you have these kinds of memories, and these kinds of experiences, when you look back you are more (likely) to have positive association, it's more closely linked with people's sense of happiness," said Eun.
To that end, behaviors have changed in terms of how products are consumed. Instead of purchasing music or movies outright, consumers are purchasing subscriptions to Spotify (NYSE:SPOT) and Netflix (NASDAQ:NFLX), Eun explained. Another example is that consumers are using Uber (NYSE:UBER) or Lyft (NASDAQ:LYFT) instead of driving.
Eun went on to talk about a startup that is essentially turning various services and activities into subscriptions. "The idea of owning things is receding and having access to things, the experience is more prominent," he said.
Don't forget to follow us @INN_Technology for real-time news updates!
With files from Georgia Williams.
Securities Disclosure: I, Dorothy Neufeld, hold no direct investment interest in any company mentioned in this article.