Duke Energy Pledges to Reduce Carbon Dioxide Emissions by 40 Percent by 2030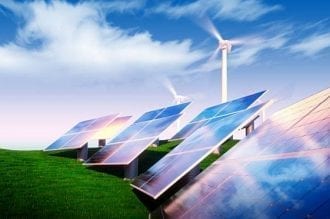 The company will also be investing roughly $11 billion between now and 2026 into natural gas-fired, wind and solar generation.
Renewable energy mammoth Duke Energy (NYSE:DUK) has made an astounding promise to its shareholders in a report issued by the company on Thursday (March 22).
Titled "2017 Climate Report to Shareholders," the document details Duke Energy's strategies to combat climate change and reduce carbon dioxide emissions 40 percent from it 2005 levels by 2030. Over the last 13 years, the company states it has reduced its carbon dioxide emissions by 31 percent.
The 24 page report also indicates the company will invest roughly $11 billion between 2017 and 2026 into new natural gas-fired, wind and solar generation.
In a press release issued by Duke Energy, CEO Lynn Good said the company is looking to invest in new technologies to modernize and diversify the company's system.
"We are pleased to share this report with shareholders and others who are interested in learning more about our commitment to continue lowering carbon emissions," Good said.
In terms of how Duke Energy alleges it will carry out those plans, the company said in the report's executive summary that it will keep working with its regulators, policymakers and stakeholders to "chart a course that meets our obligation to provide safe, reliable, affordable and increasingly clean energy."
That being said, Duke recognizes potential risks it might face as a result of climate change and, in particular, policy uncertainty in the U.S. as it relates to president Donald Trump withdrawing the country from the Paris Climate Agreement.
"Climate change policy in the United States is very uncertain," the report says. "The initial U.S. NDC is to achieve an economywide target of reducing its GHG emissions by 26 to 28 percent below its 2005 level in 2025 and to make best efforts to reduce its emissions by 28 percent. The central domestic policy for the U.S. NDC that pertained to the electricity sector was the Clean Power Plan (CPP)."
With Trump removing the U.S. from the Paris Climate Agreement, although the report states the U.S. Environmental Protection Agency (EPA) proposed to repeal the CPP and implement a replacement rule, even if that were to happen the EPA would need to issue a formal proposal for public comment.
Still, Duke Energy assures its shareholders in the document that the company's strategy for the better part of a decade has been "and will continue to be to plan for a carbon-constrained future and make prudent investments to modernize an energy system that continues to benefit our customers."
Other potential risks the company illustrates in the report range from extreme weather caused by climate change, limited water resources, and economic risks to name a few.
While the company has its goals set in place to 2030, the report highlights beyond that, Duke Energy's long-term strategy will continue to drive carbon out of its system, and estimates that by 2050, 13 percent of its power production will need to come from "new zero-emitting generation" that can increase and decrease output to balance renewables.
Following the release of Duke Energy's report on Thursday, its share price increased by 0.013 percent to close at $76.19. After hours trading brought its share price back down by 0.18 percent to $76.05 as of 5:15 p.m. EST.
According to data from TipRanks, the most recent analyst consensus gives Duke Silver a "moderate buy" based off seven analyst price targets. Four analysts rank the company as a buy while three currently have it as a hold with an average price target of $85.71 over a 12 month period.
Don't forget to follow us @INN_Technology for real-time news updates!
Securities Disclosure: I, Jocelyn Aspa, hold no direct investment interest in any company mentioned in this article.