IBM Launches Food Trust Blockchain Platform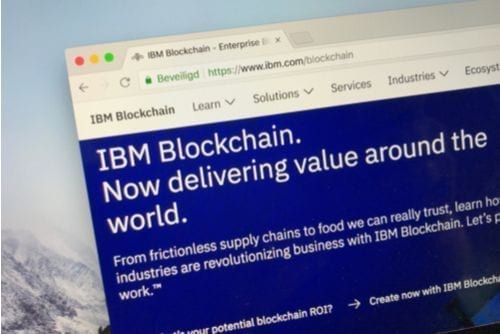 IBM's Food Trust blockchain platform was in testing for 18 months prior to Monday's announcement that it has now officially launched.
IBM's (NYSE:IBM) Food Trust blockchain platform is officially on the market the company announced on Monday (October 8).
After 18 months of testing, IBM's much-anticipated Food Trust network will now enable retailers and suppliers in the food industry to track food back to their sources. The IBM Food Trust was first revealed in 2016 through a partnership with retail giant, Walmart (NYSE:WMT).
The company also said in Monday's announcement that Carrefour (EPA:CA), a retailer based in France, will be implementing IBM's Food Trust blockchain platform to "strengthen [its] food excellence actions."
Carrefour has more than 12,000 stores across 33 countries and will first use IBM's solution to track a select range of the company's branded products. Carrefour anticipates to have the solution implemented across all of its brands worldwide by 2022.
"This is a decisive step in the roll-out of Act for Food, our global program of concrete initiatives in favor of the food transition," Laurent Vallée, general secretary of Carrefour, said in the joint press release.
Vallée also said that using IBM's Food Trust platform will enable the company to widen the use of blockchain in its products to provide clients with "safe and undoubted traceability."
"The currency of trust today is transparency and achieving it in the area of food safety happens when responsibility is shared," Bridget van Kralingen, senior vice president of IBM global industries, clients, platforms and blockchain, said in the release.
van Kralingen continued, stating that blockchain is instrumental in strengthening transparency in food traceability in addition to providing businesses benefits and making a safer product for consumers.
Carrefour isn't the only company to implement IBM's Food Trust solution. According to Monday's announcement, other entities include Topco Associates, Wakefern, and suppliers such as BeefChain, Dennick Fruit Source, Scoular and Smithfield.
"Blockchain holds the potential to help us be more transparent and transform how the food industry works by speeding up investigations into contaminated food, authenticating the origin of food, and providing insights about the conditions and pathway the food traveled to identify opportunities to maximize shelf life and reduce losses due to spoilage," Ed Treacy, vice president of supply chain efficiencies at the Produce Marketing Association, said in the release.
Monday's announcement comes two weeks after IBM and Walmart announced a partnership for the retail giant's suppliers of leafy greens to track their food through IBM's Food Trust platform. Walmart is asking its suppliers to have IBM's platform in place by September of next year.
IBM's Food Trust platform will enable longer shelf life for food, reduce waste, quicker traceability and better access to shared information. When in place, the solution will provide authorized users direct access to food supply chain data, which means it can be tracked from farm, to store and, of course, the consumer.
In short, an item's complete history, including certifications, test data and temperature data, will be available within seconds when the information is uploaded to the blockchain.
IBM's Food Trust is currently available as a subscription service only to members of the food ecosystem.
Don't forget to follow us @INN_Technology for real-time news updates!
Securities Disclosure: I, Jocelyn Aspa, hold no direct investment interest in any company mentioned in this article.