A Breakdown of Canada's First Blockchain ETF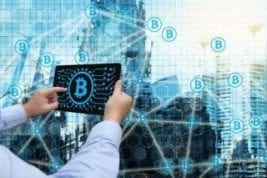 The Blockchain Technologies ETF is the first blockchain ETF in Canada and currently tracks 22 holdings.
The Blockchain Technologies ETF (TSX:HBLK) can officially be added to the growing list of ways Canada is becoming a powerhouse in the blockchain industry.
While two blockchain ETFs officially launched in the US in mid-January, part of the requirements the US Securities Exchange and Commission were that neither ETF could include the word "blockchain" in the name of the ETF; not so much the case in Canada, which makes the Blockchain Technologies ETF the first of its kind with "blockchain" in its title.
Officially launched February 7 on the Toronto Stock Exchange under the symbol "HBLK", the fund looks to mimic, to the extent "reasonably possible" the performance of the Harvest Blockchain Technologies Index, the release states.
"Canada's first blockchain ETF is designed to provide investors with access to this rapidly developing market segment," Michael Kovacs, president and CEO of Harvest Portfolios Group said in the release. "By replicating the Harvest Blockchain Technologies Index, HBLK will be invested to track the long term evolution of blockchain."
The press release explains that investors will pay brokerage fees to their dealers if they purchase or sell units of the Blockchain Technologies ETF on the TSX. Similarly, if units or purchased or sold on the exchange, investors may end up paying more than the current net asset value when buying units of the ETF, and could potentially receive less than the current net asset value should investors choose to sell those units.
Currently there are 22 holdings the Blockchain Technologies ETF tracks, with 12 of those holdings being what the fund considers "emerging blockchain holdings."
On that note, its top five holdings as of February 7 include:
To view the remaining of the 10 top holdings, click here.
All told, the launch of Canada's first blockchain ETF is indicative that the overall industry has a bright future in the country. Consider the cannabis sector–which has been hot for the last couple of years or so–which had its first official ETF launch in Canada just last year.
While blockchain is still an entirely new industry that is growing and evolving daily, Canada's Blockchain ETF should provide some promise to speculative investors that the blockchain industry isn't going anywhere.
Since the index officially launched on February 8, it has increased marginally by 1.44 percent to close at $11.25 on Thursday (February 15).
Don't forget to follow us @INN_Technology for real-time news updates!
Securities Disclosure: I, Jocelyn Aspa, hold no direct investment interest in any company mentioned in this article.