Jul. 26, 2018 06:14AM PST
Blockchain Investing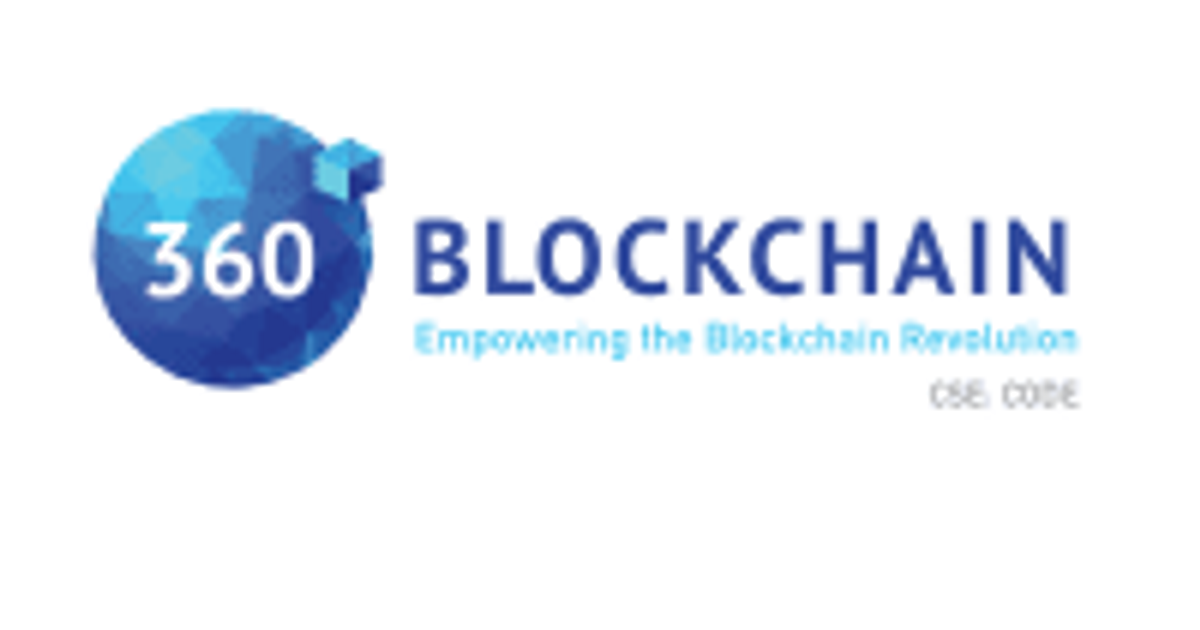 360 Blockchain Inc (CSE:CODE; FWB:C5B; OTCPINK:BKLLF) has completed its previously announced (July 5, 2018) acquisition of a package of valuable blockchain properties.
360 Blockchain Inc (CSE:CODE; FWB:C5B; OTCPINK:BKLLF) has completed its previously announced (July 5, 2018) acquisition of a package of valuable blockchain properties. A definitive agreement was completed on July 25 to buy ICORanker.com and BlockchainRanker.com websites along with a suite of professional services and marketing data in a deal valued at US $1.75 million in cash and stock.
"Acquiring ICORanker is our entry to the lucrative world of token analysis, ratings and recommendations," said Jeff Koyen, 360's Strategic Advisor. "The token sale ecosystem has a bright future, and we're excited to take ICORanker to the next level of profitability."
Token sales raised $13.7 billion in the first five months of 2018, as reported by PricewaterhouseCoopers' Strategy& consulting firm, more than doubling total funds raised during 2017. ICOs are past the "hype cycle," PwC said, and "are becoming more mature and established."
"Token buyers need unbiased, reliable research that cuts through the chatter," added Koyen. "By leveraging 360's considerable resources and skills, we expect ICORanker to become one of the most trusted resources for token-sale data and insights. This, in turn, will attract top marketing dollars."
Prior to joining 360 Blockchain Inc., Jeff Koyen enjoyed a 20-plus-year career in digital publishing. An award-winning journalist, he built and grew media properties at Forbes, Dow Jones Digital, Travel + Leisure and others. Expansion plans for ICORanker include multi-language support for Asian markets, more in-depth reviews, expanded community outreach and enhanced sponsorship opportunities.
ICORanker's co-founders, Armando Pantoja and Chad Kettering, will remain as advisors to the company for a period of one year to continue developing the business. "We're very pleased to see ICORanker join the 360 portfolio, and we're excited to help shepherd this property to new heights."
360 will also acquire BlockchainRanker.com, a pre-revenue website that vets and rates blockchain platforms, services and software providers. BlockchainRanker will relaunch this year under 360's management; revenue efforts will focus on highly lucrative lead generation and referral programs. Both websites will be managed by Koyen with small teams distributed internationally.
360 Blockchain Inc. will pay US $1.5 million in cash to fully acquire ICORanker.com and BlockchainRanker.com, as well as a comprehensive marketing program, consultancy and marketing databases from Technology Development Partners, a high-tech M&A advisory firm. ICORanker's current owners will also receive US $250,000 worth of restricted shares in 360's stock, based on the five-day trading average at closing.
"With the closing of this deal, 360 will post revenues in the current quarter," said George Tsafalas, 360's CEO. "By adding these cash-flowing properties to the 360 family, we are diversifying our holdings and adding a high-growth business to our growing portfolio of blockchain assets."
About 360 Blockchain Inc.
Our Mission: To empower blockchain technologies with capital and experience to create exponential value.
Company Description: 360 Blockchain Inc. has an all-round view to accelerate the development and application of revolutionary blockchain technologies by investing capital and expertise. We are founded on the belief that blockchain technology, essentially a distributed ledger which is transparent and incorruptible, has the potential to transform the way business is conducted, delivering security, cost savings and efficiency gains not seen before in our internet connected world. 360 Blockchain will be focused upon identifying and empowering blockchain technologies applying to cryptocurrencies, smart contracts, eSports, data management, the internet of things, equity trading, privacy applications and beyond.
For further information, please contact:
Victor Ostlund or George Tsafalas, CEO
Investor Relations
Telephone: 1 (778) 806-5150
E-mail: IR@360blockchaininc.com
Forward Looking Statements
Certain information set forth in this news release may contain forward-looking statements that involve substantial known and unknown risks and uncertainties. All statements other than statements of historical fact are forward-looking statements, including, without limitation, statements regarding future financial position, business strategy, use of proceeds, corporate vision, proposed acquisitions, partnerships, joint-ventures and strategic alliances and co-operations, budgets, cost and plans and objectives of or involving the Company. Such forward-looking information reflects management's current beliefs and is based on information currently available to management. Often, but not always, forward-looking statements can be identified by the use of words such as "plans", "expects", "is expected", "budget", "scheduled", "estimates", "forecasts", "predicts", "intends", "targets", "aims", "anticipates" or "believes" or variations (including negative variations) of such words and phrases or may be identified by statements to the effect that certain actions "may", "could", "should", "would", "might" or "will" be taken, occur or be achieved. A number of known and unknown risks, uncertainties and other factors may cause the actual results or performance to materially differ from any future results or performance expressed or implied by the forward-looking information. These forward-looking statements are subject to numerous risks and uncertainties, certain of which are beyond the control of the Company including, but not limited to, the impact of general economic conditions, industry conditions and dependence upon regulatory approvals. Readers are cautioned that the assumptions used in the preparation of such information, although considered reasonable at the time of preparation, may prove to be imprecise and, as such, undue reliance should not be placed on forward-looking statements. The Company does not assume any obligation to update or revise its forward-looking statements, whether as a result of new information, future events, or otherwise, except as required by securities laws.
Neither the Canadian Securities Exchange nor its Regulation Service Provider (as that term is defined in the policies of the Canadian Securities Exchange) accepts responsibility for the adequacy or accuracy of this release.
Click here to connect with 360 Blockchain Inc (CSE:CODE; FWB:C5B; OTCPINK:BKLLF) for an Investor Presentation.
Source: www.fscwire.com
Investing News Network websites or approved third-party tools use cookies. Please refer to the  cookie policy for collected data, privacy and GDPR compliance. By continuing to browse the site, you agree to our use of cookies.