Industrial 3D Printers Forge New Ground for Investors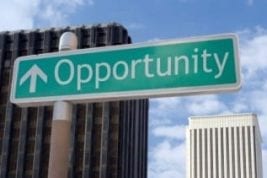 The 3D printing industry is anticipated to see 28.5 percent compound annual growth between 2016 and 2022, and industrial 3D printers are expected to lead that growth.
A roller coaster might be the most apt metaphor for the 3D printing market: with high peaks and dramatic drops, it has been quite a ride for early investors. However, with the market settling down, anxieties about unexpected falls are starting to fade from investors' minds.
Indeed, a new Markets and Markets report anticipates constant upwards growth over the next 6 to 7 years. It estimates that the 3D printing market is expected to reach $30.19 billion by 2022, growing at a compound annual growth rate (CAGR) of 28.5 percent. This is excellent news for long term supporters of the 3D printing market, and an encouraging sign for investors looking to enter the market for the first time.
But what is the most promising area of the 3D printing industry market? According to the report, industrial 3D printers are primed to lead this growth. With high functionality and clear market demand, these machines are on the vanguard of the next 3D printing wave.
Industrial 3D printers lead market demand
Markets and Markets has determined that industrial 3D printers will account for the largest share of the 3D printing market in the next six years. Industries such as aerospace and defence, energy, engineering and healthcare are turning to them in droves. The reasons for this widespread adoption are threefold: the machines have multiple uses, address key needs and are continually improving in highly precise and functional ways.

Take, for example, their uses. Industrial 3D printers are currently employed for rapid prototyping, the manufacture of complex components and the creation of small-series components. Companies are also adopting industrial 3D printers to help streamline production workflow through automated production tools, power handling and mobile production tools. Essentially, industrial 3D printers have a wide variety of applications, and companies across the board are taking advantage of these unique advantages.
And, while inaccuracy, slow speeds, and limited materials have acted as barriers to adoption in the past, the market is assertively responding to these complaints. Over the next several years, the market will see even faster, more precise, and more diverse 3D printers.
How to invest in industrial 3D printers
Therefore, industrial 3D printers appear as a highly attractive investment opportunity for both die-hard 3D printing enthusiasts and newcomers to the market. Both of these camps of people will probably be looking to the same companies to invest in. That's because, when it comes to industrial 3D printing, the big-name companies are the ones to watch.
Stratasys (NASDAQ:SSYS) has seen solid 8.91 percent growth over the past three months, while Voxeljet AG (NYSE:VJET) has seen 5.02 percent growth, Meanwhile, 3D Systems (NYSE:DDD)has seen a whopping 38.58 percent growth and ExOne (NASDAQ:XONE) has seen a remarkable 56.68 percent growth.
The universal growth across these companies indicates one thing: the 3D printing market is on the rise, and keen investors should jump aboard. And, although we have identified industrial 3D printers as a specific niche to watch, the market as a whole is benefiting from this hot streak. Therefore, no matter which way you slice it, the 3D printing market is doing well. And, with a 28.5 percent CAGR over the next six years, this is unlikely to change in the near future.

Don't forget to follow us @INN_Technology for real-time news updates.
Securities Disclosure: I, Morag McGreevey, hold no direct investment interest in any company mentioned in this article.