Weekly Round-Up: Commodities Shaken by Australia's Hazy Outlook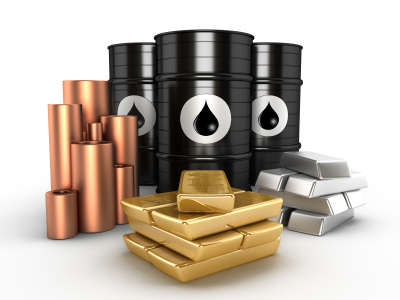 Commodities are ending the week broadly lower after steady gains on the back of increased hopes for both US and Chinese monetary stimulus. Meanwhile, even though Australia expects its mining boom to continue for at least another year, many analysts are already concerned about the effects weaker investing sentiment will have Down Under 12 months from now. 
A fall in US durable goods orders to the lowest level since last November indicates continued weakness in the US economy and has increased expectations of further stimulus action by the Federal Reserve. Before the opening bell Friday, the Commerce Department reported that July's orders for non-military equipment fell 3.4 percent, despite the fact that total orders increased 4.2 percent on the back of stronger demand for civilian aircraft. For clues about the Fed's next steps, market eyes will be focusing on Fed Chairman Ben Bernanke's August 30 speech at the annual economic policy meeting in Jackson Hole, Wyoming.
Glenn Stevens, governor of the Reserve Bank of Australia, said at his semiannual testimony before parliament this week that the central bank is prepared to step in should the economy sputter as the resource investment boom falters.
"The peak of the resource investment boom as a share of gross domestic product, the highest such peak in at least a century, will occur within the next year or two," Stevens stated. BHP Billiton's (ASX:BHP,NYSE:BHP,LSE:BLT) decision earlier in the week to postpone investing in major projects, including the Olympic Dam, until 2013 has dominated headlines in Australia in recent days.
In early morning trade Friday, Brent crude is 0.3 percent lower at $114.64 a barrel, while copper is down 0.6 percent at $3.48 a pound. Gold is 0.2 percent weaker at $1,669.10 an ounce.
Oil and gas
US presidential hopeful Mitt Romney declared that should he be voted into the White House, the United States will be energy independent from foreign sources by 2020; he intends for the country to tap into federal lands and waters for oil and gas. The Republican candidate also said that he will give projects like the Keystone XL pipeline the green light, while states will be given greater leeway to approve drilling permits.
In the meantime, continued tension between Iran and the international community regarding the country's nuclear projects is expected to provide support for oil prices. The looming hurricane expected to hit Florida this weekend may impact oil supply and keep up prices as well.
As for Gazprom (MCX:GAZP), it is facing the wrath of Greenpeace activists who have occupied its Arctic oil rig to protest against Russia's first major ocean oil project. The $7 billion Prirazlomnaya field is slated to begin production by the fourth quarter.
France's Total (NYSE:TOT) acquired ShaMaran Petroleum's 20 percent stake in Iraq's Northern Kurdish region for $48 million. Oil Search of Papua New Guinea has a 60 percent interest in the Taza block, while the Kurdish regional government holds the remaining 20 percent stake in the exploration block.
BP (LSE:BP) has recalled a 50,000-barrel batch of gasoline produced by its Whiting refinery as the product has led thousands of cars in Chicago and Indiana to stall or have difficulty starting up.
Vancouver's Rio Grande Mining (TSXV:RGV) has entered into a letter of intent with Calgary's Snowcap Energy and Toronto's Segwun to fully take control of projects that Snowcap and Segwun are in the process of acquiring in West Africa. Rio Grande will advance $200,000 as a secured refundable loan; half of that amount has already been provided.
Copper
Although Australia's mining boom is expected to fade in a year's time, Rio Tinto (ASX:RIO) remains upbeat about the copper market's prospects. Andrew Harding, the head of the Australian mining giant's copper division, said that copper's longer-term outlook "remains positive," adding that "global growth in supply of copper is still challenged. People are still struggling to meet their production targets."
Japan's Mitsui & Co. (TSE:8031), which this week gained a 5 percent stake in Anglo American Sur when Codelco and Anglo American (LSE:AAL) resolved their dispute regarding the latter's Chilean unit, said it has secured the right to market more copper through the deal than expected. Mitsui will have the right to market Codelco and Mitsui's entire output of 120,000 tonnes of copper per year from the joint venture.
Canada's Yellowhead Mining (OTCQX:YHMGF,TSX:YMI) started trading on the OTCQX this week. The company's wholly-owned Harper Creek project in British Columbia is expected to produce about 3.63 billion pounds of copper as well as 372,000 ounces of gold and 14 million ounces of silver.
Gold
Monetary easing worldwide should lead gold prices to rise in 2013, according to TD Securities. It warned, however, that "if the Fed disappoints, much of the recent commodity and gold rally along with commodity prospects will erode materially for the next several months."
Gold Fields (NYSE:GFI) said it will not be able to meet its target output of 3.5 million ounces of the yellow metal this year. Instead, the world's fourth-largest gold producer expects output not to exceed 3.4 million ounces. For the second quarter, the company reported net earnings falling to $198 million from $186 million a year ago.
A Peruvian poll of residents near the Conga project in the Camajarca province found that 78 percent disapprove of the project, while only 15 percent support it. The mine is majority owned by Newmont Mining (NYSE:NEM) and has come under criticism for its potentially damaging impact on the local environment.
Compass Gold (TSXV:CVB) increased its cash reserves by C$1.7 million after completing a private equity placement. The funds will be used to complete its project in Southern Mali.
Securities Disclosure: I, Shihoko Goto, hold no direct investment interest in any company mentioned in this article.