The Commodity Investor looks at the potential for Iraq to possibly quadruple its daily oil production.
Columnist Amine Bouchentouf is a partner at Parador Capital LLC, an institutional advisory firm focused on commodities and emerging markets. He is the author of the bestselling Commodities For Dummies, published by Wiley. Amine is also the founder of Commodities Investors LLC, an advisory firm dedicated to providing insightful information on all things commodities. 
One of the most promising areas in the high-risk, high-reward global energy and petroleum (E&P) game is Iraq. Ravaged by decades of civil war, invasion and armed conflict, Iraq is producing well below its potential. Currently, Iraq sits on the world's third-largest oil reserves, right behind its neighbors Iran and Saudi Arabia. (In this ranking the Commodity Investor is referencing proven conventional reserves, not probable non-conventional reserves such as oil sands and pre-salt oil). Even though Iraq holds such a high ranking in global oil reserves, it's a laggard in total daily production. When you take a look at Iraq's daily oil production, you'll see that it's currently sitting at about 2.4 mbd (million barrels a day), well behind Saudi Arabia's 9.7 mbd and Russia's 10 mbd. In short, Iraq should be producing at least twice its current production level.
There's no reason why Iraq shouldn't reach 5 to 7 mbd by 2015. Of course, the reasons Iraq isn't currently producing at these levels are quite simple. The country is coming out of one the most brutal chapters in its history, which includes a decade-long armed conflict with Iran; the invasion of its smaller neighbor, Kuwait, and a subsequent armed conflict with an international coalition; a decade-long embargo that cut it off from crucial petroleum infrastructure development; a US-led invasion in 2003 that saw a brutal transition of power from Saddam Hussein to an Iranian-backed government; and a current state of affairs that can at best be characterized as highly dysfunctional governance with the potential to cause a full-fledged civil war.
The road to achieving its full oil potential will be long and perilous. Until the government is able to resolve the political and security situations, it will be difficult for Iraq to return to its place among the top tier of oil-producing nations. That said, there are certain pockets of stability in the country where full oil potential may be achieved. Among them is the Kurdish part of Iraq.
Kurdistan: Iraq's next oil frontier?
Geographically, Iraqi Kurdistan is located in the northern and northwestern parts of Iraq. Legally, Kurdistan in Iraq is known as the Kurdistan Regional Government (KRG) and is recognized as an autonomous, but integral, part of the Iraqi state. Culturally, the Kurds identify as a separate people than Arabs, Turks and Persians, as they have their own language, music and customs.
Iraqi Kurdistan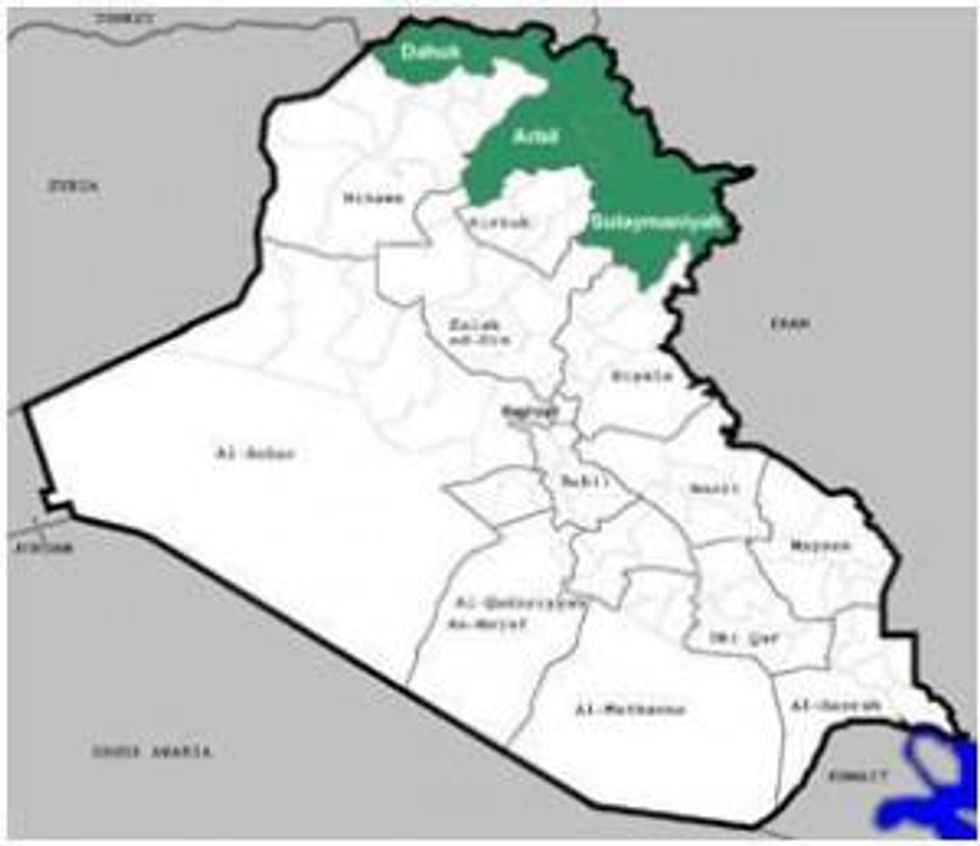 Kurds view themselves as a separate people and they view Kurdistan as a national entity that encompasses various parts of Iraq, Turkey and Iran. The Kurds share a legacy and a nation that was separate prior to the arrival of the British in the Middle East. When the Brits pursued their controversial divide and conquer strategy, Kurdistan was split up among several different nation-states. To this day, this division is causing friction between Kurds and their "host countries," and is having a spillover effect on the oil affairs of the country and the region.
Iraqi Kurdistan contains over 45 billion barrels of proven reserves, with the majority being of the high quality that is coveted by international oil companies (IOCs). While Kurdistan is currently pumping 200,000 bd, it has the potential to triple or even quadruple that number if it maintains political stability. Out of all the regions in Iraq, Kurdistan is probably the best positioned at this stage to increase its production significantly. Unfortunately, the region is in permanent legal conflict with the Iraqi national government in Baghdad because the KRG has signed contracts with IOCs — such as ExxonMobil (NYSE:XOM) and Chevron (NYSE:CVX) — that the national government deems illegal. However, recognizing the shared value of increasing production activity in the region, both parties are attempting to iron out their differences. The result is a state of compromise that could benefit investors in the long run.
What's an investor to do?
The Commodity Investor believes that Iraq's oil potential is unrivaled in the global market. However, there are significant obstacles hindering Iraq's ability to reach its full potential. That said, exposure to the Kurdish region of Iraq — which is rich in oil — can add value to a portfolio focused on E&P activities in the Middle East. Currently, the Commodity Investor has identified a company that may be in a suitable position to capitalize on the growth expectations in Iraq's Kurdish region: Genel Energy (LSE:GENL). Genel Energy is an exploration and production company active in Iraqi Kurdistan. Genel is probably most widely known for its high-profile CEO, Tony Hayward, who previously ran BP (NYSE:BP,LSE:BP). Hayward's reputation took a beating during BP's catastrophic oil spill in the Gulf of Mexico and he has recently reappeared at the helm of this much smaller oil company.
Genel currently boasts several promising exploration blocks in Kurdistan and has a portfolio of eight blocks in the region, which includes a majority ownership in Iraqi Kurdistan's second-largest oil field. Getting the oil out of the ground isn't as costly since the wells are onshore; in addition, the exploitation and transportation costs are low since Genel has a ready market right next door in Turkey. Genel's performance really hinges on smooth relations between the KRG and Baghdad. The stock is down since it went public last summer; however, it is up 22 percent since June 2012 as the KRG and Baghdad reached mutual production agreements.
Investors looking for access to Iraq's promising oil fields should consider Genel, knowing that it is a high-risk and high-reward type of trade.
Securities Disclosure: I, Amine Bouchentouf, have no positions in the stocks mentioned.
Investing News Network websites or approved third-party tools use cookies. Please refer to the  cookie policy for collected data, privacy and GDPR compliance. By continuing to browse the site, you agree to our use of cookies.