The Chicago Resource Expo will be held on April 24th and 25th in Rolling Meadows, Illinois. It is the oldest conference of its type in North America, and provides a unique, intimate venue of exhibitors, attendees, as well as keynote speakers. This semi annual event, started by Richard Radez back in 1977, offers investors the …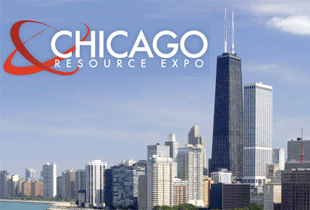 The Chicago Resource Expo will be held on April 24
th
and 25
th
in Rolling Meadows, Illinois. It is the oldest conference of its type in North America, and provides a unique, intimate venue of exhibitors, attendees, as well as keynote speakers.
This semi annual event, started by Richard Radez back in 1977, offers investors the opportunity to learn about new and undervalued companies in the natural resource industry. Rich spent 30 years in the brokerage industry recommending clients invest 10% of their portfolios in natural resource related investments to hedge against worldwide political and economic uncertainties.  Rich is the founder and president of the International Association of Natural Resource Brokers, and the president of the Radez Investment Group. Rich was recently elected the Indianapolis Stock and Club Member of the year.
The show's intimate nature permits attendees to gather in depth information on the exhibitors. In Richard's career he visited over 325 mining properties to see first hand what they could offer potential investors.  At the Chicago Resource Expo, the mining companies are brought together so that the attendee will have a scaled down opportunity to conduct their own due diligence. This format is quite different from many of the other resource expos in which investors are bombarded with pieces of information from dozens of companies. At the Global Resource Expo, only 25-30 companies are permitted to exhibit. Companies active in mining and exploration in gold, uranium, silver, and PGM's will be present.
The panel of keynote speakers is world-class. Topics of discussion range from world events to investment strategies and bullion storage.  Panelists will include Bob Moriarity, from 321 gold; Jay Taylor from miningstocks.com; Clyde Harrison, president of Brookshire Raw Materials Fund; Mickey Fulip, a professional geologist with 30 years experience and a well know analyst; and Mike Shedlock, and investment advisor for Sitka Pacific Capital Management.
The exhibition will take place at the Holiday Inn, in Rolling Hills.  Rolling Meadows is conveniently located approximately 7 miles from the Chicago O'Hare international airport. The first day of the exhibition, Friday, features a keynote speaker presentation, followed by a panel discussion on topics that are fueled by the audience's interests. Dinner buffet and shrimp cocktails are served for attendees. The event resumes on Saturday morning. Attendees enjoy a continental breakfast, and are able to browse the exposition hall to learn about companies. In the meantime, individual company presentations begin in the presentation hall; each company is given the opportunity to sign up for a 20-minute presentation slot. These presentations are a great way for attendees to gather an overview of the company. Lunch buffet is served around noon, and accompanied by the second panel discussion. After lunch, presentations and expositions continue for the remainder of the day. All attendees will have the chance to get an expert opinion through open question and answer forums. Forums are held Friday from 6:30 pm to 9 pm, and on Saturday during lunch, from noon till one.
Attendance is free for with pre-registration.  For more information about the conference, and to register visit, Chicago Resource Expo.
Exhibiting companies:
Shoshone Silver Mining
Houston Lake Mining
Fischer Watt Gold Co.
A. Green Financial Group Inc.
Premium Exploration Inc.
Sniper Resources Ltd.
Douglas Lake Minerals
Castle Gold Corp
Immunosyn Corporation
Panel Speakers:
Eric Coffin
Bob Moriarty
Jay Taylor
Clyde Harrison
Mickey Fulp
Ty Andros
Nick Nicolaas
Mike Shedlock
Investing News Network websites or approved third-party tools use cookies. Please refer to the cookie policy for collected data, privacy and GDPR compliance. By continuing to browse the site, you agree to our use of cookies.