Slow Week for Silver as Standard Bank Reiterates Bearish Outlook
Silver rose to nearly $22.50 per ounce midway through the week, but ultimately ended Thursday not far from its Monday opening price.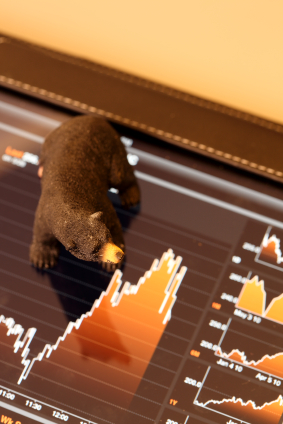 Though silver rose to nearly $22.50 per ounce midway through the week, like last week, the white metal ultimately finished Thursday not far from its Monday opening price.

Early on Monday, silver was sitting at $21.66, "held in check by residual fears of slowing in the global economy," according to Capital Trading Group's report for the day. However, it wasn't long before the precious metal started rising — by mid-morning it had hit $22.27, and by the end of the day was at $22.39.
Tuesday, silver traded between $22.25 and $22.48, its high point for the week. Its main driving force, according to Capital Trading Group, was "rising safe haven interest off the US government shutdown." The firm suggested that as a result, "hints of a deal or progress in the talks could undermine prices."
But the next day, silver prices were instead pushed down by another factor: news that in September, India purchased just $800 million worth of gold and silver, down from $4.6 billion a year ago, according to Bloomberg. By noon on Wednesday, the white metal had sunk to $21.87, showing little reaction to US President Barack Obama's nomination of Janet Yellen as Federal Reserve chairman. Though silver managed to stay steady for the remainder of that day, and even rallied briefly to $22.08 on Thursday morning, it was not able to maintain that price level and closed today at $21.68 per ounce.
Moving forward, the outlook for silver is not particularly uplifting, at least in Standard Bank's opinion. The firm said on Monday that it remains bearish on silver, noting that it believes the white metal will still trade below $20 per ounce for "short bouts" this year. It also maintains that silver's "underlying demand/supply fundamentals remain weak and that inventory is abundant."
Company news
Tuesday, OceanaGold (TSX:OGC,ASX:OGC) and Pacific Rim Mining (TSX:PMU,OTCQX:PFRMF) announced that they have entered into an agreement that will see OceanaGold acquire Pacific Rim in an all-share transaction. Pacific Rim's main asset is the El Dorado high-grade gold-silver resource, located in El Salvador.
The next day, Silver Standard Resources (TSX:SSO,NASDAQ:SSRI) released a third-quarter operational update for its Argentina-based Pirquitas mine, noting that highlights include production and sales of 2 million ounces of silver and production of a record 7.8 million pounds of zinc. The company plans to put out its Q3 earnings release on November 5.
Also releasing third-quarter results was Endeavour Silver (TSX:EDR,NYSE:EXK), which said that during Q3 2013, it set new records for quarterly silver and gold production at Guanaceví, Bolañitos and El Cubo, its three operating silver mines in Mexico. Its silver production rose 63 percent from the year-ago quarter, to 1,855,846 ounces, while its gold production increased 95 percent, to 22,947 ounces.
Following suit, Great Panther Silver (TSX:GPR,NYSEMKT:GPL) put out Q3 production results for Guanajuato and Topia, its two Meixco-based silver mining operations. Like Endeavour, Great Panther achieved a number of new records. For instance, it processed 76,898 tonnes of ore, the highest quarterly throughput it has had thus far, and produced a record 459,924 ounces of silver.
Finally, Excellon Resources (TSX:EXN), which bills itself as Mexico's highest-grade silver producer, announced production results from its La Platosa mine, commenting that it produced 607,252 silver equivalent ounces, up 50 percent from the second quarter of this year. That includes 454,573 ounces of silver, 1,921,546 pounds of lead and 2,149,884 pounds of zinc.
Brendan Cahill, president and CEO of Excellon, said that those results mean the company is positioned to deliver on its updated 2013 production targets.
Junior company news
Towards the beginning of the week, Trevali Mining (TSX:TV,OTCQX:TREVF) reported that through underground drilling at its Santander zinc-lead-silver mine, located in Peru, it has intersected "multiple zones of high-grade polymetallic mineralization that remain open for expansion." Highlights from the Rosa zone include 8.75 meters of 5.6 ounces per ton silver, 3.6-percent lead and 5.1-percent zinc, as well as 4.3 meters of 5.1 ounces per ton silver, 4.2-percent lead and 5.6-percent zinc.
Teras Resources (TSXV:TRA) on Wednesday provided an update on the drill program taking place at its California-based Cahuila project, noting that it expects assay results to be available in the next two weeks. Peter Leger, the company's president and CEO, said that the geologic data being produced by the deeper core holes is "especially positive" for Teras' expansion and development programs, also stating that the company's chances of discovering the source of its "large, high grade vein and shallow disseminated resources have drastically improved."
The same day, Santacruz Silver Mining (TSXV:SCZ) said that it has confirmed continuity of a new vein along strike and to depth via diamond drilling on the Transversales vein at its Mexico-based San Felipe project. Drill highlights from the vein include 3.35 meters at 324 grams per tonne silver equivalent (81 grams per tonne silver, 0.03 grams per tonne gold, 5.03-percent zinc, 0.35-percent copper and 1.9-percent lead) in hole SCVT-07.
Securities Disclosure: I, Charlotte McLeod, hold no direct investment interest in any company mentioned in this article.
Related reading: