Silver Finds New Niche in Memory Storage Market
Resistive Random Access Memory, an up-and-coming memory storage medium, is set to replace flash memory, and it's bringing silver along for the ride.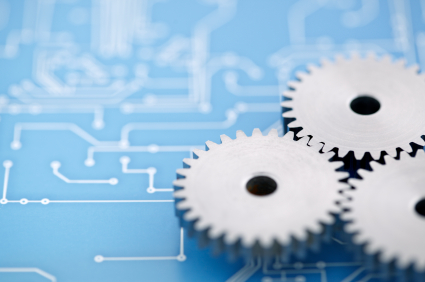 If you're a true silver buff, you likely know all about the metal's long history as a component of health-related applications. Likewise, if you've been watching the silver market for the past few months, you're likely aware that, moving forward, new solar power initiatives may play a role in driving silver prices.
What you may not know about is silver's up-and-coming use as an ingredient in memory storage devices.
Silver for storage
As the Silver Institute explains in its August newsletter, Resistive Random Access Memory (ReRAM or RRAM) operates like a tiny battery cell and "store[s] data through changes in the electrical resistance of the cell." Put simply, the "presence or absence of an electrical charge can be used to store bits of information."
There are different types of ReRAM, not all of which use silver, but those that do, according to industry officials, "show excellent promise" and have a number of advantages over flash memory, which is used, among other things, in tablets and smartphones.
For one thing, ReRAM does not use much power — "in the nanowatt range compared to hundreds of milliwatts for flash drives," according to the Silver Institute. That means that it could allow a smartphone to operate for a week without being recharged. Further, ReRAM has the ability to "handle millions of rewrites compared to flash drives that fail after about 10,000 rewrites" and information can be written to it more speedily.
Unsurprisingly, the Silver Institute notes, ReRAM is ultimately expected to replace flash memory, which "will reach its evolutionary peak in the next few years, when flash chip lithographies get too small to be reliable," as per PandoDaily's Fritz Nelson.
Crossbar closes in
The question, of course, is which company will be the first to develop commercially viable ReRAM technology.
Writing for DailyTech last month, Jason Mick explains that while HP (NYSE:HPQ) appeared to jump to the front of the race back in 2008, the company has since indicated that it will not have "something technologically viable" until the end of 2014. The Silver Institute identifies Toshiba (TSE:6502), Panasonic (TSE:6752), Micron Technology (NASDAQ:MU) and Samsung Electronics (LSE:BC94) as other companies currently working on ReRAM versions.
However, the clear frontrunner, according to both Mick and the Silver Institute, appears to be Crossbar, a "virtually unknown startup" launched in 2010 by George Minassian, former vice president of Spansion (NYSE:CODE). The company attracted attention in 2012 when it announced that it had raised $20.5 million in seed funding — an amount that eventually rose to $25 million — but went back under the radar until last month when it revealed that it has developed ReRAM technology that, in Minassian's words, is "easy to manufacture and ready for commercialization."
How soon?
Consumers often have to wait a long time for new technology to become widely available, but Minassian's assertion about his company's technology means that may not be the case for ReRAM.
Joel Hruska of ExtremeTech posits that widescale adoption will occur by 2017 to 2018, barring "a problem or another technology … suddenly hav[ing] a breakthrough moment." Similarly, Mick speculates in his article that samples may be available next year, with a commercial launch sometime between 2014 and 2015. While he's not concerned about another company stealing the spotlight, he does point out that Crossbar's real opportunity to prove itself will be when other versions of ReRAM do start popping up.
That will also likely be a good time for silver investors to start paying closer attention to the ReRAM market. While as yet there has been no word on how the new technology will impact demand for the white metal, as more companies become involved in the space, that will undoubtedly become more clear.
Securities Disclosure: I, Charlotte McLeod, hold no direct investment interest in any company mentioned in this article.
Related reading:
Silver in Medicine: Support for the Market?