Precious Metals Weekly Round-Up: Gold Retreats from Two-month High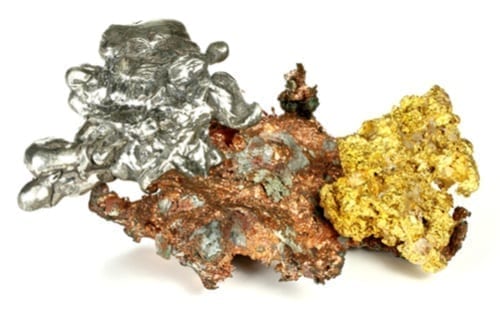 While recovering global markets caused gold to slip slightly from its highest weekly gain in seven weeks, the rest of the precious metals were on an upward trajectory on Friday (October 12).
Gold pulled back from its two-month high hit in the previous session on Friday (October 12), thanks to a recovery in global equity markets. Meanwhile, silver was not negatively effected by the slight rebound in the markets, allowing prices to move upwards.
As of 9:45 a.m. EST, the yellow metal was trading at US$1,221.10 per ounce while remaining up 1.6 percent for the week and on track to make its biggest weekly gain in seven weeks. As for the white metal, it was up 1.31 percent for the week, trading at US$14.66 per ounce as of 9:50 a.m. EST.
"The markets have kind of stabilized and things have calmed down a bit and the sort of momentum for gold to push higher is not with us at the moment," said Macquarie (ASX:MQG) commodity strategist Matthew Turner.
"The fear is that the rising dollar is going to cause a huge rout in the emerging markets and investors want to hedge that risk," said Think Markets UK chief markets analyst Naeem Aslam.
Despite gold's gains this week, the precious metal remains down approximately 11 percent from its peak in April thanks to investors purchasing US dollars as a safe-haven from the US-China trade war tensions and rising US interest rates.
"We could see some bounces like this as the futures market is extremely short," Turner said. "But, ultimately, prices are going to drift down (…) the fundamentals for gold are still weak," he added.
For their part, platinum and palladium were down slightly on Friday. As of 10:46 a.m., platinum was trading at US$835 per ounce, while palladium landed at US$1,074 per ounce.
Precious metals top news stories
Our top precious metals stories this week featured a Q3 price update for gold, an interview with John McCluskey, president, CEO and director at Alamos Gold (TSX:AGI,NYSE:AGI) and part-one of a two-part series that asked the question, have we reached peak gold?
The price of gold fell almost 5 percent in the third quarter, dipping below the US$1,200-per-ounce mark in mid-August, where it would stay for the majority of Q3.
A strong US dollar was the main catalyst behind the yellow metal's continual downfall throughout the quarter, as investors chose the greenback as a safe-haven against geopolitical concerns over bullion as they have in previous quarters. Additionally, another Fed hike took place on September 26th.
Despite gold's reaction to these factors, many industry insiders believe that the yellow metal will return to value during the fourth quarter, with some market watchers believing that the precious metal is prime for a bull market in 2019.
The gold price has fallen in 2018, but some believe the yellow metal has held up reasonably well considering the headwinds it's faced.
Speaking at the recent Denver Gold Forum, John McCluskey, president, CEO and director at Alamos Gold (TSX:AGI,NYSE:AGI), commented, "given how strong the US economy's been, how strong the US dollar is, how well US equities have been doing in particular, it's remarkable that gold has held in as well as it has."
He added, "it's been well supported at the $1,200 level. I'm more than happy with that given that we're still able to operate at a profit and our operations continue to generate sufficient free cashflow for us to essentially carry out our growth and maintain a strong balance sheet."
With gold prices dipping and production slowing, rumors that the yellow metal has reached its maximum level of global extraction have begun to swirl, causing market watchers to debate if mining for the metal has seen its best days or if there is still plenty to discover.
Beyond the debate of whether or not gold production is currently at its highest level, it is also crucial to look at the other moments when it was thought to have peaked and the elements that led to it.
In the first part of this two-part series, we will define what peak gold is, examine the other times it has been declared and take a look at reasons behind why market watchers believe we are experiencing it once again.
Also in the news
Also making news this week was gold miner Equinox Gold (TSXV:EQX) which closed its US$75-million deal with New Gold (TSX:NGD,NYSEAMERICAN:NDG), officially acquiring the Mesquite Gold mine in California.
Equinox Gold has closed the brokered and non-brokered private placements of subscription receipts at a price of C$0.95 per subscription receipt for aggregate gross proceeds of approximately US$75 million (C$97.5 million).
The deal was originally announced on September 19 and Equinox reported that the Mesquite mine produced 64,900 ounces of gold at an all-in sustaining cost of US$864 per ounce during the first half of 2018, with a cost guidance of US$1,000 per ounce to US$1,045 per ounce for the year.
"The Mesquite gold mine will bring immediate production and cash flow to Equinox Gold from a well-established operation in an attractive mining jurisdiction," said Christian Milau, CEO of Equinox Gold.
Finally, the World Platinum Investment Council (WPIC) partnered with China's CNOOC Taiyuan to offer platinum investment products to retail investors via a ICBC E-commerce platform.
"This partnership with WPIC has been an immeasurable help in the launch of our first suite of platinum investment products. Their extensive knowledge of platinum and expansive network has enabled us to develop world class products and promote platinum as an exciting opportunity for retail investors in China," stated Yongqiang, Han, managing director of CNOOC Taiyuan.
Don't forget to follow us @INN_Resource for real-time news updates!
Securities Disclosure: I, Nicole Rashotte, hold no direct investment interest in any company mentioned in this article.