Platinum Mining in Canada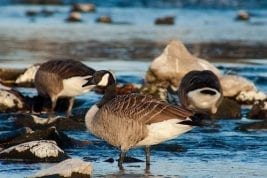 Canada was the fourth-largest producer of platinum last year. Here's a look at platinum mining in Canada and some of the companies operating in the space.
Platinum mining in Canada began after the metal was discovered in Ontario in 1888 among nickel–copper ores. It can usually be found alongside other platinum-group metals (PGMs).
Today, the majority of the world's platinum comes from South Africa, while Canada is the fourth-largest producer. It put out 12,000 kilograms of platinum in 2017 — that's just 16 percent of the world's total output, but a significant amount nonetheless.
Most platinum mined in Canada is a by-product of nickel mining, and the majority of the country's platinum-producing mines are in Ontario's Sudbury Basin. Ontario accounts for nearly 80 percent of Canada's platinum output and leads Canadian production for gold and nickel as well. The area's mineral deposits have been formed in multiple ways, such as via a meteorite strike and by volcanic belt activity.
Platinum mining is also seen at Quebec's Raglan nickel mine and at the Lac des Iles mine in Western Ontario. The former is owned by major diversified miner Glencore (LSE:GLEN), while the latter is owned by North American Palladium (TSX:PDL).
While those large miners are key platinum-mining companies, there are also smaller firms that are exploring and developing platinum-focused projects in Canada. Here's a look at a few of them. Stocks are listed in alphabetical order, and all had market caps of over $4 million at the time of publication; if we missed a company you think should be included, please let us know in the comments.
Canadian Platinum (TSXV:CPC)
As its name suggests, Canadian Platinum is an exploration-stage company focused on PGMs assets in Canada. Its flagship asset is its Peter Lake project in North-Central Saskatchewan, and it says the property represents the second-largest layered mafic/ultramafic complex in North America. Previous work at Peter Lake has established the existence of "significant" PGMs mineralization, along with copper, nickel and cobalt values. In addition to Peter Lake the company holds a number of other properties.
New Age Metals is focused on exploring and developing its River Valley PGMs project, which it says is Canada's largest primary PGMs deposit. Located in the Sudbury Basin, a March 2018 resource estimate for the project shows that it has a measured and indicated resource of 160 million tonnes at 0.44 g/t palladium, 0.17 g/t platinum and 0.03 g/t gold, with a total metal grade of 0.64 g/t at a cut off of 0.4 g/t.
Aside from Rift Valley, New Age also has eight lithium projects, three of which are drill ready. Its aim is to be a project generator, explorer and project operator with the goal of optioning out its projects or securing joint ventures for them in order to bring them through to production.
Group Ten Metals (TSXV:PGE)
Group Ten Metals holds a portfolio of North American precious metals projects, including the Kluane PGMs-nickel-copper project in the Yukon. The property is made up of the Spy, Ultra and Catalyst areas, all of which occur with the Kluane mafic/ultramafic belt, a system of PGMs-nickel-copper deposits extending through the Yukon from Northern BC to Central Alaska. The asset is located on trend with the Nickel Shaw project, also located in the Yukon.
Nickel Creek Platinum (TSX:NCP)
After a change in management and focus from 2016 to 2017, Nickel Creek Platinum is evaluating its Yukon-based Nickel Shaw property with new eyes — it is looking at Nickel Shaw as primarily a nickel asset, not a PGMs project, and is shifting its focus from exploration to bringing the property into the development phase.
Despite the switch in focus, Nickel Shaw still holds a significant amount of PGMs — it has over 2 billion pounds of nickel, 1 billion pounds of copper, 6 million ounces of PGMs and 120 million pounds of cobalt in the measured and indicated categories. Nickel Creek is currently working towards a preliminary economic assessment for Nickel Shaw; it is expected in the fall of 2018.
Transition Metals (TSXV:XTM)
Project generator Transition Metals holds interests in a number of different exploration projects in Canada, but its main platinum asset is the Ontario-based Sunday Lake nickel-copper-PGMs project. Sunday Lake is a joint venture with Impala Platinum (JSE:IMP), and last year the companies signed a definitive option agreement for the project with North American Palladium. The agreement allows North American Palladium to acquire 75-percent ownership of Sunday Lake by completing $4.5 million in work commitments and paying $3.5 million in cash over five years.
Transition Metals also owns the Aer-Kidd nickel-copper-PGMs project in Ontario, but it has not been active at the asset since 2016.
Wallbridge Mining Company is currently preparing to develop its Quebec-based Fenelon gold project, but it is also pursuing other advanced-stage projects and is completing partner-funded exploration on projects in its portfolio of nickel, copper and PGMs assets in Ontario. Its main exploration focus is the Parkin properties, which include the past-producing Milnet mine, the high-grade Milnet 1,500 zone and a number of high-grade surface occurrences.
Wallbridge also has 11.5-percent ownership of Carube Copper (TSXV:CUC), which has copper and gold projects in both Jamaica and Canada.
Which platinum-mining company would you invest in? Let us know in the comments.
This is an updated version of an article originally published by the Investing News Network in 2013.
Don't forget to follow us @INN_Resource for real-time news updates!
Securities Disclosure: I, Amanda Kay, hold no direct investment interest in any company mentioned in this article.
Editorial Disclosure: Carube Copper, New Age Metals and Wallbridge Mining Company are clients of the Investing News Network. This article is not paid-for content.