The New James Bay Gold Belt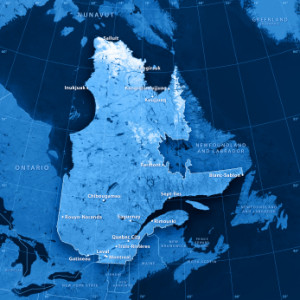 In 2003, Virginia Mines (TSX:VGQ) announced that it had discovered the Eleonore gold deposit in the James Bay region of Quebec. Today, the area is known as the New James Bay Gold Belt, a highly prospective region that has enticed other companies to begin mineral exploration programs nearby.
Notably, the Eleonore project is now owned by major miner Goldcorp (TSX:G).
The Ministry of Natural Resources and Wildlife of Quebec wrote in 2007 that exploration in this area had seen such success that it appeared to be one of the most promising targets for mineral exploration in the entire province. That's saying something, as there are numerous mining projects spread throughout Quebec. Naturally, this ministry report — and others like it — have led to even more interest from mineral exploration companies.
Exploration in the New James Bay Gold Belt has continued to flourish, with many companies releasing preliminary reports showing various types of mineralization and high concentrations of gold at several sites. Listed below are just a few companies operating within the New James Bay Gold Belt and descriptions of their respective projects.
Canada Strategic Metals (TSXV:CJC)
Canada Strategic Minerals (CSM) operates entirely in the mining-friendly jurisdiction of Quebec. While CSM focuses largely on graphite, the company also has a gold project within the New James Bay Gold Belt, as its Sakami project is located near the Eleonore deposit.
The Sakami project is part of a joint venture agreement between Canada Strategic Metals and Matamec Explorations (TSXV:MAT), under which CSM stands to earn up to a 70-percent interest in the project. So far, exploration at Sakami has revealed wide gold intersections, including 2.97 grams per tonne (g/t) over 19.5 meters, including 3.78 g/t gold over 14.1 meters from results reported in March.
Azimut Exploration (TSXV:AZM) 
Azimut Exploration holds the largest mineral exploration portfolio in Quebec, according to its website. The company began staking gold properties in the New James Bay Gold Belt in 2003 after mineral potential modeling suggested significant gold resources in the area. Nine months after this set of predictions was released, Virginia Mines made its announcement regarding the Eleonore gold deposit discovery.
Azimut has five gold properties within two main areas in the region. Those properties are called Opinaca A, Opinaca B, Opinaca D, Eleonore South and Wabamisk. Wabamisk is optioned to Goldcorp.
Eastmain Resources (TSX:ER)
Eastmain Resources, whose focus is on the Eastmain River area of the New James Bay Gold Belt, holds a number of projects in that region. Its flagship project is the Clearwater gold project, which was discovered in the 1980s. Clearwater hosts the Eau Claire deposit, which contains an estimated measured and indicated resource of 721,000 ounces of gold and an inferred resource of 1,122,000 ounces of gold.
Over the last two years, exploration drilling at Eau Claire "has focused on expanding the gold resources potentially amenable to extraction by open pit methods," as per Eastmain's website.
The company is involved in a number of other projects in the area, including Eleonore South, a joint venture between Goldcorp, Eastmain and Azimut, and the past-producing Eastmain Mine property and Ruby Hill East and West blocks.
Midland Exploration (TSXV:MD)
Midland Exploration focuses on gold, platinum-group elements, base metals and rare earth elements in Quebec. Its James Bay gold project, east of the town of Radisson and south of the La Grade IV reservoir, is currently 100-percent owned by Midland Exploration. However, the company works in partnership on many of its projects.
The James Bay property itself consists of four blocks, including Pelletan, Lasalle, Galinee and Dalmas, that together total 632 mineral claims. The project is east of the Eleonore property, and early stage exploration results show Midland's project is geologically comparable to this site. Gold at the site has been found in silicate iron formation, in copper-gold-silver-bearing iron and in gold-molybdenum-silver intrusions.
Adventure Gold (TSXV:AGE)
Adventure Gold is a mineral exploration company focused on discovering and developing high-quality gold deposits. Its property located closest to the New James Bay Gold Belt is Detour Quebec, which consists of 802 claims.
Situated along the Detour Lake gold break in the Haricana-Turgeon belt in Abitibi, Adventure Gold acquired Detour Quebec in 2009. Claims within Detour are highly prospective, similar to those located nearby in the New James Bay Gold Belt and in projects in the Abitibi region, according to Adventure Gold's website.
Drilling has revealed gold structures with up to 18.3 g/t gold, gold showings in outcrop of up to 54 g/t and gold till anomalies of smaller concentrations. There are individual properties within Detour Quebec, namely the Massicotte, Casgrain, Casgrain Extension, Gaudet and Nantel properties, along with the Manthet, Martigny and Martigny Extension sites. In late June, the company announced that it had confirmed a significant gold system through its exploration drill program at its Val-d'Or east gold project in the Abitibi region. These new results found a new zone of gold mineralization at the former LC Beliveau gold mine that grades 12.4 g/t gold over seven meters, as per a press release.
"We are very pleased with this discovery and the other initial results," President and CEO Marco Gagnon said. "The new zone grading 12.4 g/t Au over 7 metres is one of the richest gold intercepts ever drilled on the property. We look forward to see other the drilling results coming."
Keep an eye out
To be sure, there are plenty of companies operating in the New James Bay Gold Belt. It will certainly be interesting for gold bugs to keep an eye on companies with projects in the region.