Russia's Gold Stockpile Raises Concerns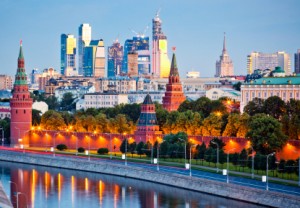 A World Gold Council (WGC) report that reveals that Russia has doubled its gold reserves over the past five years has not gone unnoticed. During that period, Russia's total gold reserve purchases exceeded 500 tonnes, the largest increase in worldwide official gold reserves over the period. That Russia has amassed such a quantity of gold is not sitting well with everyone. Some are skeptical about President Vladimir Putin's intentions for the stockpile.

Speculation about Putin's ulterior motives ranges widely. Some think he plans to employ the metal to play hardball politics, while others think he wants to use it as an alternative currency. But isolating Russia's growing gold reserves as potentially dubious based solely on purchase volume and the identity of the nation's leader could be a bit premature.
Russians have a history of using gold as a financial instrument. And while the nation's officials have shown support for expanding gold's usage, that is not an isolated idea. As the WGC points out, in the international arena gold's role in the financial sector is growing.
A prime example is the trend whereby central banks, especially those in emerging nations, are stocking up on gold in an attempt to diversify their reserves. According to WGC data, the official sector purchased 157.5 tonnes of gold in Q2 2012, more than double the amount purchased in Q2 2011. Russia's purchases only accounted for 22 tonnes of that amount.
Central bankers, like many private investors, are no longer comfortable holding the majority of their assets in dollars and euros. Some, like the National Bank of Kazakhstan, have stated their motives outright.
Whether or not the doubling of Russia's stockpile is part of a plan cooked up by Putin remains to be seen. What can be said with more certainty is that the growth in Russia's gold reserves marks the near achievement of a goal outlined years ago by the nation's central bank.
In 2005, The Moscow Times reported that Russia's central bank was planning to raise the share of gold in its reserves from 5 percent to 10 percent. The 918 tonnes that the nation has now amassed represents a bit over 9 percent, which means there is still work to be done.
At the time, Putin expressed support for the central bank's plan to the double its reserves, and the government set out measures to boost the country's faltering gold industry.
Much of the gold in Russia's reserves has been sourced on the domestic market. But the bulkiest additions to the country's gold reserves actually occurred during Dmitry Medvedev's presidential term, which spanned from May 2008 to May 2012.
Putin served as Prime Minister during that time, and by many accounts he has always been the real decision maker. Even so, looking at this year, the largest addition to Russia's gold reserves, 16.6 tonnes, was reported in March, ahead of Putin's inauguration. The second largest addition of 15.5 tonnes was reported in May, the month the men exchanged power.
"The 'cover' of the story is all about Russia augmenting its central bank holdings, but it, of course, fails to mention that Mr. Putin's previous 'colleagues' had gutted the central bank's gold vaults to the bare walls after the Communist regime came to a timely end in 1989," said Jon Nadler, senior metals analyst at Kitco, in a market note.
In January 1995, Russia held 60 percent of its reserves as gold. The WGC states if Russia decides to rebalance its books to that previous peak level, it could account for a total incremental demand of nearly 5,000 tonnes at today's gold price.
As unsettling as some may find it, gold purchases are expected to continue now that Putin is in office. Through June, Russia had purchased about 35 tonnes. The WGC asserts that based on official comments, the nation intends to increase gold reserves by approximately 100 tonnes this year.
Official sector gold purchases are playing an important role in supporting the gold market, especially this year, as there has been lackluster investment demand. Those wishing away Russia's stockpile may want to first consider where all of that extra gold would go and what market conditions would be like in that scenario.