Ron Paul Says the Stock Market Could Crash 50 Percent — What's the Impact for Gold?
Last month, Paul said he wouldn't be surprised to see the gold price hit nearly $1,900 per ounce by October.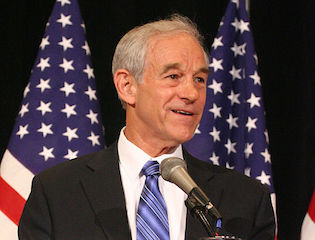 Libertarian pundit Ron Paul made headlines last month when he said it "wouldn't be a total shock" to see US markets down 25 percent by October. 
Now, the former presidential campaigner has made an even more dire prediction. "A 50-percent pullback is conceivable over the next year or two," he told CNBC over the weekend. "It's going to be severe."
In the interview, Paul hones in on US President Donald Trump's many detractors, commenting, "when you look at the people who tear him apart, this does have a consequence. This is a consequence and also a reflection of the impossibility under the current situation for Washington to address [its] problems."
Those problems include taxation, regulations and debt. "I think it's going to all catch up," Paul continues. "The government's too big — they financed it with debt, they financed it with printing press money and low interest rates. [That has] created a monster of the foundation of the economy, and no one is really dealing with malinvestment."
Despite Trump's role in the current situation, Paul doesn't place the blame all on him. "It's all manmade. It's not the fault of Donald Trump in the last week. If the market crashes tomorrow and we have a Great Depression, he didn't do it in six months. It took more like six or 10 years to cause all these problems that we're facing," he said.
According to Paul, the 50-percent crash he's predicting would cut the S&P 500 Index (INDEXSP:.INX) in half, putting it at 1,212 points; meanwhile, the Dow Jones Industrial Average (INDEXDJX:.DJI) would plunge to 10,837 points.
When Paul made his call for a 25-percent fall in US markets by October, he suggested that the gold price could rise 50 percent over the same period to hit $1,867 per ounce. He didn't comment on gold in his interview with CNBC this past weekend, but given that gold is a safe-haven asset it's possible that a larger crash could mean bigger gains for the yellow metal.
As of 5:00 p.m. EST on Monday (August 21), gold was up 13.92 percent year-to-date at $1,291.33. It briefly passed the $1,300 mark last week on the back of increased worldwide geopolitical uncertainty.
An excerpt of CNBC's interview with Paul is available below:
Don't forget to follow us @INN_Resource for real-time news updates.
Photo by R. De Young via Wikimedia Commons.
Securities Disclosure: I, Charlotte McLeod, hold no direct investment interest in any company mentioned in this article.