OceanaGold to Acquire Romarco and Become World's Lowest-cost Gold Producer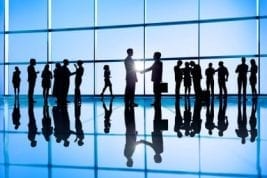 Shareholders are expected to vote on the $856-million deal at the end of September or in early October.
Exciting M&A activity hit the gold space on Thursday when Australian-Canadian miner OceanaGold (TSX:OGC,ASX:OGC) announced that it's signed a definitive agreement to acquire Romarco Minerals (TSX:R). The combined company will be the world's lowest-cost gold producer.
Under the agreement, OceanaGold will acquire all of the issued and outstanding common shares of Romarco, and will gain the rights to Romarco's US-based Haile gold mine, a high-grade, open-pit project that is currently being constructed.
Romarco shareholders will receive 0.241 of an OceanaGold common share for each Romarco common share. That's the equivalent of C$0.68 per Romarco share and a premium of 72.7 percent based on the July 29, 2015 closing prices of OceanaGold and Romarco on the TSX. Upon completion of the transaction, existing OceanaGold and Romarco shareholders will own approximately 51 percent and 49 percent of the combined company, respectively.
Lowest-cost gold producer
According to the press release from the companies, the combination is "expected to create the lowest cost gold producer in the market; propelled by a long reserve life, a portfolio of high quality assets that generate significant free cash flow and a solid pipeline of organic growth opportunities."
Elaborating, OceanaGold's managing director and CEO, Mick Wilkes said, "[w]e are very pleased to bring this transaction forward to the benefit of both sets of our valued shareholders. OceanaGold has remained disciplined in its growth initiatives while building and preserving a robust balance sheet and positioning the company for the value-creating opportunities that complement our existing portfolio of high-quality assets."
He added, "[w]e believe the addition of the low-cost, long-life Haile Gold Mine provides such an opportunity while underpinning an industry leading business. The combination of the sector low cost profile with three significant free cash flow generation, diversified production and a pipeline of organic growth opportunities forms the lowest cost gold producer globally."
The acquisition is also noteworthy in that it comes just a month after OceanaGold signed a definitive acquisition agreement with Newmont Mining (TSX:NMC,NYSE:NEM) to acquire the Waihi gold mine in New Zealand for US$101 million in cash, plus customary adjustments.

OceanaGold reports net loss in Q2
The acquisition was announced at the same time as OceanaGold put out its Q2 financial and operational results. They point to a net loss of $971,000 compared to earnings of $24.5 million in the first quarter. Furthermore, the company ended the quarter with net debt of $52.3 million and a cash balance of $48.7 million, lower than at the end of the first quarter due to a $12.2-million dividend payment, debt repayment of $3 million and an investment in Gold Standard Ventures (TSXV:GSV,NYSEMKT:GSV).
Speaking about those results, Wilkes said, "[i]n an environment where commodity prices are persistently under considerable pressure, OceanaGold is uniquely positioned to continue generating significant free cash flows. We have a strong balance sheet, a suite of high quality assets and a solid pipeline of organic growth opportunities. We will continue to be focused on stakeholder engagement and delivering value to shareholders and be the gold mining company of choice."
OceanaGold's share price was down 19.43 percent at end of day Thursday, and closed at $2.28, likely due to the Q2 results. Year-to-date the company is up 12.87 percent. Romarco's share price was up 31.65 percent, at $0.52 at the end of day.

Securities Disclosure: I, Kristen Moran, hold no direct investment interest in any company mentioned in this article.