Mining Stocks: Investors Pot of Gold
Since Saint Paddy's Day 2009, gold has gained 23 per cent. Many Gold Stocks have posted even more impressive gains.
By Melissa Pistilli—Exclusive to Gold Investing News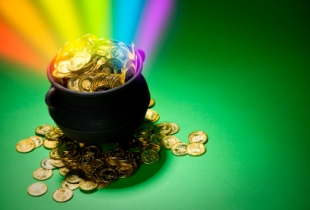 Gold had its best day in over a week Tuesday, gaining 1.6 per cent to close at $1125.90 an ounce on Fed interest rate news, sovereign debt fears and $82 a barrel oil.
The Fed pledged interest rates would remain near zero for an "extended period," hinting that inflation concerns are still far off. The announcement put downward pressure on the dollar, boosting gold. Gold is also benefiting from ongoing concerns over debt problems in the United States and most of Europe, especially with Moody's putting the UK and the US on notice.
The yellow metal went on to flirt with $1130 an ounce early Wednesday morning leading some analysts to suspect it would continue yesterday's climb to break past March 8's high of $1,138 an ounce; however, gold hit a wall of resistance with no further developments to support speculators pushing it forward. The dollar's dip slowed as did oil's advance, further weighing down gold gains with a lower than yesterday close of $1122.30 an ounce.
Bullish sentiment is still alive and well in the gold market as analysts predict currency concerns, low interest rates and even approaching holidays will benefit gold in the short- to medium-term.
James Moore of TheBullionDesk.com believes gold prices "are poised to exit their current phase of consolidation and regain bullish direction as speculators and investors continue to diversify away from fiat currencies."
Some analysts are predicting gold will test the $1145 level in April on further dollar weakness and physical demand out of India. India is gearing up for gold-buying holidays and the traditional wedding season that starts next month.
Goldman Sachs puts gold at $1390 an ounce in 12 months, up ten dollars from last month's forecast. "We expect the low U.S. real-interest-rate environment, combined with continued gold exchange-traded-fund buying and reduced central-bank sales, will continue to provide strong support for gold prices in 2010 and 2011," said Goldman analysts in a report.
Gold Stocks Put Up Impressive Gains
Since Saint Paddy's Day 2009, gold has gained 23 per cent. Many Gold Stocks have posted even more impressive gains than that, including: American Bonanza Gold Corp. [TSX: BZA] up over 112 per cent to .17 cents a share; Centerra Gold Inc. [TSX: CG] up over 190 per cent to $12.97 a share; Colossus Minerals Inc. [TSX: CSI] up over an impressive 251 per cent to $6.50 a share; Minco Gold Corporation [TSX: MMM] up over 147 per cent to $1.26 a share; New Gold Inc. [TSX: NGD] up 129 per cent to $4.58 a share; NovaGold Resources Inc. [TSX: NG] up over 164 per cent to $7.64 a share; Rubicon Minerals Corp. [TSX: RMX] up over 168 per cent to $4.34 a share; Rye Patch Gold Corp. [TSX.V: RPM] up over 107 per cent to .29 cents a share; and Teryl Resources Corp. [TSX.V: TRC] up 110 per cent to .21 cents a share.