Cambodia's Emerging Resource Economy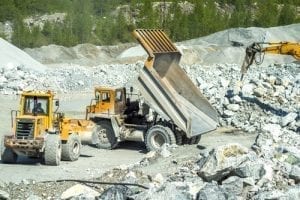 Cambodia's nascent mineral resource industry is attracting investment and becoming an important economic sector in the country.
Much like its history, Cambodia's economy has long been tied to the fertile floodplains of the Mekong and Tonlé Sap rivers, making agriculture a key industry for centuries.
However, the Southeast Asian nation also hosts a wide range of mineral resources, including strategically significant metals such as copper and gold. Cambodia's strong economic growth and commitment to building its resource sector has the potential to make the country an attractive jurisdiction for exploration and mining companies alike.
Cambodia leads the world in economic growth
Located on the southern end of Southeast Asia's Indochina Peninsula, the Kingdom of Cambodia is a constitutional monarchy with a parliamentary democracy and a free-market economy.
This INNspired Article is brought to you by:
Angkor Resources Corp. (TSXV:ANK, OTC:ANKOF) is Cambodia's premier Canadian mineral explorer and project generator with more than 30 prospects across five licenses covering a 983-square-kilometer land package, plus a recently granted oil and gas license for a 7,300-square-kilometer inland basin.
Send me an Investor Kit
During the 12th century, the Khmer Empire was a major power in the region and its capital, Angkor, was what historians consider the world's largest pre-industrial city. Today, Cambodia is one of the fastest-growing economies in Asia, led by growth in its garment and textiles, tourism and agricultural sectors.
More importantly, Cambodia is one of the top 10 countries for highest annual average GDP growth — averaging more than 7 percent over the last two decades. In 2016, the country moved up in status from being a "low income" to a "lower middle income" country, according to the World Bank Group's economic classifications.
Proactive policies are likely to continue improving Cambodia's economic standing globally. In 2015, the government released a 10-year industrial development policy outlining strategies for diversifying industry in the country beyond garments and agriculture in an effort to attract more foreign investment.
Cambodia's future growth supported by strong foreign direct investment
Cambodia's commitment to developing its economy is working. "Cambodia is building a strong pathway forward to becoming a world-class destination for foreign direct investment (FDI)," Stephen Burega, CEO of Angkor Gold (TSXV:ANK,OTCMKTS:ANKOF), told the Investing News Network (INN).
"All its neighbors in the region — including Japan, China, Thailand and Vietnam — are currently putting in FDI at breakneck speed to build their key infrastructure, which is needed to continue growing the GDP at +7 percent annually. I believe Cambodia is poised to continue being a strong player in Southeast Asian marketplace," he added.
The country's GDP is expected to grow by 6.9 percent in 2018, with support from large FDI flows and further investment in infrastructure. "With strong FDI inflows, Cambodia will maintain its 7 percent annual GDP growth, create more job opportunities and generate higher income for its people," said Hing Thoraxy, senior researcher at the Cambodian Institute for Cooperation and Peace. "This will help Cambodia to achieve its goal to becoming a higher-middle income country in 2026 or 2027."
Cambodia's emerging resource industry may play a role in achieving that goal. In March 2018, the Ministry of Mines and Energy reported that FDI in the extractive industry now equals $1.3 billion. This investment is expected to make the sector one of the most valuable industries to Cambodia's developing economy, according to the Honorable Suy Sem, minister of mines and energy.
Cambodia's untapped mineral wealth
In the late 19th century, French and Chinese geologists began conducting geological and mineral studies in Cambodia. However, decades of war in the 20th century left the country's mining sector underdeveloped.
Over the past decade, foreign mining investment has increasingly taken an interest in what Cambodia has to offer. While the country's resources are geographically identifiable, a lack of comprehensive geological surveys has left those resources largely undefined. However, recent exploration activity has uncovered the potential for high-quality deposits; especially for gold, copper, silver and molybdenum.
In recent years, the Cambodian government has been focused on building its mining sector, leading to the establishment of a new framework of mining laws and regulations closely patterned on the Western Australian model. Cambodia's 2016 regulatory framework offers mining companies a more clearly defined licensing application process, a favorable 30-percent tax and a 3-percent royalty rate on precious metals. The mining code also allows for wholly foreign-owned mining companies to receive licenses.
"Cambodia has the right geological prospectivity and is focused on building its capacity as far as the mining sector is concerned," said Angkor CEO Burega. "From an explorer's perspective, and perhaps from a major's as well, the regulatory framework is quite straightforward and well designed for a strong future mining industry. In addition, there is a lot of money being spent on infrastructure development in providing good access to all corners of the country."
Phum Syarung gold mine nearing production
While no large mines outside of small-scale artisanal mining are yet operating, Cambodia's first commercial-scale mineral production will most likely be focused on gold.
A significant turning point in Cambodia's fledgling mining industry came in 2016 when the Ministry of Mines and Energy greenlighted production at Mesco Gold's Phum Syarung mine by issuing the country's first commercial mining license. Mesco is a subsidiary of Indian steelmaker Mesco Steel. The licensing process included a full-scale environmental and social impact assessment. The mine, located in the province of Ratanakiri, is slated to begin commercial production.
Mesco bought Phum Syarung from Canadian-based Angkor Gold for US$1.8 million cash, with Angkor retaining a 2-percent to 7.5-percent sliding-scale net smelter return on future production.
Angkor's success shows what's possible in Cambodia
Angkor Gold's exploration work in Cambodia has played a significant role in helping the world to understand the potential of the country's mineral wealth. The company holds five exploration licenses for projects covering nearly 1,000 square kilometers in Ratanakiri and Mondulkiri provinces. Mapping and drilling have shown evidence of gold, copper, silver, molybdenum and other minerals across each license.
"When we arrived in Cambodia in 2009, there was generally a misunderstanding of the geology due to a lack of modern exploration, and the general consensus was that yes, there is great gold potential, but the possibilities for copper porphyry mineralization were limited," Burega told INN.
"It was because of our early work that we were able to redefine the overall picture of the 'plumbing' or geology, essentially. In the nine years since, we have identified gold across multiple projects, with four large copper porphyry anomalies and many other occurrences that seem to show the same signature we are seeing in the targets that we have identified so far."
Angkor's exploration success has attracted the interest of some key strategic partners. Currently, the company has joint exploration agreements on both its Oyadao South and Koan Nheak licenses. Japan Oil, Gas and Metals National Corporation (JOGMEC) is entitled to earn a 51-percent interest on the Oyadao South license for US$3 million in exploration spending. The license includes the Halo copper porphyry project, where drilling has identified copper, silver and molybdenum mineralization.
Australian Emerald Resources (ASX:EMR) can earn a 51-percent interest in Angkor's Koan Nheak license for US$2 million in exploration and development and US$200,000 in cash payments. Emerald is the owner and operator of the nearby Okvau gold deposit, which lies approximately 53 kilometers southwest of Koan Nheak.
Emerald's Okvau gold deposit may follow Mesco Gold's Phum Syarung to become Cambodia's second producing mine. Okvau has a published a JORC-compliant ore probable reserve estimate totaling 14.26 million tonnes grading 1.98 grams per tonne gold for 907,000 contained ounces of gold.
The takeaway
Exploration companies such Angkor and major international players such as Mesco and JOGMEC look at Cambodia's unknown resource potential through a lens of opportunity rather than uncertainty. Cambodia is already viewed as a highly prospective mineral exploration destination among other Southeast Asian countries. As Cambodia's resource industry continues to grow alongside strong economic growth, more companies will begin to view the country as an attractive mining jurisdiction.
This INNspired article is sponsored by Angkor Gold (TSXV:ANK,OTCMKTS:ANKOF). This article was written according to INN editorial standards to educate investors.