Kinross and Barrick both announced multi-billion-dollar writedowns in the fourth quarter. Investors, however, see a silver lining in the bad news.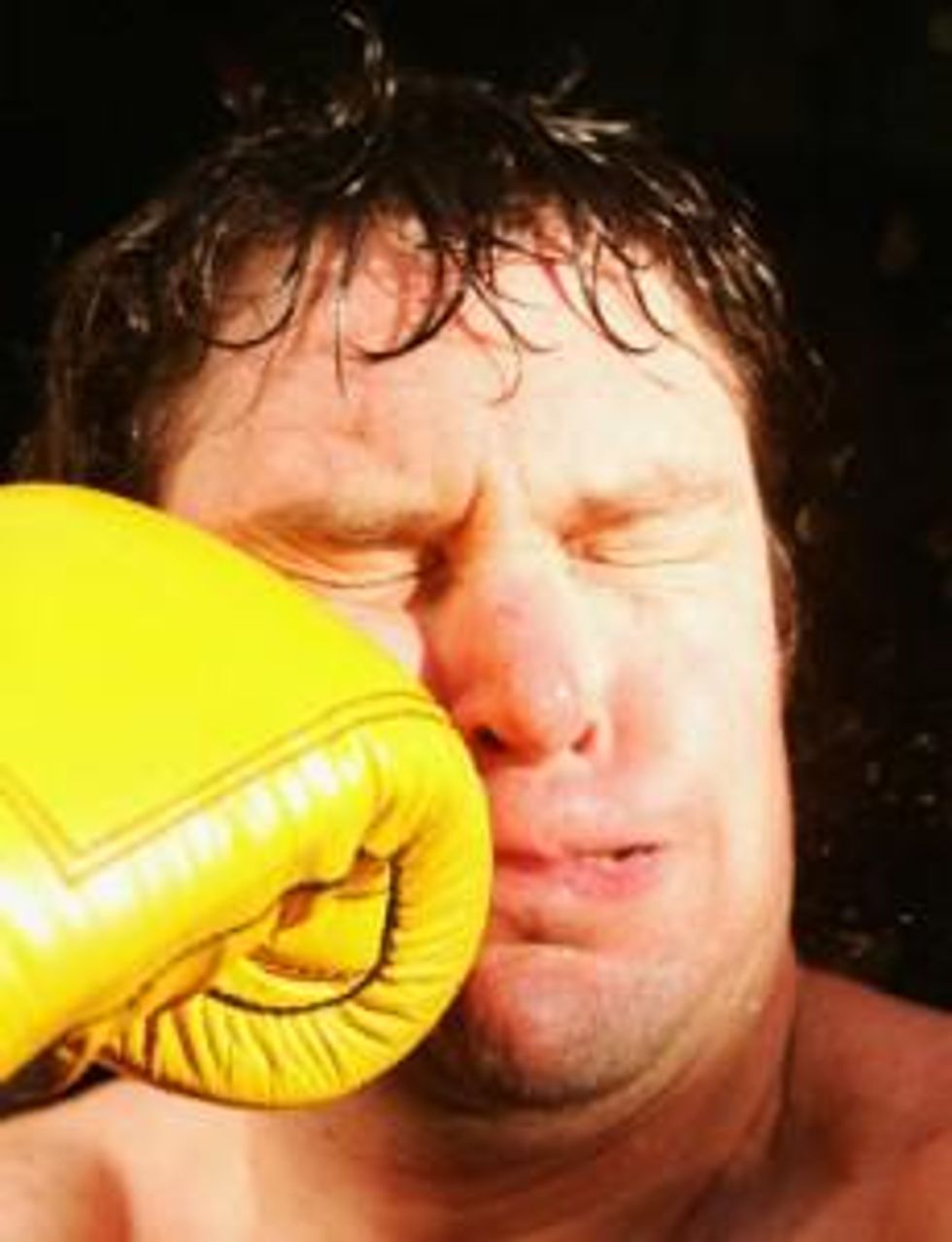 Just over a year after after announcing a substantial writedown of its Tasiast mine in Mauritania, Kinross Gold (NYSE:KGC,TSX:K) has more bad news for investors. 
Canada's third-largest gold producer reported Thursday that it booked a fourth-quarter loss of $2.98 billion — or $2.62 per share — after taking a $3.2-billion impairment charge, mostly due to a loss in value at its Tasiast mine, which it acquired back in 2010 from Red Back Mining. At the time, Kinross paid $7.1 billion for Red Back and its flagship Tasiast gold mine, but the value of that asset is now estimated by analysts to be around $1.5 billion.
Adjusted net earnings for the quarter were $276.5 million, or 24 cents a share, which is a cent better than analysts were estimating.
Kinross said in a statement that the impairment charge was due to a number of factors, including industry-wide increases in capital and operating costs.
"While we recorded a non-cash impairment charge related to our Tasiast project, our pre-feasibility study work and recent exploration results continue to increase our confidence in Tasiast's potential, and confirm its importance as part of our long-term future," CEO J. Paul Rollinson said in the news release.
The company improved its Q4 gold production, logging 724,510 ounces compared to 622,507 ounces in the same period of 2011. Full-year gold production exceeded guidance, at 2.6 million gold-equivalent ounces compared to 2.5 million ounces produced in 2011. Weighing the good and bad news, investors decided to give Kinross the benefit of the doubt; the stock closed up 5.58 percent in New York on Thursday.
Meanwhile, Barrick Gold (NYSE:ABX,TSX:ABX) also splashed red ink on Thursday in the company's first earnings announcement since Jamie Sokalsky replaced Aaron Regent at the helm of the world's leading gold producer.
Barrick reported massive capital overruns and lowered its long-term production outlook; it is in the midst of shifting its strategy to focus on "more profitable ounces" instead of higher throughputs. The company lost over $3 billion in the fourth quarter after taking a large writedown on its copper business in Africa.
The Calgary Herald reported that Barrick is "cutting or delaying US$4 billion in previously budgeted capital spending and writing down the value of its copper business unit by $4.2 billion after taxes, including $3.8 billion for its Lumwana mine in Zambia."
The Toronto-based gold giant is putting mine expansion on hold and looking to reduce overhead costs this year by $100 million.
At Barrick's Pascua-Lama project on the border of Chile and Argentina, development costs have soared 50 to 60 percent from previous estimates. The company has also held off on expanding the Lumwana copper mine in Zambia, which it acquired as part of its C$7.3-billion takeover of Equinox Minerals, blaming the decision on higher costs.
Interestingly, investors are seeing a silver lining in the cloud of bad news from Barrick: potential asset sales. For example, Barrick is looking at selling Barrick Energy and a 50-percent-owned nickel project, according to The Financial Post.
ABX climbed as much as 5.2 percent Thursday on triple average volumes, the most intraday gain since mid-July.
"We continue to actively pursue opportunities to optimize our existing portfolio," CEO Jamie Sokalsky said in a conference call. "We're open to anything that will increase shareholder value."
Other company news
Turquoise Hill Resources (NYSE:TRQ,TSX:TRQ) is selling its stake in the Kyzl gold project in order to focus funds on its flagship Oyu Tolgoi gold-copper-silver project in Mongolia. Reuters reported that Sumeru Gold will pay $300 million for Turquoise Hill's 50-percent stake in the mine, located in Northeastern Kazakhstan. Turquoise Hill, formerly Ivanhoe Mines, holds a 66-percent stake in Oyu Tolgoi and is an affiliate of Rio Tinto (LSE:RIO,ASX:RIO,NYSE:RIO).
Harmony Gold (NYSE:HMY) said Thursday it plans to reopen its Kusasalethu mine after several weeks of closure due to labor-related disruptions. The South African gold producer said it would begin employing the workforce of 6,000 on Friday and that the mine should be back to normal production by end of June, Reuters reported.
AngloGold Ashanti (NYSE:AU) is eyeing developments in Mali closely to determine whether to proceed with its Sadiola joint venture. The world's third-largest gold producer said it is deferring a $500 million mine expansion until the security situation becomes clearer.
Agnico-Eagle Mines (NYSE:AEM,TSX:AEM) swung to profit in the fourth quarter, banking $82.8 million, or 48 cents a share, compared to a loss of $601 million, or $3.53 per share, in the year-ago quarter. The Q4 profit included $16.5 million gained from the sale of its shares in Queenston Mining, and compares to the last quarter of 2011 when Agnico-Eagle took a US$907-million impairment charge on its Meadowbank mine. Canada-based AEM also notched record annual gold production in 2012 of 1.043 million ounces. Production in 2011 amounted to 985,460 ounces.
Gold down as Year of the Snake dawns
Gold was trading about $35 down from last week on a higher US dollar and low volumes on account of the Lunar New Year holiday in Asia. Markets in China, Japan, Singapore and Korea were among those closed this week. COMEX gold futures fell for the second straight day on Thursday, with gold for April delivery settling at $1,635 an ounce. A week earlier, April gold was at $1,671.80. Spot gold closed at $1,635.80, down $6.80 from the previous session and $35.30 from a week ago.
On the upside, Mineweb reported that the Lunar New Year, also known as Spring Festival in China, is becoming one of the most important sales periods for gold jewelry: "[r]etailers have told newswire agencies that people are likely to spend as much as $HK 60,000 for gold icons, jewellery and bars to bring in the New Year."
Junior company news
Source Exploration (TSXV:SOP) reported the results of ground-based magnetic geophysical surveys carried out by Geofisica at its Las Minas project, Mexico. The survey delineated a large magnetic–high anomaly measuring approximately 1,000 meters by 750 meters; it is located next to the underground workings of the historical San Jose de Oro gold mine.
Dalradian Resources (TSX:DNA) announced that drilling at its Curraghinalt gold deposit, located in Northern Ireland, intersected 1.54 meters of 30.13 g/t gold located over 200 meters from the surface of the current resource.
Northern Vertex Mining (TSXV:NEE) has completed the sale and subsequent share transfer of its 51-percent interest in the Lemhi Gold Trust to Idaho State Gold Company for US$7.65 million.
Securities Disclosure: I, Andrew Topf, do not hold equity interests in any of the companies mentioned in this article.
Related reading:
Featured
Investing News Network websites or approved third-party tools use cookies. Please refer to the cookie policy for collected data, privacy and GDPR compliance. By continuing to browse the site, you agree to our use of cookies.