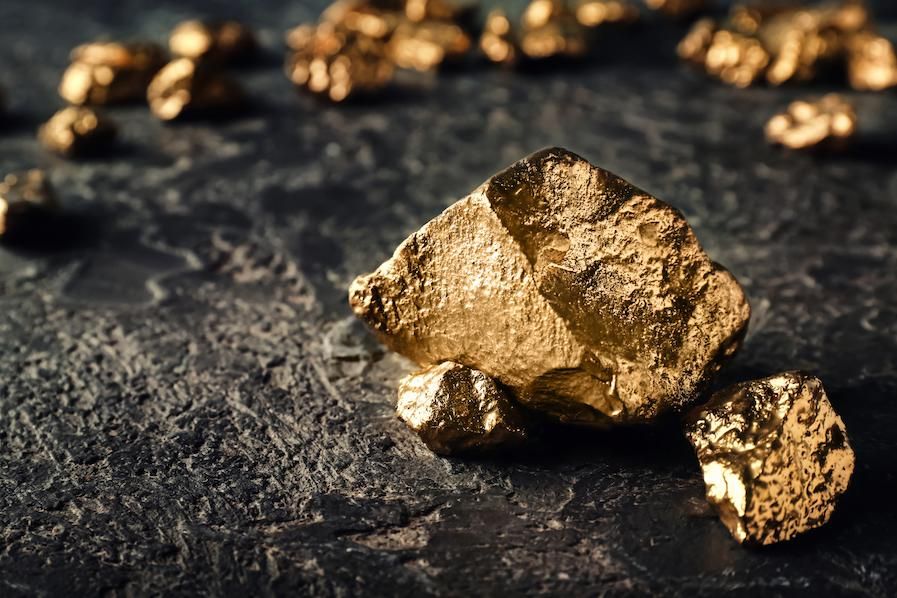 Greenstone belts offer a significant investment opportunity as a world-class source of gold.
Named for their distinctive green hue, greenstone belts host economic deposits of many different minerals, including silver, copper and zinc.
However, they are best known for their rich gold stores, making them incredibly compelling to gold exploration and mining companies. Archean-age greenstone belts, the most common kind, frequently house the largest and most successful producing gold mines in the world.
To understand why greenstone belts are so important to mining and exploration, one must first understand what they are, how they are formed and where they can be found.
---
How are greenstone belts formed?
Greenstone belts are best described as an exposed collection of multiple volcanic and sedimentary rock types, intermixed over billions of years. Highly complex and consisting of multiple interlayered ore deposits, the specific processes by which greenstone belts are created are not yet fully understood. Geologists have proposed two contrasting theories in an effort to explain their formation.
The former maintains that during the Archean era — 4 billion to 2.5 billion years ago — magmatic and tectonic processes operated differently than they do in the present day. The theory is that during this time, the Earth's mantle was far hotter. As a result, mantle plumes were far more common, to the extent that they essentially dominated plate tectonics.
Mantle plumes are themselves a theoretical process, frequently proposed as the origin of modern-day volcanic hotspots. Existing independently of tectonic movement, mantle plumes are believed to be the result of super-heated material rising up from the Earth's core-mantle boundary. As they rise, they form a narrow column of melted rock and minerals with a gradually expanding, mushroom-shaped head.
Circling back to the original theory, it's believed that greenstone belts are the result of sub-oceanic mantle plumes which terminate in vast, mineral-rich plateaus.
The latter camp, meanwhile, believes that plate tectonics has remained relatively unchanged throughout the Earth's history. Rather than being created by mantle plumes, greenstone belts under this theory form in volcanic arcs, inter-arc basins or back-arc basins. It's further believed that they represent collages of oceanic crust, plateaus and accretionary prisms.
Through metamorphism, greenstone belts develop their distinctive green hue, manifesting as collections of minerals such as chlorite, muscovite, albite and epidote. This process is believed to be responsible for the presence of mineral deposits in greenstone belts. It's believed that ore-forming fluids are redistributed along shear zones, which then form into deposits as the fluids mix with water from the surface and cool.
The major greenstone belts of the world
Canada's Abitibi greenstone belt is by far the largest and best known of its kind. Formed over 2.6 billion years ago, the belt has to date produced over 200 million ounces of gold. Since 1901, the belt has been home to approximately 124 established mines. The Abitibi belt is also home to Canada's largest gold mine, Malartic, which is owned and operated by Agnico Eagle Mines (TSX:AEM,NYSE:AEM).
Other companies currently operating in the Abitibi belt include IMetal Resources (TSXV:IMR,OTC Pink:ADTFF), Osisko Mining (TSX:OSK,OTC Pink:OBNNF) and Newmont (TSX:NGT,NYSE:NEM).
The Yilgarn Craton in Australia is home to multiple greenstone belts situated in the Western Gneiss Terrane, Murchison mineral province, Eastern Goldfield mineral province and Southern Cross mineral province. Comprising the bulk of Western Australia's landmass, Yilgarn is close to 650,000 square kilometers.
Yilgarn receives more than half of the country's mineral exploration expenditure, and is believed to contain roughly 30 percent of the world's known gold reserves, 80 percent of the world's tantalum reserves and 20 percent of the world's nickel reserves. Significant deposits of iron, zinc and copper can also be found here.
The Yilgarn Craton accounts for roughly two-thirds of Australian gold production and the majority of Australian nickel production. Major gold deposits in the region can be found at Kalgoorlie, Kambalda, Mount Magnet, Boddington, Laverton and Wiluna. Other significant gold deposits include Mount Charlotte, Norseman, Sunrise Dam, Sons of Gwalia, Saint Ives-Kambalda, Tarmoola, Wallaby and Wiluna.
Finally, Barberton in South Africa has the distinction of being the oldest known greenstone belt and contains some of the oldest exposed rocks on Earth. Barberton is also home to the Barberton mines complex, which consists of the Fairview, New Consort and Sheba gold mines. Jointly owned by BEE and Pan African Resources (LSE:PAF,OTCQX:PAFRF), it is one of the world's oldest producing mines.
Emerging hotspots for greenstone belt investors
Greenstone belts are a surprisingly common geologic formation, and many of the world's belts have yet to be fully explored. As such, one could argue that they all have considerable potential from an investment perspective. For instance, in addition to Barberton, Africa is also home to the Giyani, Pietersberg, Gwanda, Lake Victoria and Boromo-Goren greenstone belts.
Brazil's Iron Quadrangle region also shows great promise. In addition to producing roughly 40 percent of Brazilian gold from 1500 through 2000, exploration and discovery suggests extensive untapped gold and iron reserves.
Brazil Minerals (OTC Pink:BMIX), for instance, recently estimated that its Minas Gerais iron project contains 7.4 million tonnes of iron ore. Jaguar Mining (TSX:JAG,OTCQX:JAGGF), meanwhile, is heavily engaged with IAMGOLD (TSX:IMG,NYSE:IAG), having recently identified extensive, consistent gold-in-soil anomalies in the region.
It is just as likely, however, that the next greenstone gold rush will take place in Canada — namely, in the Abrams-Minnitaki Lake greenstone belt, which is home to a slew of gold-producing mines and exploration companies like Kinross Gold (TSX:K,NYSE:KGC), New Gold (TSX:NGD,NYSEAMERICAN:NGD), Treasury Metals (TSX:TML,OTCQX:TSRMF) and First Mining Gold (TSX:FF,OTCQX:FFMGF).
Arguably the most notable project in this region is owned and operated by Heritage Mining. Situated on the outskirts of Sioux Lookout in Ontario, Heritage Mining's Drayton-Black Lake flagship project is a 14,221 hectare, district-scale land package that contains multiple priority gold zones and numerous high-grade gold drill intersections. To finance and fast track its exploration program, Heritage Mining finalized an initial public offering in late June 2022
Takeaway
Greenstone belts represent a significant opportunity. With their unique geology, rich mineral deposits and extensive history, these geographic formations are worth watching for anyone with an interest in gold investment. And although Abitibi remains the world's dominant greenstone belt, there are many others that may have the potential to match its production in the long term.
This INNSpired article is sponsored by Heritage Mining. This INNSpired article provides information which was sourced by the Investing News Network (INN) and approved by Heritage Mining in order to help investors learn more about the company. Heritage Mining is a client of INN. The company's campaign fees pay for INN to create and update this INNSpired article.
This INNSpired article was written according to INN editorial standards to educate investors.
INN does not provide investment advice and the information on this profile should not be considered a recommendation to buy or sell any security. INN does not endorse or recommend the business, products, services or securities of any company profiled.
The information contained here is for information purposes only and is not to be construed as an offer or solicitation for the sale or purchase of securities. Readers should conduct their own research for all information publicly available concerning the company. Prior to making any investment decision, it is recommended that readers consult directly with Heritage Mining and seek advice from a qualified investment advisor.
HML:CC
Investing News Network websites or approved third-party tools use cookies. Please refer to the  cookie policy for collected data, privacy and GDPR compliance. By continuing to browse the site, you agree to our use of cookies.