Gold Mining in Russia
Russia's gold resources are the third-most extensive in the world and the country was the fifth-largest gold producer in 2009.
This article was originally published on Gold Investing News on November 8, 2010.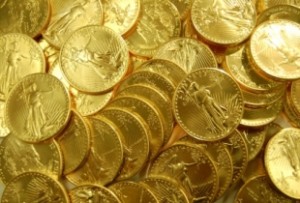 Covering more than a ninth of the Earth's land area, Russia, has the largest reserves of natural gas. In 2009 Russia was the world's largest exporter of natural gas, the second largest exporter of oil, and the third largest exporter of steel and primary aluminum. Russia is also well reputed to have an expansive mineral wealth including: coal, cobalt, copper, diamond, lithium, nickel, oil, potash, silver, as well as gold.
Successful gold exploration and mining were introduced in Russia by Peter the Great. In 1702 the first silver deposit was discovered in Transbaikalia (Nerchinsky Mine) and in 1745 a peasant named Erofey Markov found gold on the eastern slope of the Ural Mountains and in 1748 the first Russian purely gold mine was set up.
According to United States Geological Survey base estimates, Russia has the third most extensive gold resources tin the world. With the majority of gold extraction remaining generally in the control of state run industry, the nation was theoretically underrepresented in its global productivity total as Russia was the fifth largest gold producer last year. The total numbers of exploration enterprises are also considerably underrepresented by junior gold companies compared with activity in other mining jurisdictions, considering the vast underlying mineral potential in Russia.
Economic context
Transforming from a globally-isolated, centrally-planned economy to a more market-based and globally-integrated economy, Russia has undergone significant changes since the collapse of the Soviet Union. Economic reforms in the 1990s privatized some industry, with notable exceptions in the defense-related and energy sectors. The swift privatization process has left equity ownership highly concentrated, including a highly contentious "loans-for-shares" scheme that capitulated major state-owned firms to politically-connected "oligarchs".
A revival of Russian agriculture in recent years has resulted in Russia shifting from being an importer of grain to becoming a net grain exporter. The economy had averaged 7 percent growth since the 1998 Russian financial crisis, resulting in a doubling of real disposable incomes and the inception of a middle class. The Russian economy, however, was one of the hardest hit by the 2008-09 global economic crisis as oil prices plummeted and the foreign credits that Russian banks and firms relied on dried up.
Protection of property rights is still weak and the private sector remains subject to heavy state interference. A very strong reliance on commodity exports makes Russia vulnerable to boom and bust cycles that follow the highly volatile swings in global commodity prices. Since 2007, the government has embarked on an ambitious program to reduce this dependency and build up the country's high technology sectors, but with relatively few positive results so far.
The Central Bank of Russia spent one-third of its $600 billion international reserves, the world's third largest, in late 2008 to slow the devaluation of the ruble. The government also committed $200 billion in a rescue plan to increase liquidity in the banking sector and support Russian firms unable to finance large foreign debts due to credit market contractions. Long-term challenges include relatively high levels of corruption, a shrinking workforce, and poor infrastructure in need of large capital investment.
Higher risks
Russia has mining laws and practices that make it very difficult for foreign investors and mining operations to run profitable businesses. There is a very fine line between the public and private mining sectors in this country, as the government has ultimate control over its vast natural resources. Russia's current mining laws are basically designed to enable the government to take majority ownership of large deposits of "strategic" natural resources. Currently, gold is considered a strategic metal, and Russian law gives the government pilfering rights on any deposit with resources over approximately 1.6 million ounces.
There have been suggestions that Russia is considering easing these laws a bit in order to attract additional foreign investments. Foreign miners brave enough to explore will need to remain contented with relatively smaller deposits or have well-connected Russian joint-venture partners.
Opportunities
On August 27, Kinross (TSX:K) acquired 100 percent of the high-grade Dvoinoye deposit and the Vodorazdelnaya property. Both properties are located approximately 90 kilometres north of Kinross' joint venture Kupol operation in the Chukotka region in the north east of Russia. Kinross acquired a 75 percent interest in the Kupol project in Russia with the remaining 25 percent held by the Government of Chukotka. The Kupol mine consists of a high-grade gold and silver vein, which remains open along strike. Development and construction of the project employs both open pit and underground mining operations began in 2005. Kinross is currently completing work necessary to report a NI 43-101 compliant mineral resource estimate for the Dvoinoye deposit. The 2010 exploration program and the five-year exploration program, including an exploration decline, have been approved by government authorities and the company is proceeding with permitting and feasibility work, including engineering and baseline studies.
South African based, top tier global gold producer AngloGold Ashanti (NYSE:AU) has some indirect exposure to a gold development project in Russia with the Asacha Mine in Kamchatka, held by London listed Trans-Siberian Gold plc (LON:TSG) in which AngloGold Ashanti has a 30 percent stake. Trans-Siberian Gold has focused on employing Russian management and staff on its projects based on the Kamchatka peninsula in eastern Russia where its Asacha and Rodnikova properties contain approximately 900,000 ounces of gold and about 4 million ounces of silver in total mineral resources calculated to JORC standards. Production guidance of 50,000 ounces is expected in 2011, increasing to 100,000 ounces by 2014.
Ovoca Gold Plc (ISE:OVX) is an Irish based exploration and development company with three projects in the Magadan region, also located in eastern part of Russia, north of Japan. The company's main property is Stakhanovsky, which is accessible by year-round road and there is power infrastructure on site. Internal preliminary estimates suggest a gold resource (non-JORC code nor Russian standard compliant) of over 700,000 ounces. Ovoca intends to put Stakhanovsky into production by 2013.
High River (TSX:HRG) is a gold company with interests in producing mines and advanced exploration projects in Russia as well as Burkina Faso. Two producing mines, Zun-Holba and Irokinda, are situated in the Lake Baikal region and produce approximately 125,000 ounces of gold per year. A more recent open pit gold mine, Berezitovy, has been constructed and is currently being put into full production. Finally, High River has an advanced exploration silver project, Prognoz, with NI 43-101 compliant resource estimates. Last week, the company announced a very significant organizational development with the appointment of a new Chief Executive Officer following the resignation of the former CEO in early October. An important note of disclosure for investors is that all current and future gold and silver production for High River remains unhedged.