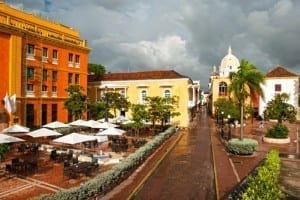 Here's a look at Trident Gold, Colombian Mines and AngloGold Ashanti, three companies that are exploring for gold in Colombia.
This article was first published on Gold Investing News on August 28, 2013
Gold mining has a long history in Colombia. The country was the world's largest producer of the precious metal during the 19th century, according to Trident Gold (TSXV:TTG). At the time, most production was located in Colombia's Antioquia district.
Today, Colombia remains a fairly unexplored country with regard to mined commodities, even though it has plenty of prospects, including gold, copper and silver deposits. In fact, less than 8 percent of the country has been explored.
However, Colombia's untapped potential has caught the attention of several mining companies that plan to take advantage of it with increased exploration and development. Data from the Colombia Gold Letter shows that 26 million ounces of indicated and inferred gold resources were discovered in the country during the first nine months of 2012, bringing the total amount discovered since 2000 to 84.7 million ounces. Below are three companies exploring for gold in Colombia.
Trident Gold
This gold exploration company is primarily focused on its Marquesa property portfolio, which is in the Northeast Antioquia district of Colombia. The Floresta project is at the center of the company's exploration and shows evidence of extensive historic and present-day surface bulk and underground high-grade vein mining, according to the company's website.
For the remainder of 2013, Trident plans to work towards commencing its Phase 1 drill program, which will consist of 5,000 meters of exploration. Thus far, seven specific high-grade vein targets have been identified.
Colombian Mines (TSXV:CMJ)
Based in Vancouver, British Columbia, Colombian Mines is an exploration company that works on mineral properties with near-term resource and mine development potential in Colombia. Its portfolio of assets includes gold, gold-copper and polymetallic projects that span more than 370 acres.
One of Colombian Mines' main priorities is its Yarumalito gold-copper porphyry project, which is located in the Marmato gold district of Colombia. The property is currently undergoing the first phase of drilling. Exploration was also recently done at the El Dovio project. Researchers drilled 6.85 meters averaging 5.9 grams per ton of gold.
AngloGold Ashanti (NYSE:AU)
AngloGold Ashanti is a major gold company headquartered in Johannesburg, South Africa; its assets span four continents. The company began actively exploring Colombia in 2002. Its two main discoveries are La Colosa in Tolima and Gramalote in the Antioquia district, both of which are currently in the stage of advanced economic evaluation.
The La Colosa property is 100-percent owned by AngloGold Ashanti. This asset is the largest greenfields discovery it has ever made, and as of the end of 2011 had a resource of 16 million ounces, according to a company report.
The Gramalote project is a joint venture with B2Gold (TSX:BTO,NYSE:BTG) and is expected to be AngloGold Ashanti's first operating gold mine in Colombia. Combined, La Colosa and Gramalote have a total inclusive mineral resource of 18.26 million ounces. Reserves for the assets have not yet been determined.