Gold Breaks Winning Streak, Rebounds on Thursday
Gold prices bounced back on Thursday after hitting reverse and pulling back from highs seen earlier this week.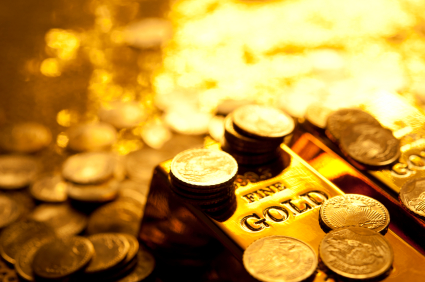 Gold prices bounced back on Thursday after hitting reverse and pulling back from highs seen earlier this week.
Investors took a break from gold on Tuesday following a three-day rally that saw the price climb above $1,330 per ounce on the back of global economic concerns. Despite some disappointing economic data out of the United States, equities gained some strength early in the week, pushing metal prices down.
On Wednesday, gold lost almost 1 percent after the minutes from the latest Federal Reserve policy meeting showed that policy makers are keen on moving ahead with cutting back the country's monetary stimulus program. By midweek, spot gold was down at $1,310.50 per ounce.
Thursday saw gold prices firm up, recouping most of Wednesday's losses with a near 1-percent gain. Lending support for the yellow metal was less-than-favorable data from the United States and China's manufacturing data. However, according to Reuters, improving global economic conditions and further tapering of the Fed's stimulus program could put a spanner in the works of safe haven demand.
"There is no real indicator right now as to which direction the economy is going. The belief is that it is turning around and Fed tapering will likely continue, so there is no need for safe-haven physical assets," said Thomas Capalbo, a precious metals trader at New York brokerage Newedge, told Reuters.
Gold closed on Thursday at $1,322 per ounce, a gain of $1.69 for the day.
Company news
Centerra Gold (TSX:CG) has completed a preliminary economic assessment (PEA) for its wholly-owned Oksüt project in South-Central Turkey. Centerra used a recently completed resource estimate as the basis for the PEA, also using a cut-off grade of 0.2 grams per tonne (g/t) of gold and a gold price of $1,300 per ounce. According to the company's press release, the resource estimate consists of: indicated mineral resources from the Keltepe deposit and inferred mineral resources located at the Güneytepe deposit.
The PEA models a conventional open-pit and heap-leach facility with an expected 34 million tonnes of ore to be stacked at a maximum rate of 11,000 tonnes per day.
Highlights include:
11-year mine life (2016 to 2027)
Life-of-mine gold production of 893,000 ounces, average annual gold production of 125,000 ounces in years four through six
Total construction capital and preproduction costs of $166 million
Total sustaining capital of $9 million
All-in costs for the project of $849 per ounce
All-in costs including taxes for the project of $914 per ounce
After-tax net present value of $117 million at an 8-percent discount rate with a 19-percent project internal rate of return
Payback on construction capital and pre-production costs is expected to be 4.5 years after production begins
The company also released its fourth-quarter results, which show a lower-than-expected Q4 profit; it was impacted by lower realized gold prices. The company's net income for the previous quarter was $106.6 million, or 45 cents per share, compared with a loss of $70.7 million (30 cents per share) a year earlier. Analysts had been expecting the company to earn 68 cents per share.
Roxgold (TSXV:ROG) returned high-grade drill results at its Bagassi South prospect in follow-up drilling to its 2013 campaign, which included 41.7 g/t gold over 4.4 meters in drill hole YRM-KD-BG-15. Hole YRM-14-BG-038 extended high-grade mineralization on QV1 a further 50 meters to the northwest, and recent field mapping has identified artisanal workings approximately 500 meters along strike to the northwest.
Analysts at Raymond James recommend investors add positions of Roxgold on "additional evidence of regional prospectivity for high-grade gold, further optimization of already-impressive economics with a feasibility study mid-2014E at the flagship 55 Zone, strong management, attractive valuation, and takeout potential," the firm said in a note released Thursday.
Premium Exploration (TSXV:PEM) announced additional assay results from a vertical step-out hole completed in the deep zone of its Idaho-based Friday gold deposit. The hole was aimed at drilling the deposit's upper and lower gold zones.
According to the company's press release, "[t]he drill hole encountered a long interval of gold mineralization – 286.67 meters (940.51 feet) with a weighted average of 0.73 g/t Gold. Within this zone were numerous intervals of higher grade gold mineralization, the highest being 1.37 meter (4.5 feet) of 14.35 g/t Au at 229.67 meters (753.5 feet)."
This week, Richmont Mines (TSX:RIC,NYSEMKT:RIC) released its fourth-quarter and fiscal year results for the period ended December 31, 2013. Highlights include Q4 2013 revenues of $27.8 million, a cash balance at December 31, 2013 of $17.6 million, working capital of $14 million and long-term debt of $5.2 million. It forecasts 2014 gold production of 70,000 to 80,000 ounces.
Also this week, Corvus Gold (TSX:KOR,OTCQX:CORVF) completed the sale of its minority interest in the Terra project in Alaska via its subsidiary, Raven Gold Alaska. The project was sold to Corvus' joint venture partner, Terra Gold, a subsidiary of WestMountain Gold (OTCBB:WMTN), for US$1.8 million in cash and 200,000 WestMountain common shares.
Securities Disclosure: I, Vivien Diniz, hold no investment interest in any of the companies mentioned.