This is How Germany Became a Gold Powerhouse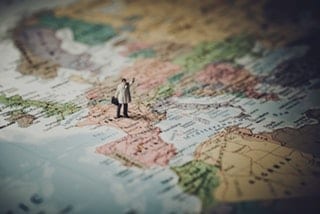 German investors had little interest in gold prior to 2008, but last year they spent over 6 billion euros on gold investment products.
Germans spent over 6 billion euros on gold investment products last year, and according to the World Gold Council (WGC), there is room for further growth.
In a new report, the WGC says that German investors had little interest in gold prior to 2008, but the situation changed significantly after "successive financial crises and loose monetary policy." Concerned investors turned to gold to protect their wealth, and new product providers entered the market to serve them.
The country's market for bars and coins now stands at over 100 tonnes a year, and a "vibrant" market has developed for gold-backed exchange-traded commodities (ETCs). In fact, according to the WGC, Germany's ETC AUM reached an all-time high of 252.1 tonnes in Q3 2017, equivalent to 9.8 billion euros.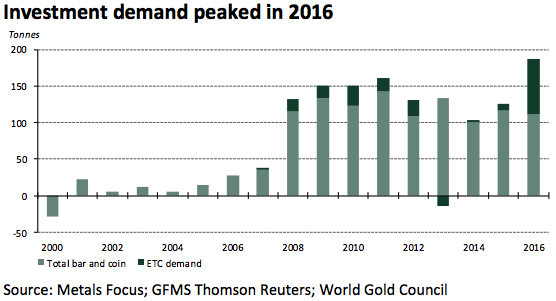 Chart via the World Gold Council.
On a global scale, ETCs are less prominent than exchange-traded funds, better known as ETFs. However, they are the norm in Germany because all gold-backed products must be structured as ETCs. According to the WGC, ETCs differ from ETFs in that they "are legally considered a bearer bond, representing the right for delivery of the gold underlying that bond."
Many ETCs allow investors to take delivery of physical gold upon redemption, a feature that German retail investors find especially appealing. The WGC notes that Xetra-Gold, one firm that offers gold-backed ETCs in the country, has said that since it began offering that service it has been used 900 times, with a total of 4.6 tonnes of gold being delivered to investors.
While both ETCs and bars and coins are popular in Germany, these two investment types tend to attract different investors. Retail investors tend to focus on bars and coins, and often take have a buy-and-hold mentality; meanwhile, institutional investors gravitate to ETCs and are more likely to "trade actively, responding to changing macroeconomic and financial market conditions."
Overall, German investors bought more gold per person in 2016 than investors in China and India, two other countries known for being gold powerhouses.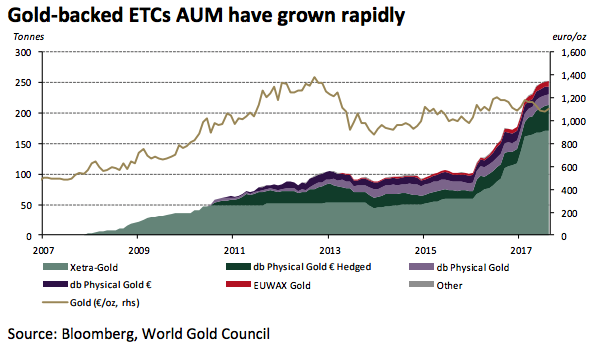 Chart via the World Gold Council.
The WGC ends its report by noting that while gold's recent rise to popularity in Germany was sparked by financial and economic crises, it no longer needs those drivers to move forward. "Despite the dramatic growth in the past 10 years, we believe there is room for further growth," it says.
Though demand growth from institutional investors is uncertain, the organization believes there is "latent demand for gold amongst retail investors," which suggests there is potential for further increases in German gold bar, coin and ETC demand. "Having made it easy for investors to buy bars and coins, retailers are also marketing them effectively," the WGC adds.
Don't forget to follow us @INN_Resource for real-time updates!
Securities Disclosure: I, Charlotte McLeod, hold no direct investment interest in any company mentioned in this article.